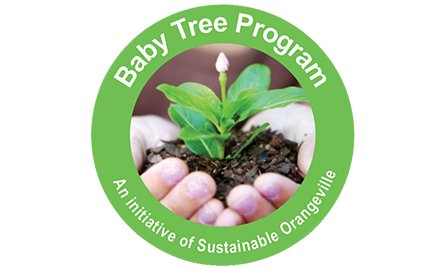 In the Town of Orangeville, we celebrate when a child is born in our community by planting trees each year. Our Baby Tree Program works to create an environmentally-sustainable community for future generations. See our Baby Tree Program Flyer for full details about the program.
Make a donation
You can donate to the Baby Tree Program! Fill out the Baby Tree Donation form and help us plant a Baby Tree Forest. Make sure to include the name of the baby you are recognizing with your donation.
Attend the planting ceremony
Each spring, the Town of Orangeville hosts a dedication ceremony. The trees that have been purchased through donations to the Baby Tree Program (made over the previous year) will be planted at a specified location – in parks and areas owned by the Town.
Families will be sent an official invitation to the baby tree forest planting ceremony and we will list the event in our community event calendar about two months before the event.
Certificates and recognition pins
Each year, we will put up a plaque with a complete list of all babies that were recognized as part of the program.
We will send a letter to each family showing the total contributions along with a certificate of appreciation. If a donation of $50 or more was made in your child's name, you will also receive a Baby Tree pin. View the different contribution levels:
$50 to $100 will receive a bronze pin
$101 to $200 will receive a silver pin
$201 and up will receive a gold pin
Tax receipts
If you donate $20 or more to the Baby Tree Program, you will receive an income tax receipt.
First Baby Tree Forest planted in 2009 at Kin Family Park