Many municipalities have already experienced impacts of a changing climate. In Orangeville, there have been at least six noteworthy flooding events since 2005. The Town has also faced other types of extreme weather events in recent years including extreme winds, ice storms, extreme heat, and irregular seasonal temperatures.
Climate projections supported by the Canadian Centre for Climate Services show that the Town of Orangeville is going to experience warming temperatures, variability in precipitation and more extreme weather events.
These unusual climate events affect us all and can bring challenges to our municipality. With this knowledge, we recognize the threats to our community that climate change poses and are committed to both adaptation and mitigation measures.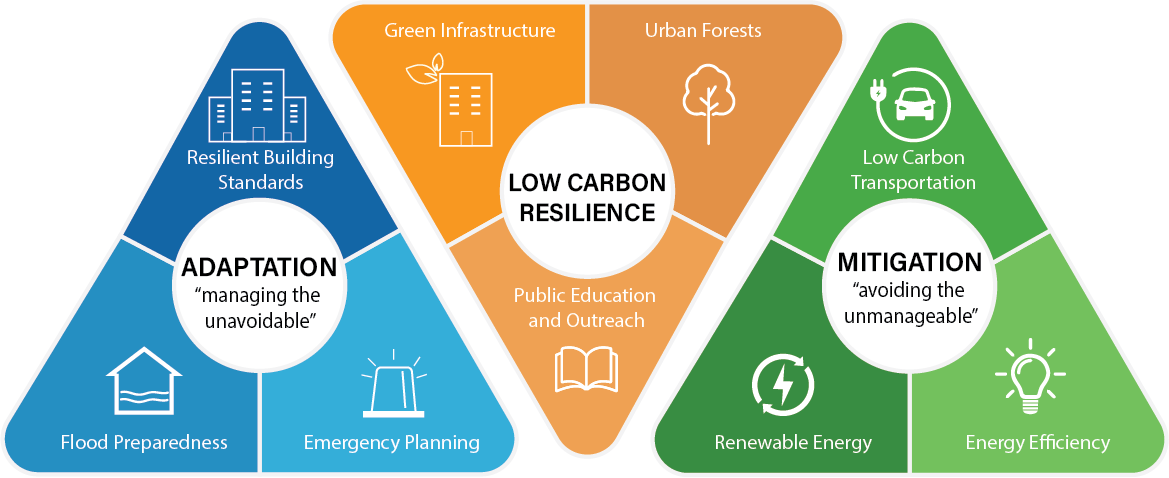 Climate Adaptation
Adaptation refers to adapting to life in a changing climate. It involves adjusting to actual or expected future climatic conditions. Adaptation measures help to manage the effects, minimize the risks and impacts, and strengthen the Town's resilience to climate change. Some examples of adaptation measures include:
Protect and restore natural systems to enhance local biodiversity and build climate resilience
Generate awareness of risks and enhance warning and communication systems during extreme weather events
Incorporate climate change considerations into infrastructure planning, design, and construction


The Town's Corporate Climate Change Adaptation Plan and Climate Change Adaptation Policy have been developed to mainstream adaptation across Town operations, planning, and decision-making processes. This includes adapting our assets, operations, and services as they relate to climate change.
Climate Mitigation
Mitigation deals with reducing the impacts of climate change. It involves reducing the emissions of heat-trapping greenhouse gases (GHG) into the atmosphere. Mitigation measures help to reduce GHG emissions either by reducing the 'sources' of these gases (i.e., burning of fossil fuels) or by enhancing the 'sinks' that accumulate and store these gases (i.e., forests, soil, oceans). Some examples of mitigation measures include:


• Electrify municipal fleet and public transit
• Retrofit buildings to make them more energy efficient
• Expand and increase the resilience of the Town's tree canopy


The Town of Orangeville is a signatory member of the Partners for Climate Protection (PCP) program, from ICLEI – Local Government for Sustainability (ICLEI Canada) and the Federation of Canadian Municipalities.


The PCP program is a national network of over 400 municipalities with the shared goal of taking action against climate change and reducing GHG emissions.


In addition, the Town is a signatory member of the Global Covenant of Mayors for Climate and Energy (GCoM). The cities and partners of GCoM share a long-term vision of supporting voluntary action to combat climate change. Working together towards a resilient and low-emission society.


In May 2021, Town Council adopted a community GHG emissions reduction target of net zero by 2050 in alignment with the Paris Agreement. Further, in May 2023, Town council adopted an interim community emission reduction target of 10% below 2016 levels by 2030 and 40% below 2016 levels by 2040. These interim targets are a prorated portion of the long-term net-zero target. They help to measure and review progress made over time and allow for adjustments along the way
What You Can Do
Public engagement is a critical component to all climate change efforts. This includes everything from making small changes for your home, business, and lifestyle to getting informed on climate change efforts and programs.
You can also subscribe to this page to stay up to date on climate change initiatives in the Town of Orangeville.
Actions You Can Take
• At time of vehicle replacement consider a hybrid or electric option

• Make your home or business more energy efficient

• Plant native trees and gardens on your property
Program and Climate Change Information Resources