The Town of Orangeville Council consists of seven members, including the Mayor, Deputy Mayor and five Councillors.
Council meetings
Review the council meeting calendar and our meeting agendas and minutes to stay informed. Can't make it to a meeting in person? We broadcast all meetings through a livestream.
Learn how to request a delegation if you would like to speak before Council.
Please note that any correspondence provided to Council will be included on an open Council agenda which is published to the Town website.
The 2023 Council Meeting Calendar is now available.
Meet 2022-2026 Town Council
Mayor Lisa Post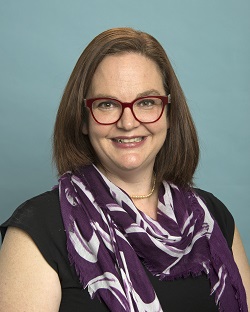 It is my privilege to serve the residents of the Town of Orangeville. Our Town is dedicated to protecting and promoting Orangeville's interests and improving the quality of life in our community.
Contact the Mayor
You can contact Mayor Post by email or call 519-941-0440 ext. 2240, or via cell at 519-216-8368.
About the Mayor
Mayor Post was first elected to public office in 2018 as Councillor and then elected as Mayor in 2022. Mayor Post has been a resident to Orangeville for 30 years and has been lending her time to various organizations in the community as a volunteer and board member.
After 20 years as a retail manager, Mayor Post found her passion in community work and enrolled in Humber College's Bachelor of Community Development Degree program and is anticipating graduation from the program in Spring 2023.
In her spare time, she enjoys golfing, spending time at her family's cottage in Caledon, reading a good book. Mayor Post loves spending time with her husband of 25 years, Mike, their two children, Braedon and Charley, and one granddaughter, Aurora.
Committee involvement
Mayor Post has previously served on the following committees:
Joint Accessibility Advisory Committee
Library Board Member
Cultural Plan Task Force
Equity, Diversity and Inclusion Committee
Deputy Mayor Todd Taylor

Contact the Deputy Mayor
You can contact Deputy Mayor Todd Taylor by email or give him a call at 416-574-1894.
About Deputy Mayor Taylor
Deputy Mayor Todd Taylor was first elected to public office in 2018 as Councillor and then elected as Deputy Mayor in October 2022. He has been a proud member of the Orangeville community since 2002.
Deputy Mayor Taylor is a graduate of the University of Western Ontario and is currently employed as the Director of Sales in the Consumer Packaged Goods Industry. He is specifically responsible for items such as contract negotiations, new business development, planning, budgets, profit/loss and leadership of the team.
In his leisure time, Deputy Mayor Taylor enjoys spending time with his family at the Tony Rose and Alder arenas. Travel, boating and overall outdoor life is especially important and valued by the Taylor family. Deputy Mayor Taylor and his wife Laurie raised their two children in Orangeville.
Committee involvement:
Deputy Mayor Taylor has been involved with the following clubs and committees:
Chair of the Orangeville Police Services Board
Theatre Orangeville Board member
Chair of Library Board of Orangeville
President of Mono Nordic Ski Club
President of Optimist Club of Orangeville
Chair of Remuneration Committee
Transit Committee
Christmas in the Park
Maple Syrup Festival Island Lake
Community Columnist Orangeville Citizen
Chair of Jackrabbit Ski Program
Orangeville Snow Clearing Committee
Councillor Joe Andrews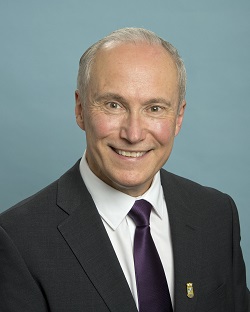 Joe Andrews was elected to Orangeville Council in 2018. He has been part of the Orangeville Community since 1988. Known locally for his leadership in post-secondary education, he is a business champion and award-winning volunteer of several key organizations and countless community activities.
Contact Councillor Andrews
You can contact Councillor Andrews by email or call him at
519-278-1079.
About Councillor Andrews
Many in this community will recognize Joe Andrews for his long-time involvement as part of Orangeville's First Night, Canada Day and other town celebrations. He is a Paul Harris – Rotary International recipient, an Honorary Kinsmen for his extensive work for Cystic Fibrosis, a minor sports coach, and lastly you may remember him for his successful Saturday morning radio show years ago on DC 103.5 FM in Orangeville.
Councillor Andrews holds a Master's and a Bachelor's Degree in Business and Corporate Communications, a Certificate in Academic Leadership Training, as well as an Advanced College Diploma in Radio Broadcasting.
Joe Andrews is an experienced senior-level leader in both the public and private sector including the ownership and operation of small business ventures. He has been responsible for significant multi-million dollar operational budgets while assembling and guiding successful organizations through his previous roles as President, Vice President, Director and Consultant.
He has been married for over 30 years to his wife Kitty and has a son Adam who is an Orangeville District Secondary School graduate and is currently attending Laurier University.
Committee involvement
During this term of Council, Councillor Andrews has the following Committee responsibilities:
Business, Economic Development Advisory (BEDAC) Committee Chair
Equity, Diversity and Inclusion (EDI) Committee Co-Chair
Provincial Offenses Authority Board Member
Orangeville Rail Development Corporation Board Member
Men's Homelessness Committee Member
Dufferin County Cultural Resources Circle (DCCRC) Board Member
Over the years, Councillor Andrews has served on the following boards and committees:
Dufferin Board of Trade
Economic Development Committee
Dufferin County Cultural Resources Circle - Advisor
Headwaters White Ribbon Campaign/MENtors
Dufferin Young Professionals
Councillor Andy Macintosh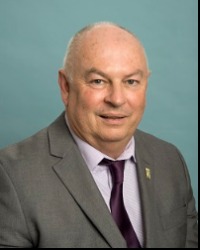 Contact Councillor Macintosh
You can contact Councillor Macintosh by email or give him a call at
519-942-8663.
About Councillor Macintosh
Andy Macintosh was elected to public office in 2018 as Deputy Mayor and elected as Councillor in 2022. Councillor Macintosh worked for Orangeville Fire for 30 years having worked his way up to the position of Deputy Chief and then Fire Chief - a position he held for 19 years until his retirement.
During his time with the fire services, Andy was the recipient of the:
National Fire Services Exemplary Service Medal
Fire Services Long Service Medal
Queen's Diamond Jubilee and Golden Jubilee medals
Canada 150 Medallion
Committee involvement
Orangeville Hydro Board member
Police Services Board member
Councillor Tess Prendergast
Tess Prendergast was elected to Orangeville Council in 2022. She has called Orangeville home since 2011.
Contact Councillor Prendergast
You can contact Councillor Prendergast by email or give her a call at 519-800-2135.
About Councillor Tess Prendergast
Councillor Prendergast attended Glendon College, a small bilingual campus at York University, where she earned her Bilingual Honours Double Major in International Studies and History. This is also where she met her husband Ryan, as they were both in the same Introduction to Canadian Political Science class, a topic which remains one of their favourites to discuss and which started her passion for working in public office. Tess then went on to receive her teaching certification from D'Youville College in Buffalo. She currently works as a French teacher and librarian for the Dufferin-Peel Catholic School Board and is very passionate in advocating for children's literacy.
Councillor Prendergast volunteers as a Beaver leader for the Orangeville Scouts, is a guest member of the Orangeville District Labour Council, and you can find her volunteering at a number of community events such as Rotary Ribfest, Coldest Night of the Year, Autism Canada Walk, and CVC tree planting events.
Councillor Prendergast is proud to raise her two young children, Harry and Veronica, in Orangeville along with her husband Ryan.
Councillor Debbie Sherwood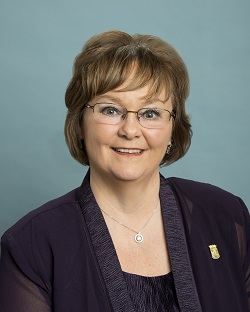 Debbie Sherwood joined Orangeville Council in 2018. She has been a member of the Orangeville community since 1979.
Contact Councillor Sherwood
You can contact Councillor Sherwood by email or give her a call at 519-942-4710.
About Councillor Sherwood
Having retired in 2017, Councillor Sherwood has more than 35 years experience working in municipal government as a tax collector/deputy-treasurer. Her expertise is tax collection, budgeting and municipal tax legislation.
She has been a registered member of the Ontario Municipal Tax Revenue Association (OMTRA) since 1982 and received her certification in 1999 as a Certified Municipal Revenue Professional.
She obtained Financial Accounting Level I and Level II from Georgian College and took several courses during her 35 years of employment, including customer service and supervisor/manager courses, as well as several workshops with respect to municipal tax legislation and tax sales.
Currently Councillor Sherwood is a part-time faculty member for Seneca College for the Municipal Tax Administration Program (MTAP).
Councillor Sherwood is proud to call Orangeville home. She has raised three children and has five grandchildren, all of whom live in Dufferin County. Debbie and her family have been involved in sports clubs, school events, arts and cultural organizations and community events for many years.
Committee involvement
Councillor Sherwood has served on the following committees:
Heritage Orangeville Chair
BIA Board Member
Men's Homelessness Committee Vice-Chair
Dufferin Foodshare (Orangeville Food Bank) Volunteer
Orangeville Blues and Jazz Volunteer/member
Councillor Rick Stevens
Rick Stevens was was elected to Council in 2022. He has been a resident of Orangeville since 2003.
Contact Councillor Stevens
You can contact Councillor Stevens by email or give him a call at 519-278-0927.
About Councillor Stevens
Councillor Stevens was previously a long-time employee of the Town of Orangeville. He started in the Parks and Recreation Department and in 1999 moved to the Orangeville Police Services where her worked as a Special Constable for 21 years, retiring in October of 2020.
Rick is an active member of the community as President of the Orangeville Minor Hockey Association for over 15 years, as well as coach for his kids in various sports such as hockey, baseball, soccer, and ball hockey.
Rick and his wife, Sue, have raised four children in Orangeville. Their youngest child, Luke started his first year of high school at Westside Secondary School in September of 2022.
In his spare time, Rick enjoys camping with is family, watching his son Luke play rep sports, and daily walks with his beloved three dogs.
Our vision and values
We value our heritage, natural environment and small town appeal while embracing the future with a progressive and innovative spirit.
We value:
a barrier-free community
encouraging community involvement
spending taxpayers' money wisely and responsibly
encouraging a healthy lifestyle
caring for the environment
enhancing the town's environment
encouraging business growth
supporting arts and culture
exceptional recreational and leisure opportunities
a safe and secure environment
honouring our heritage
well-maintained infrastructure