Posted on Friday, June 16, 2023 06:11 PM
The fire risk for Orangeville has returned to low, which means the danger level is considered to be normal. This means that fires are likely to be self-extinguishing and new ignitions caused by temperatures outside are unlikely. Please remember to exercise caution when lighting a fire and be aware of changing weather and its impacts.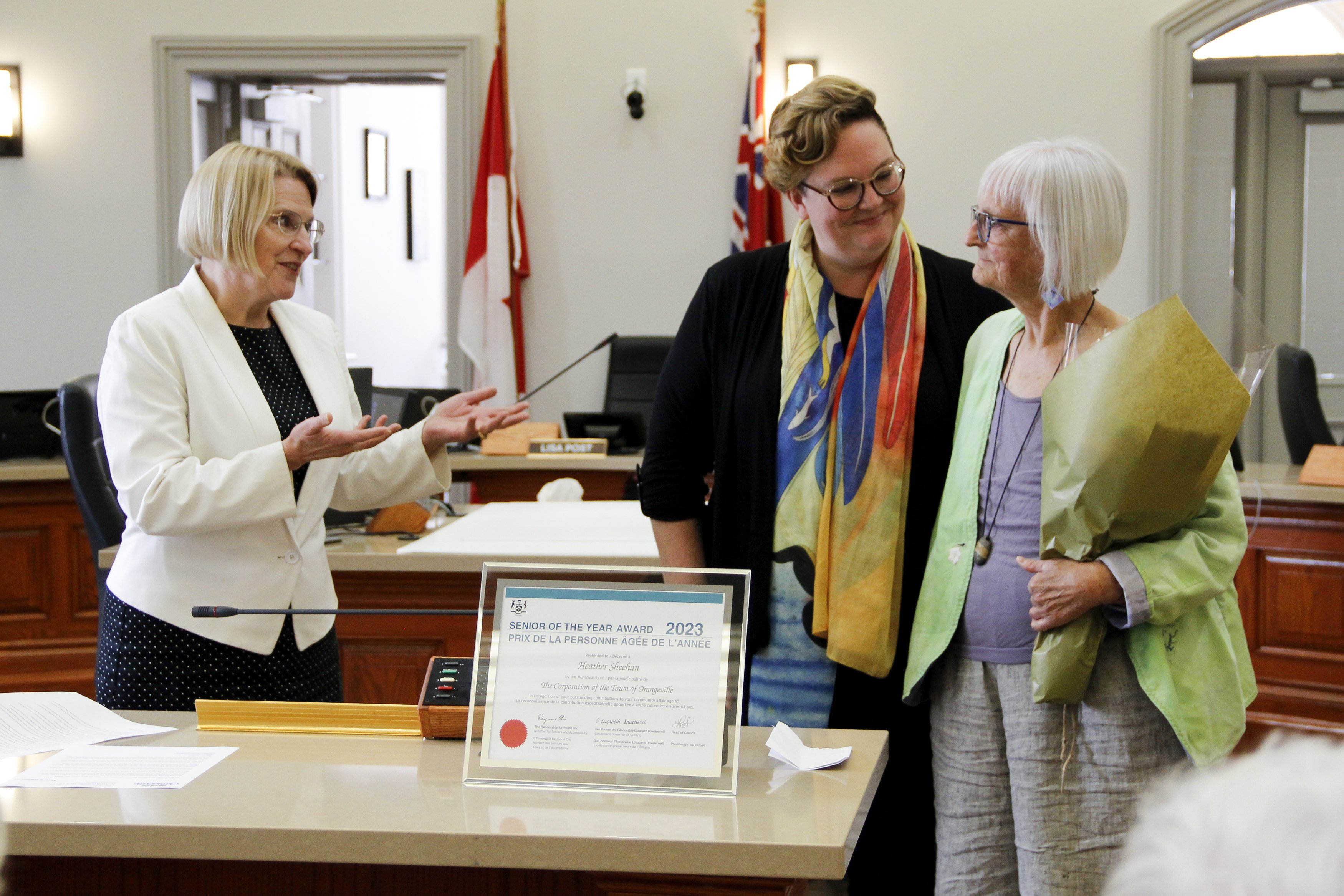 Posted on Friday, June 16, 2023 03:40 PM
An Orangeville resident has been named as the recipient of the Ontario Senior of the Year Award for 2023. Heather Sheehan was nominated by Orangeville Council and chosen by the Province of Ontario. The award pays tribute each year to seniors who enrich the social, cultural, or civic life of the communities in which they reside.
Heather has played a strong role in helping create an inclusive community, dedicating her free time to serving, helping in diversity initiatives, and working with...
Posted on Friday, June 16, 2023 03:29 PM
The Town of Orangeville is pleased to announce the appointment of David Smith as its new Chief Administrative Officer (CAO). Smith brings more than 40 years of experience in municipal government, most recently as CAO with the Municipality of Port Hope.
Over the course of his career, Smith has worked for the City of Mississauga, the City of Waterloo, and the Town of Saugeen Shores. He has served on hydro local distribution company boards as the shareholder's representative, worked with libraries...
Posted on Friday, June 09, 2023 11:52 AM
The Orangeville Public Library is excited to partner once again with Celebrate Your Awesome to offer a unique, immersive experience as part of their annual June event.
On Saturday, June 17 from 1 to 3 p.m., come and meet humans from the Rainbow Community outside of Town Hall as they become 'open books' about their stories, journeys, and lived experiences. Participants will have the opportunity to ask questions and connect with each of the storytellers.
"Stories are part of what connect us to...
Posted on Thursday, June 01, 2023 01:13 PM
The Town of Orangeville has announced the community splash pads will open for the 2023 season beginning at 10 a.m. on June 2.
Located at Fendley Park and Harvey Curry Park, these amenities provide a great way for residents and their children to have fun while keeping cool.
The splash pads will be open daily from 10 a.m. until 8 p.m. until approximately early September, weather-permitting.
Washroom and changeroom facilities are available during splash pad hours.
Here are some things to remember when...
Posted on Thursday, June 01, 2023 11:00 AM
Effective immediately, the Fire Chiefs of Dufferin County have updated the concern for fire danger to High due to the dry and hot weather conditions. This alert applies to the Town of Orangeville and across Dufferin County.
"We ask that residents avoid all unnecessary outdoor fire burning until the weather conditions change and we are able to return to normal levels of fire danger," said Acting Orangeville Fire Chief Michael Richardson. "When danger levels are higher than normal, fires can...
Posted on Wednesday, May 31, 2023 10:21 AM
May 28 to June 3 is National AccessAbility Week, a celebration of the contributions of Canadians with disabilities and a recognition of those actively working to remove barriers to accessibility and inclusion.
In the Town of Orangeville, Mayor and Council have proclaimed this week as National AccessAbility Week, encouraging local support of equality of access and opportunities for persons with disabilities.
For the past two years, the Town of Orangeville's Accessibility Champion Awards have...
Posted on Monday, May 29, 2023 03:38 PM
Pickleball is cited as the fastest-growing sport in North America, and as interest continues its upwards motion, more spaces to get out and enjoy the game are available in Orangeville.
It is a low-intensity, low-impact sport, which provides the opportunity for people with physical limitations to get involved and is fun for all skill-levels and ages.
Interested in playing? This Spring, Orangeville Recreation offers indoor court bookings at Alder Recreation Centre for up to six players, for a...
Posted on Friday, May 26, 2023 03:33 PM
Recently, the Town of Orangeville and the County of Dufferin have been working to develop a Memorandum of Understanding to formalize use of lands at the Edelbrock Centre (30 Centre Street, Orangeville) for a new Orangeville Transit Hub.
When complete, the Transit Hub will provide transit routes with a central location to meet and initiate more efficient transfers. The facility will house a dedicated drive through road that's 6.5 metres in width for Orangeville transit buses from Centre Street...
Posted on Friday, May 26, 2023 09:52 AM
After several months of an education-based campaign, the Town of Orangeville will begin issuing tickets to vehicles in violation of one-sided parking regulations on June 1, 2023.
The Traffic By-law was updated to limit most Orangeville streets to one-sided parking to address numerous concerns surrounding driver and resident safety. In the past, there were scenarios in which emergency vehicles were delayed due to an inability to proceed when vehicles were parked on both sides of the street. There...
Posted on Wednesday, May 17, 2023 03:08 PM
As the Victoria Day long weekend approaches, The Town of Orangeville advises residents of upcoming changes to hours for offices and non-emergency services:
Town Hall
Saturday, May 20 - Closed
Sunday, May 21 – Closed
Monday, May 22 – Closed
Library
Saturday, May 20 – Alder Library open from 9 a.m. to 5 p.m.
Sunday, May 21 – Alder Library Closed
Monday, May 22 – Closed
Recreation Centre
Friday, May 19 – Customer Service closes at 9 a.m.; building closes at 11 p.m.
Saturday, May 20 – Customer Service and...
Posted on Wednesday, May 10, 2023 02:35 PM
As part of the International Day Against Homophobia, Transphobia & Biphobia, the Orangeville Public Library welcomes best-selling author E.K. Johnston for a special book talk in partnership with Dufferin Child and Family Services (DCAFS) LGBTQ+ Youth Group, GLOW.
The special event will be held on Wednesday, May 17 at 7 p.m. at Revival 1863, located at 35 Armstrong Street.
E. K. Johnston is the #1 New York Times bestselling author of several novels, including the L.A. Time Book Prize finalist "The...