Posted on Monday, March 16, 2020 12:00 AM
As part of the Town of Orangeville's response to the COVID-19 pandemic, the Town is announcing a reduction in service hours at Town Hall and the restriction of public access to more municipal buildings.
Effective tomorrow morning:
Customer service hours at Town Hall at 87 Broadway will be reduced to 8:30 a.m. – 12:00 p.m.
The Small Business Enterprise Centre, by-law officers, and the Divisions of Communication and Economic Development and Culture at 200 Lakeview Court will be closed to public access
Posted on Saturday, March 14, 2020 12:00 AM
Today, the Town of Orangeville is announcing a number of municipal closures that will take effect as of 6 p.m. on March 14. All recreation facilities and libraries will be closed. In addition, all Council and Committee meetings, public consultations and public gatherings will also be closed until April 6. The Town will also close the Orangeville Town Hall Opera House and the Orangeville & District Senior Citizens Centre.
Currently other Town facilities will remain open but visitors will be asked...
Posted on Friday, March 13, 2020 12:00 AM
The Orangeville Public Library is cancelling all programs and events next week including the March Break (March 16-21) programs. The library will offer a full refund for any tickets that have already been purchased for March Break live performances.
Today, the Upper Grand District School Board informed the library that the school venue (Princess Elizabeth Public School) is no longer available for the March Break performances. In addition, Ontario's chief medical officer of health is recommending...
Posted on Thursday, March 12, 2020 12:00 AM
The Town of Orangeville is closely monitoring information with respect to COVID-19. Town managers have met and are following the guidelines provided by Health Canada, the Ontario Ministry of Health (MOH) and Wellington-Dufferin-Guelph Public Health.
At this time, the Public Health Agency of Canada has assessed the public health risk associated with COVID-19 as low for the general population in Canada but this could change rapidly. The Health Canada website has more information about the risk to Canadians,...
Posted on Friday, March 06, 2020 12:00 AM
In its latest move to contain the spread of COVID-19, the Town of Orangeville shut down some recreation areas — and is prepared to enforce those closures in the interest of public health and safety.



Signage and tape or barricades have been put in place to provide notice that many Town-owned amenities have been closed. To be specific, the following are closed until further notice:
Playgrounds including play structures, swings, teeter-totters, benches, slides and climbers
Skateparks closed to skateboards,...
Posted on Thursday, February 20, 2020 12:00 AM
Orangeville Transit riders will now be able to find out exactly where their bus is and when it will reach their stop, with the new Orangeville Bus Tracker app.
The new app works through an an AVL (Auto Vehicle Location) system to track the live locations of buses. This lets users know exactly how far a bus is from any given stop at any time.
The app asks riders to select their stop, or alternatively, to select their route first, and then loads a list of the stops from which to select. The app will...
Posted on Monday, February 10, 2020 12:00 AM
Mayor Sandy Brown has proclaimed February 17-23, 2020 as Heritage Week in Orangeville. The 2020 theme is "2020 Vision: Bringing the Past into the Future"
Everyone is invited to view and enjoy Orangeville's Heritage Week Photography Exhibition. The Historical Photography Exhibition will be in the Town Hall Atrium and available for viewing from February 18-21, 8:30 a.m. to 4:30 p.m. The exhibit will be open until 8 p.m. on Thursday, February 20.
During Heritage Week 2020, communities across Canada are...
Posted on Friday, January 31, 2020 12:00 AM
This year's Family Day, Monday, February 17, offers lots of fun activities at Alder Recreation Centre, from 11 a.m. to 3 p.m. Bring the family for free skating and swimming, Family Zumba, face painting, crafts and costumed characters at the library.
Complimentary 50-minute skates will run on the half-hour on both rinks, from 11 a.m. to 1:30 p.m.
Two free one-hour swims are planned for 12:15-1:15 p.m. and 2:15-3:15 p.m. Please note that swim admission standards apply.
Face painting and crafts will be...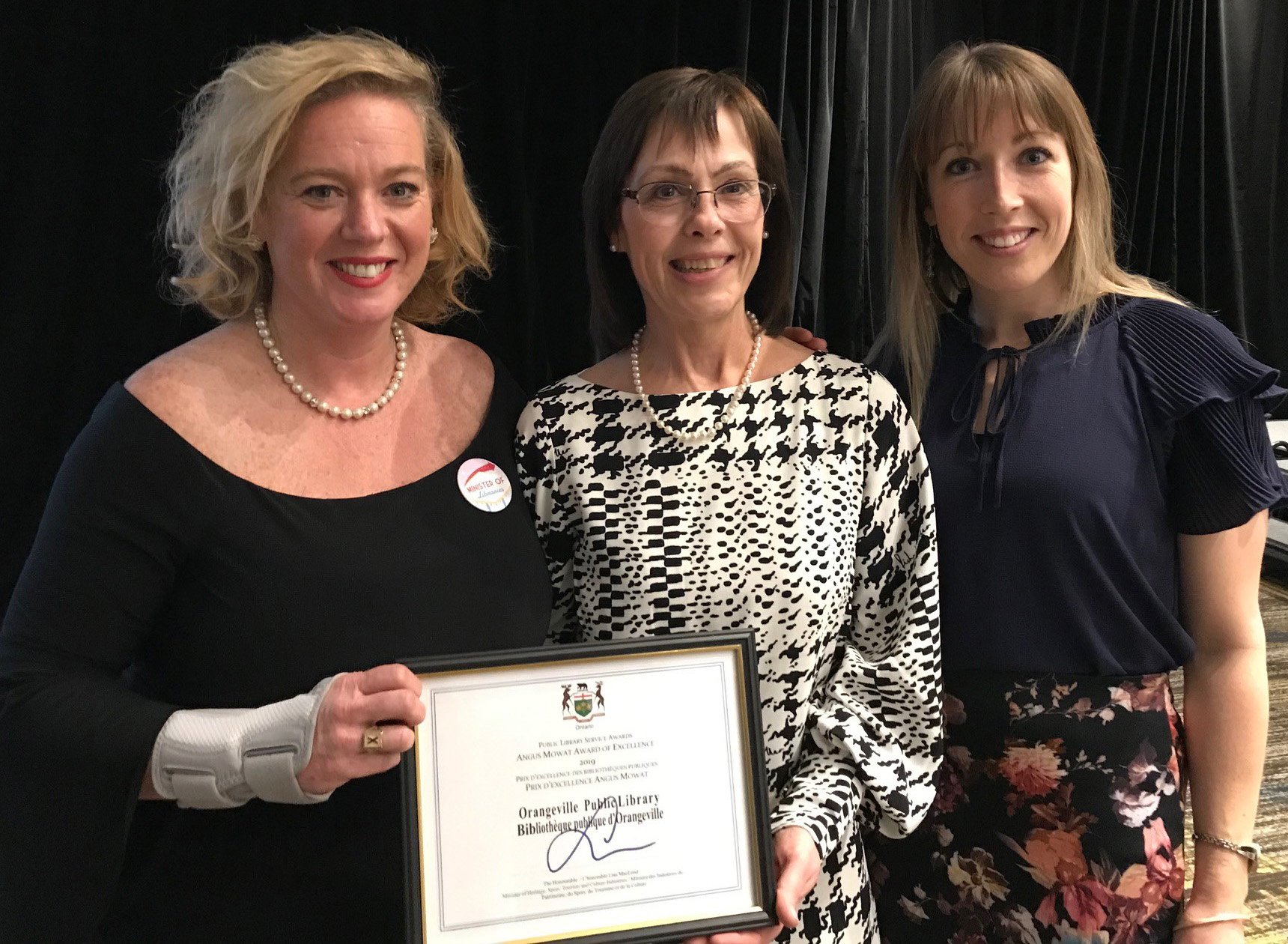 Posted on Friday, January 31, 2020 12:00 AM
The Orangeville Public Library has been awarded the 2019 Angus Mowat Award of Excellence from the Ministry of Heritage, Sport, Tourism and Cultural Industries. The award was presented on January 30, during the Ontario Library Association's annual conference in Toronto.
The Ontario Public Library Service Awards recognize and promote creativity and a commitment to excellence in the delivery of public library services. There are two awards: The Minister's Award for Innovation and the Angus Mowat Award...
Posted on Wednesday, January 29, 2020 12:00 AM
There is some good news for Orangeville taxpayers in the 2019 municipal budget. Members of Orangeville Council adjusted the draft budget during budget deliberations. The final budget will result in a tax increase of 0.82 percent for the average home in the current year.



"Residents of Orangeville are tired of being the leaders in residential taxation in Ontario," said Mayor Sandy Brown. "A Town budget increase of only 0.82 percent is a significant achievement. Helping us to achieve this result is the...
Posted on Tuesday, January 21, 2020 12:00 AM
The pool at the Tony Rose Memorial Sports Centre is now more accessible for those with mobility challenges, thanks to the installation of the new Aqua-Step Elite stair system.
The previous stair system was installed in 2002 and was funded by the Orangeville Lions Club. Having reached the end of its life cycle, staff noticed that pool patrons were experiencing some difficulties with the five-step configuration and recommended a six-step system with a shallower rise per step.
The project was initiated...
Posted on Tuesday, January 14, 2020 12:00 AM
Orangeville Council voted on December 2, 2019 to transition to the Ontario Provincial Police (OPP) and disband the Orangeville Police Service (OPS). Since that date, the Town has been working with the OPP and OPS on the transition of police services and has created a transition team to oversee the work.
Currently, the tentative transition date is October 1, 2020. In an update to Orangeville Council on January 13, Orangeville CAO Ed Brennan said the Town is committed to supporting members of the OPS...