Posted on Thursday, May 23, 2019 12:00 AM
Andrea McKinney has been appointed as the General Manager of Corporate Services for the Town of Orangeville, effective June 10, 2019.
Currently the Chief Digital Officer for the City of Hamilton, Ms. McKinney is accountable for digital transformation and government modernization at the city. In this role since 2017, she started with the City of Hamilton as the Director of Communications & Corporate Initiatives in 2016.
Previously, Ms. McKinney worked at eHealth Ontario from 2010-2016 as the Senior...
Posted on Wednesday, May 08, 2019 12:00 AM
The Town of Orangeville has announced its Call for Artists for the 2019 Utility Box Art Display Program. With a submission deadline of June 14, the Town is looking for local artists to help beautify the community and celebrate the Town's vibrant arts culture. Since this popular program began in 2016, thirteen functional utility boxes have been transformed into colourful works of art for residents and visitors to enjoy.
The Utility Box Art Display Program is designed to recognize local artists, celebrate...
Posted on Tuesday, April 30, 2019 12:00 AM
Several members of the Orangeville community were recipients of the Town's 10th annual Environmental Sustainability Awards this week. The presentations were made at a meeting of Orangeville Council, by Councillor Grant Peters who chairs Sustainable Orangeville. The awards, presented by the Town on an annual basis, recognize those who have made a positive environmental contribution to the community.
The 2019 Environmental Sustainability Award recipients are:
Business – Déjà Vu Restaurant
Déjà Vu is recognized...
Posted on Tuesday, April 09, 2019 12:00 AM
The Town of Orangeville will commence its fire hydrant flushing and maintenance program on May 1.
This will affect the users of the following water systems:
Orangeville Water System
Cardinal Woods Water System (Mono)
Coles/Island Lake/Purple Hill Water System (Mono)
Please be aware that from May 1 to July 31, 2019 between 7:30 a.m. and 4:30 p.m. Monday through Thursday each week, Orangeville Water Works staff will be completing fire hydrant flushing and maintenance programs in the municipal water systems....
Posted on Monday, April 08, 2019 12:00 AM
Orangeville Fire is advising residents to contact the service regarding any restrictions governing open air burning, before starting any fires.
"With spring outdoor clean-up starting and warmer weather finally here, we know some folks are excited to sit around the backyard fire and burn brush and yard debris on their property," said Fire Chief Ronald Morden. "Cleaning up debris and limiting the level of flammable vegetation surrounding your home is good practice. But make sure the way you do it is...
Posted on Thursday, March 21, 2019 12:00 AM
Residents can participate in Earth Week this year through many of the local programs and events to be held April 23-28 – and at a spring clean-up on May 4.
Sustainable Orangeville will have Earth Week displays throughout the week at Alder Recreation Centre (275 Alder Street) and Orangeville Public Library (1 Mill Street). A book/DVD exchange will be available during regular business hours from April 23-28 at Alder Recreation Centre and the Edelbrock Centre (30 Centre Street). Bring in any unwanted...
Posted on Tuesday, March 19, 2019 12:00 AM
The Town of Orangeville continues to monitor its winter maintenance activities and consider new technologies and practices without compromising roadway and pedestrian safety.
Road salt is used as a cost-effective de-icing chemical to maintain roadway and pedestrian safety in the winter, however, when released into the environment in large quantities, road salt can have adverse impacts on ecosystems, soil, water supplies, vegetation, and wildlife.
The development and implementation of a Salt Management...
Posted on Thursday, February 21, 2019 12:00 AM
The Town of Orangeville has been granted up to $125,000 in funding from the Federation of Canadian Municipalities' (FCM) Climate change staff grants initiative to help address staffing gaps and increase our capacity to adapt to the effects of climate change or reduce greenhouse (GHG) emissions.
Orangeville is among 59 communities across Canada benefitting from this initiative.
The Town will direct the funding towards a Climate Change Co-ordinator contract position to develop a Climate Adaptation Plan...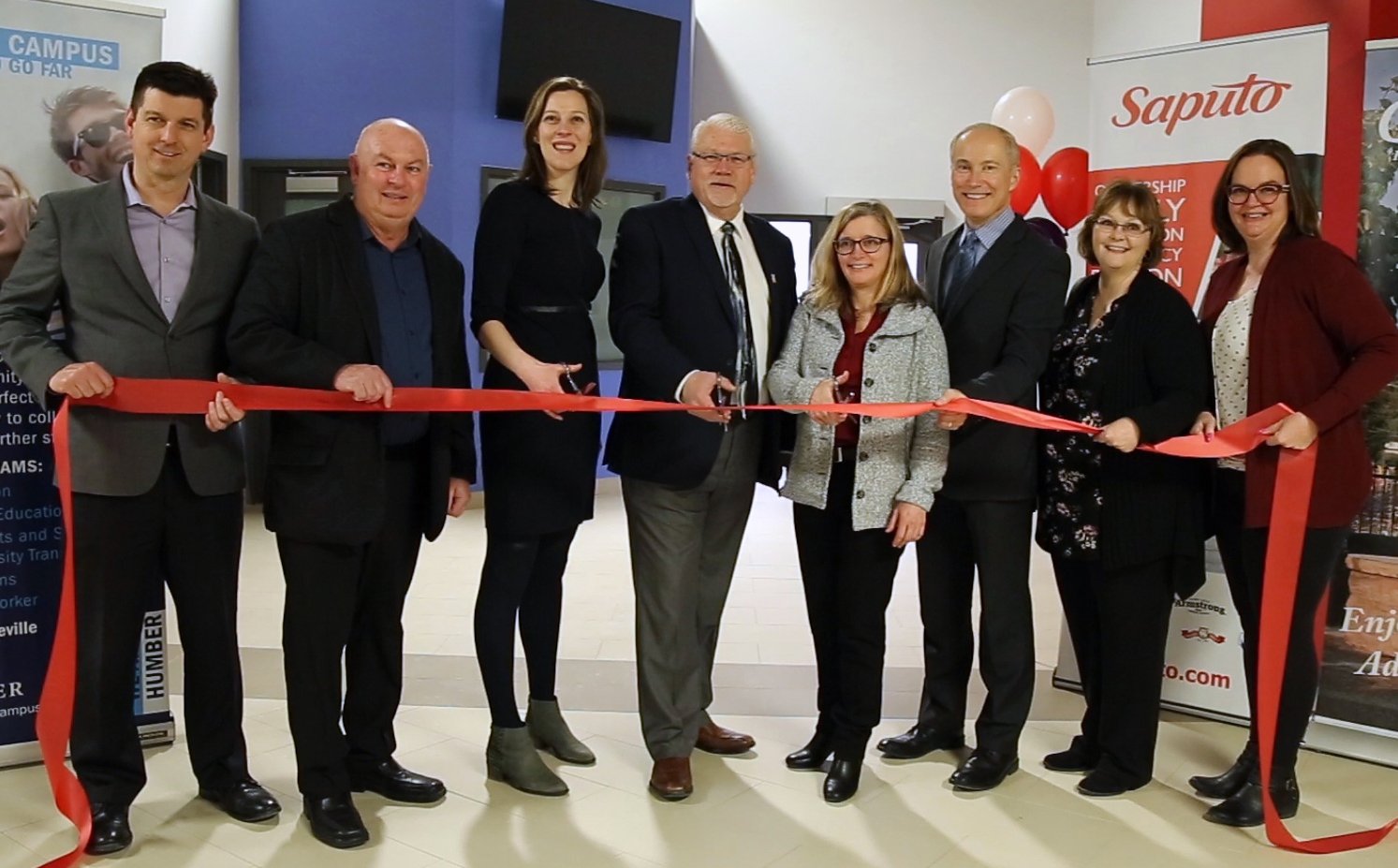 Posted on Friday, February 01, 2019 12:00 AM
Following the January 31 grand opening, the Saputo Health and Lifestyle Centre offers a wide range of recreation programs. The 5,000-square-foot multi-purpose space, inside the Alder Recreation Centre at 275 Alder Street, offers a court for pickleball, badminton, floor hockey, and three-on-three basketball, while two smaller multi-purpose rooms can accommodate a variety of health and lifestyle program offerings and a number of fitness classes including POUND® fitness, yoga, Zumba burst and dance...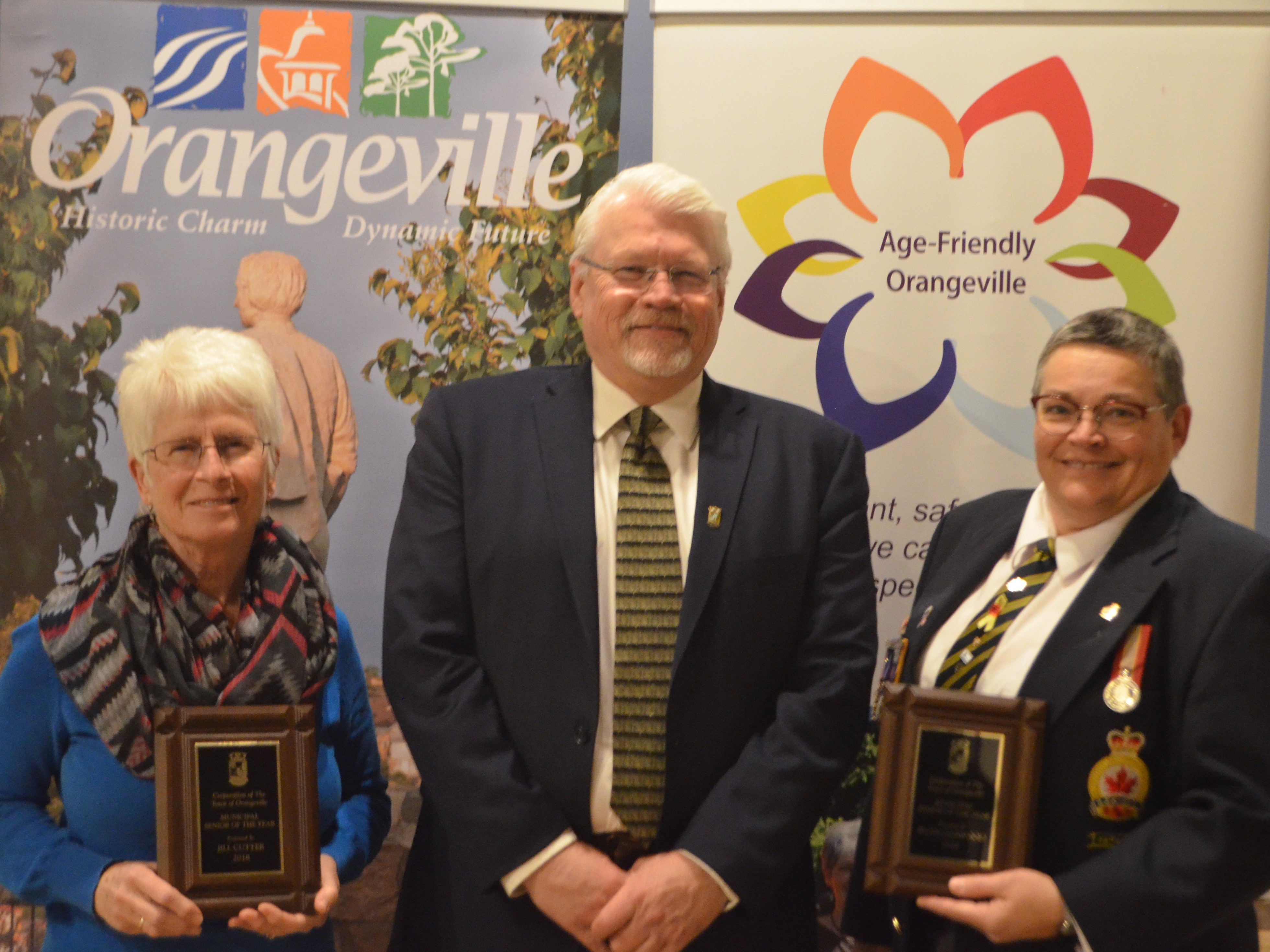 Posted on Monday, January 28, 2019 12:00 AM
The Town of Orangeville pays tribute each year to seniors who have enriched the social, cultural, or civic life of the community. Initiated in 1996, the award program invites public nominations with the final decision made by Orangeville Council. During a municipal election year, the award is presented at the start of the subsequent year.
Jill Cutter and Ruth Garwood were selected to receive a Senior of the Year Award for 2018. The awards were presented at the January 28 meeting of Orangeville Council....
Posted on Monday, January 14, 2019 12:00 AM
Meetings of Orangeville Council can now be viewed on Youtube.
Residents can view a live stream of meetings as they take place or view them at a later date via Youtube on the Orangeville Council channel. Audio and visual technology has been updated in Council Chambers during a renovation completed in December of 2018. A voice-activated camera system provides a better viewing experience as Council members, staff, and members of the public take turns speaking and cameras automatically focus on the...