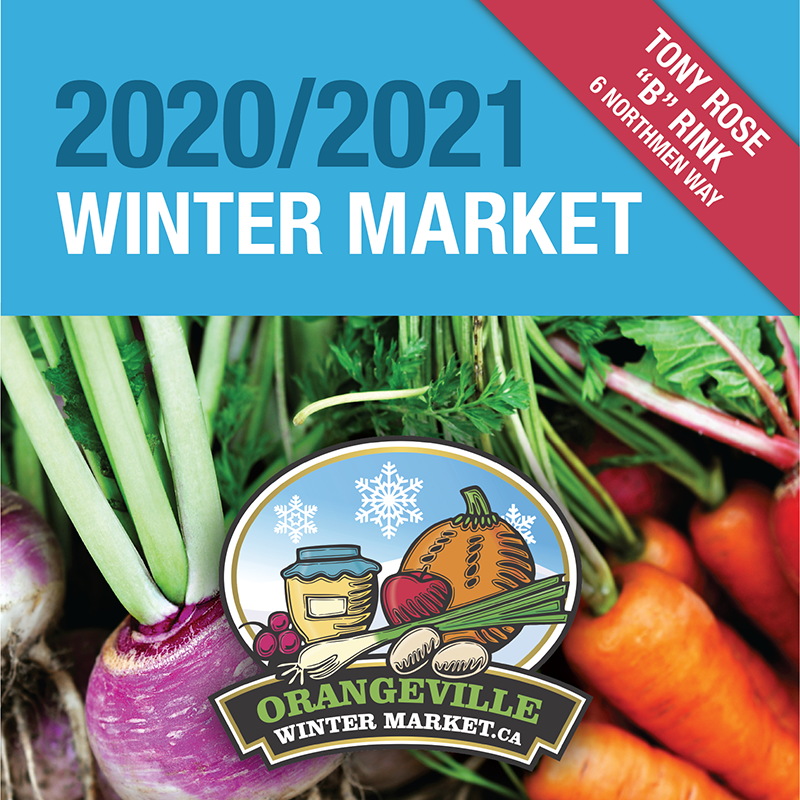 The Orangeville Farmers' Market will continue to operate during the winter in a new venue where physical distancing can be accommodated -- B rink of the Tony Rose Memorial Sports Centre. The winter market will run from 9 a.m. to 1 p.m. every other Saturday, beginning Saturday, November 7.
The arena offers plenty of space for vendors and a 50-shopper limit. Most vendors will attend every week, but some will alternate or change from week to week. A listing of the current week's vendors will be posted on the OrangevilleFarmersMarket.ca website.
The direct entrance into B rink is located at the south end of the parking lot; there will be no access to the market from the building's main entrance.
The winter market dates are as follows: November 7 & 21, December 5 & 19, January 9 & 23, February 6 & 20, March 6 & 20, and April 3 & 17.
Shoppers are asked to limit social interactions inside the market and to limit the number of shoppers per family to one person. The market is under strict Town of Orangeville and Wellington-Dufferin-Guelph Public Health Board guidelines designed to keep everyone safe.
Face coverings are required for all vendors and shoppers
All visitors to the market will be required to leave their name and phone number for the purposes of contract tracing
The number of shoppers in the market at any one time will be limited to a maximum of 50 to ensure enough space for social distancing
Public washrooms are closed
Vendors will be positioned at least 10 feet apart
Some vendors take payment via Interac, but some only take cash
There is no bank machine on site so please come prepared
Bring an assortment of bills and even some coins so you can pay without requiring change -- vendors will do their best to keep cash payments separate from their floats so they can provide customers with "clean" change
Customers will not be permitted to touch the products/produce
Most products will be pre-bagged
If using your own bags or containers, please be prepared to pack your own purchases
Please send only one family member to shop, if possible
Please maintain physical distancing of a minimum of 6 feet from vendors and shoppers
Absolutely no eating inside the market
Please do not socialize inside the market
Please follow the directional traffic flow indicators
The Town advises that regularly scheduled activities at the Tony Rose Memorial Sports Centre will not be affected by the market's operation at this location this winter season.