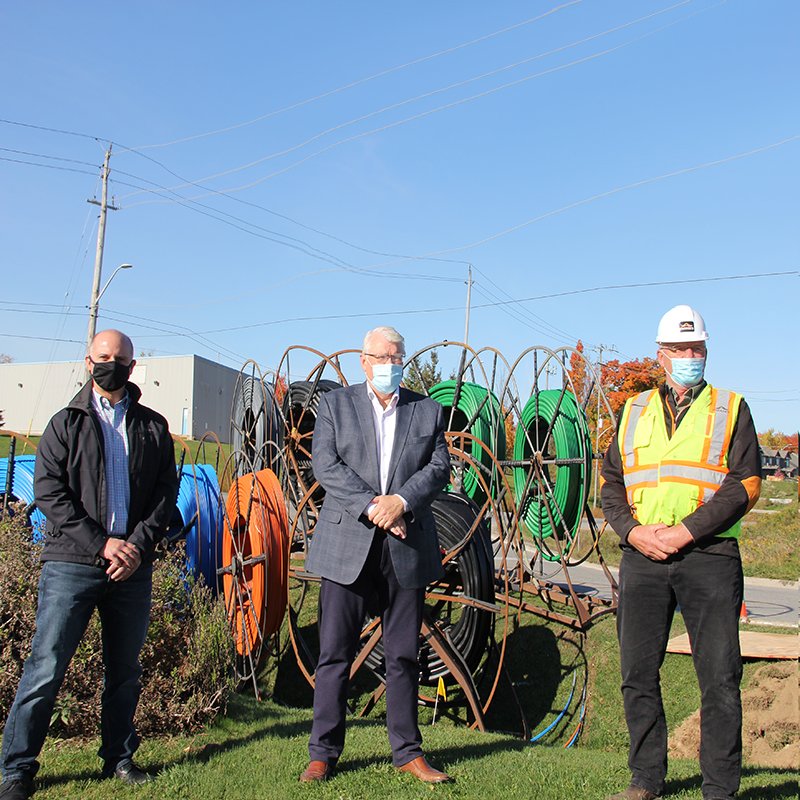 After months of planning, Wightman is breaking ground on a $56 million investment in Orangeville that brings next-generation telecommunications infrastructure to the Town. Starting first with the business park, and working with local company Avertex on the installation, Orangeville's businesses will be first to be able to access Wightman's state-of-the-art service offerings.
Businesses have been identifying this critical infrastructure as a top priority and that need is going to be addressed with Wightman planning to bury more than 350,000 metres of fibre optic lines in Orangeville.
The COVID-19 pandemic is redrawing the expectations of businesses and the workforce. Working remotely has put increased pressure on the need for effective digital infrastructure and Orangeville is well positioned with this investment.
Calling it a momentous day for Orangeville as Wightman starts construction of a fibre optic network, Mayor Sandy Brown said the project will act as "a springboard to attract higher tech businesses and it's also great for business retention". He thanked Town staff members who worked behind the scenes with Wightman to bring the contract to fruition. "This is a great day for Orangeville," he said, adding it will be a boost for those working and studying from home.
Wightman President Rob Figliuzzi said the start of construction is the accumulation of much planning, discussions and negotiations with the Town, adding he's pleased to be working on Orangeville's fibre optic infrastructure.
Wightman begins fibre construction this fall, moving to the residential sector next year. The company plans to open a retail location in Orangeville in early 2021. Orangeville marks the family-owned company's 12th Fibre to the Home build.