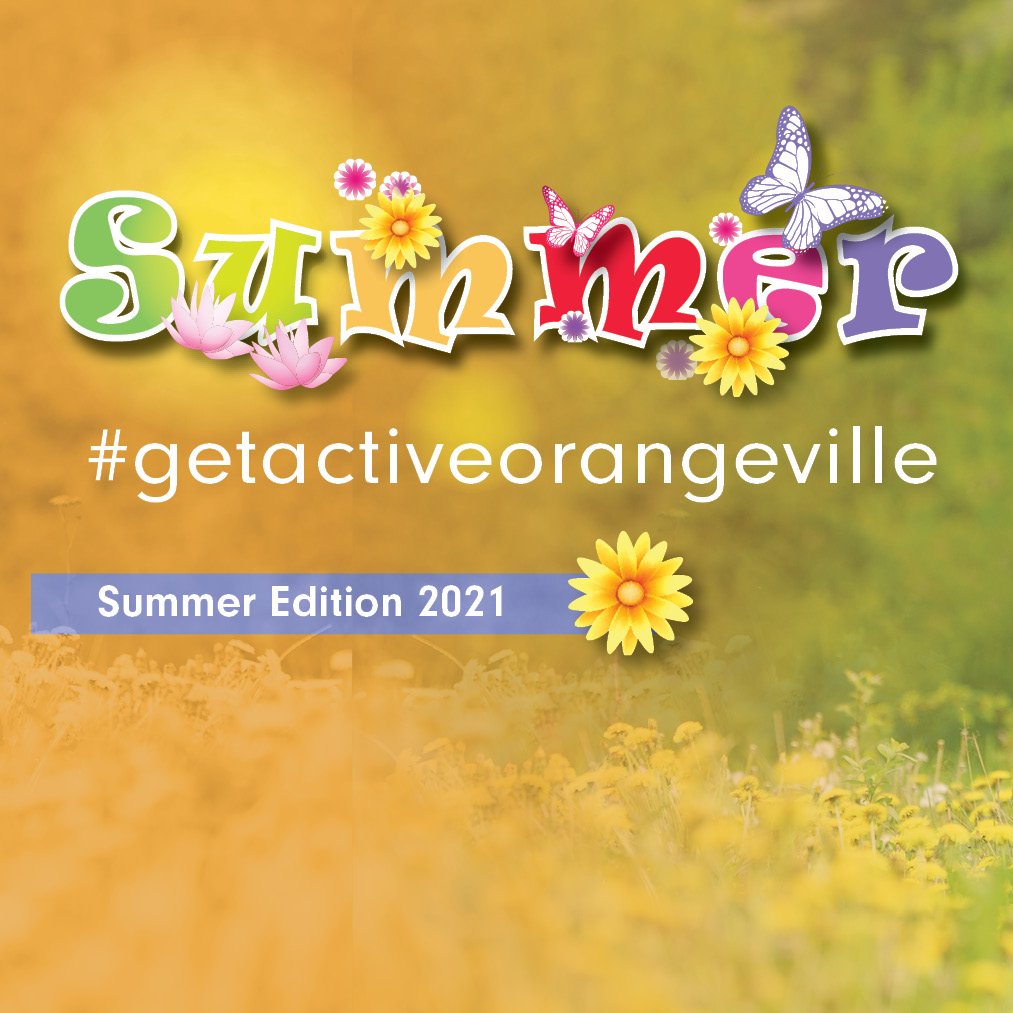 Looking for fun events and activities to do right in our great community of Orangeville? Check out the Summer Get Active events and activities. The Recreation & Events Division and the Orangeville Public Library are offering some great activities this summer. The Summer Get Active activities can be found online at www.orangeville.ca/get-active.
"There are so many great ways to stay active this summer and enjoy some great activities right here in Orangeville," said Mayor Sandy Brown. "I hope to see residents out and about enjoying our parks and trails, checking out the great programs offered by the Orangeville Public Library or at one of our drive-in movies. It's always a pleasure to see the kids smiling and laughing. It brings so much joy, especially after the trying year we have all had."
Get active during June and celebrate Recreation & Parks Month. Check out the calendar of activities, try the bingo challenge and look for great tips in the activity booklet. The Mayor and Council have declared June as Recreation & Parks Month.
Lace up your shoes, get on your bike, or go for a jog as you take part in the ParticipACTION Community Better Challenge. Orangeville has entered this challenge which runs from June 1-30 and is open to everyone, ultimately recognizing the community with the most tracked minutes (based on its population size) as Canada's Most Active Community and awarding it with $100,000 to support local physical activity initiatives. Help us earn the big prize by tracking your activity on the free ParticipACTION app. Every move counts! #CommunityBetterChallenge.
Looking for something creative to do? Join in the Community Art Mosaic Project, open to residents to participate in Orangeville's largest public art project. Register to pick up your part of the project: an art kit complete with one mosaic tile, paint supplies and instructions. Complete your art piece and return it to the Mill Street Public Library. Your completed tile along with 500 others will create a stunning piece of artwork that showcases the historic charm of the Town of Orangeville. Registration will begin Monday, June 21. More details will be available soon.
Discover the programs and services available from the Orangeville Public Library. A summer favourite is the TD Summer Reading Club, a national reading incentive program developed in partnership by Library and Archives Canada and Toronto Public Library, funded by TD Bank Group. Inspire a life-long love of literacy and maintain learning all while having fun! Starting late June, children ages 12 and under can register online through the Orangeville Public Library Beanstack site to track their reading throughout the summer months for a chance to win great prizes. Double the fun by participating in virtual programs and events. Check the library website orangevillelibrary.ca for upcoming opportunities.
Join in and help celebrate Canada Day with your community! The Town of Orangeville is once again calling on residents to help "Paint the Town Red" for Canada Day 2021. The idea is simple, decorate your home in red and white and hang Canadian flags to demonstrate your pride.
Drive-in movies are back this summer! Load up the car end enjoy a movie under the stars, from the comfort of your vehicle. Pre-registration is required and is $10 per vehicle. More details on movie dates and locations will be available soon.
For more information check out www.orangeville.ca/get-active.