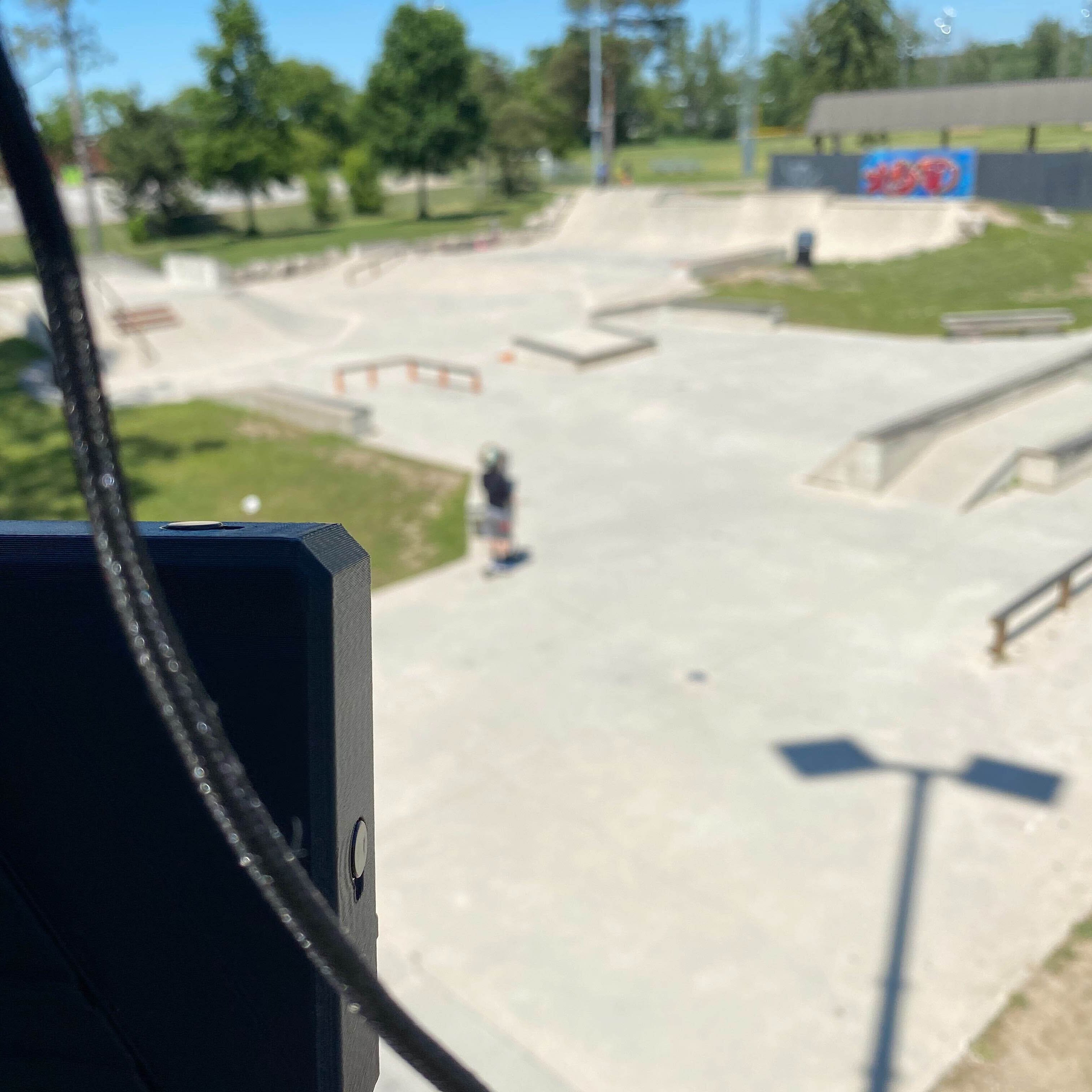 The Town of Orangeville, in partnership with IRIS R&D, an Ontario-based technology start-up company, is launching an innovative smart open space pilot this week. The goal of the pilot is to support the reopening of public places in a way that is in line with Public Health guidelines on social distancing and to understand the flow of people in public spaces.
As part of the Town's Digital First initiative and COVID-19 recovery efforts, smart cameras have been installed at the community garden and Rotary skatepark, giving the Town an opportunity to test the innovative technology in both passive and active spaces.
The cameras, which are artificial intelligence enabled, have a variety of capabilities that the Town will explore throughout the project. Initially programmed with pre-set facility limits, they will alert staff if the number of people in a space exceeds the predetermined capacity. If an area is over capacity staff get a notice, and then when it is under capacity staff are re-notified. This enables staff to decide if they need to attend for a staff visit to check the site or not.
The two test cases will demonstrate the effectiveness of this type of technology in supporting reopening of spaces and facilities as the Town progresses through the recovery phase.
The two initial test environments are very different:
a smart garden which is a passive space to see how the equipment performs in terms of reach and quality
a skatepark which is an active space there are expected to be more people, and the users will be moving most of the time
The cameras are mobile and once testing is completed and the full capabilities are determined, the Town plans to move the cameras to new spaces to support the continued reopening and monitoring of public spaces and possibly events. Given the project's focus is on health and safety in community spaces real time, the project includes the use of machine learning technology to redact personally identifiable information on the images. Privacy is ensured with the automatic redaction of personal information at the camera source. No private data is ever captured or stored.
"A key goal is to support reopening spaces and activities without needing to have staff physically monitoring and checking locations constantly," said Mayor Sandy Brown. "Following the guidance of Public Health, we'd like to Open Orangeville as quickly as possible while supporting the health and safety of the community. This is a tool that can support us on that journey."
Backgrounder:
A Smart City (or Smart Town) is one that focuses on improving quality of life for the community through the use of data, modern technology and increased engagement. It maximizes the use of limited resources to enable sustainability, livability and resiliency.
A smart space (also known as a connected place) is a physical or digital environment in which humans and technology-enabled systems interact in increasingly open, connected, co-ordinated and intelligent ecosystems. The systems with networked sensors give people more and better information about the condition of the locations and how they're being used. (source:cognizant.com)