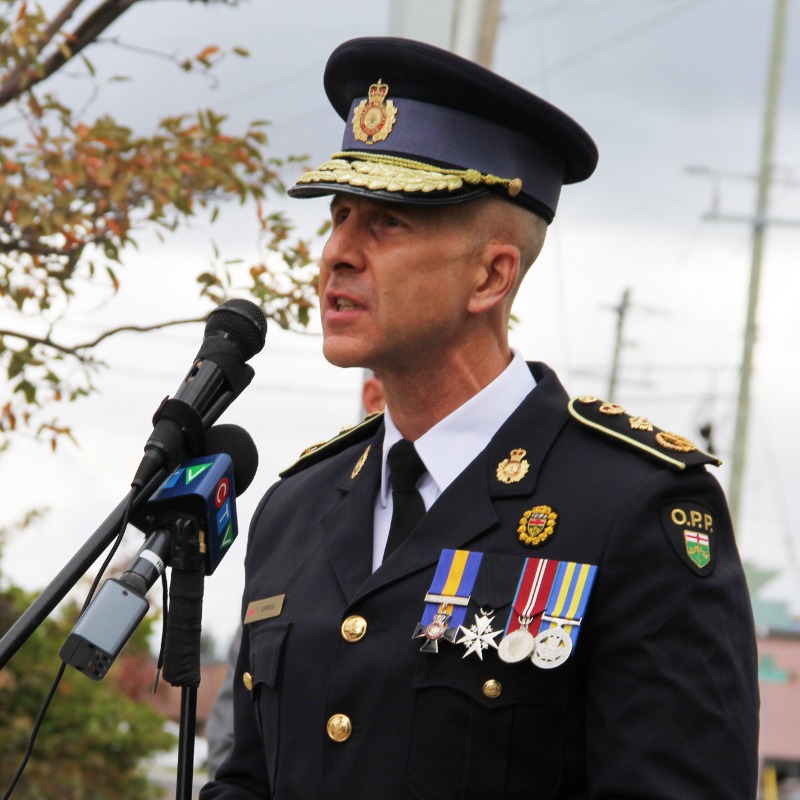 Policing is about people and partnerships, OPP Commissioner says
The Ontario Provincial Police (OPP) received a warm welcome following the official transition from the former municipal police force on Thursday (October 1). "We consider it an honour and a privilege that you have selected us as your police service to continue a tradition of community-minded policing that has been done so well by the Orangeville Police under the leadership of Chief Wayne Kalinski who retires today after 41 years of dedicated service," said OPP Commissioner Thomas Carrique. "Policing is about people, policing is about partnerships, and we only police with the consent of our communities to ensure that we are able to enjoy the safest and most secure communities in this entire country. We look forward to partnering with you, we look forward to earning your trust and confidence, and we certainly look forward to being your police service."
Mayor Sandy Brown said the Town is looking forward to the new partnership with anticipation and absolute confidence in the decision. He thanked members of the Orangeville Police Service, Town staff and the Police Services Board who assisted with the transition.
"I wish to thank every member – both civilian and uniformed of the Orangeville Police Service, and wish them the best as they embark on a new chapter in their lives," Mayor Brown said. "The Town greatly appreciates their many years of dedicated service. Police, around the world, have been under a great deal of stress and additional scrutiny over the past few months. Our Town Council, our Police Services Board and the residents of Orangeville have the utmost respect for all of our First Responders – we wish to make the transition, amalgamation and start-up of policing under OPP leadership as seamless as possible."
Councillor Todd Taylor, chair of the Police Services Board, expressed appreciation to the Orangeville Police for serving the community for the past century. He also thanked town staff and the board members. "I ask that all citizens work to make our new OPP service successful. All of us on the board are looking forward to working with Acting Inspector Nicol Randall and her team. My interactions with the OPP thus far have been warm, friendly, and most importantly productive. Welcome to Orangeville Ontario Provincial Police -- we are glad you are here."
Of the uniformed officers with the Orangeville Police Service, 85 percent of those who applied were offered jobs with the OPP. Seven civilians were offered positions with the OPP, with six accepting jobs. The auxiliary officer process is ongoing, with former Orangeville auxiliary officers in stage three of the auxiliary deployment program and the full auxiliary program expected to be in place by Christmas.
For non-emergencies, call 1-888-310-1122 (toll free in Ontario). To reach the Orangeville building of the OPP Dufferin Detachment, call 519-942-1711 or fax 519-942-3288). In an emergency, always call 9-1-1. For information on the OPP, police record checks and reporting crime using the Online Reporting tool, visit opp.ca.