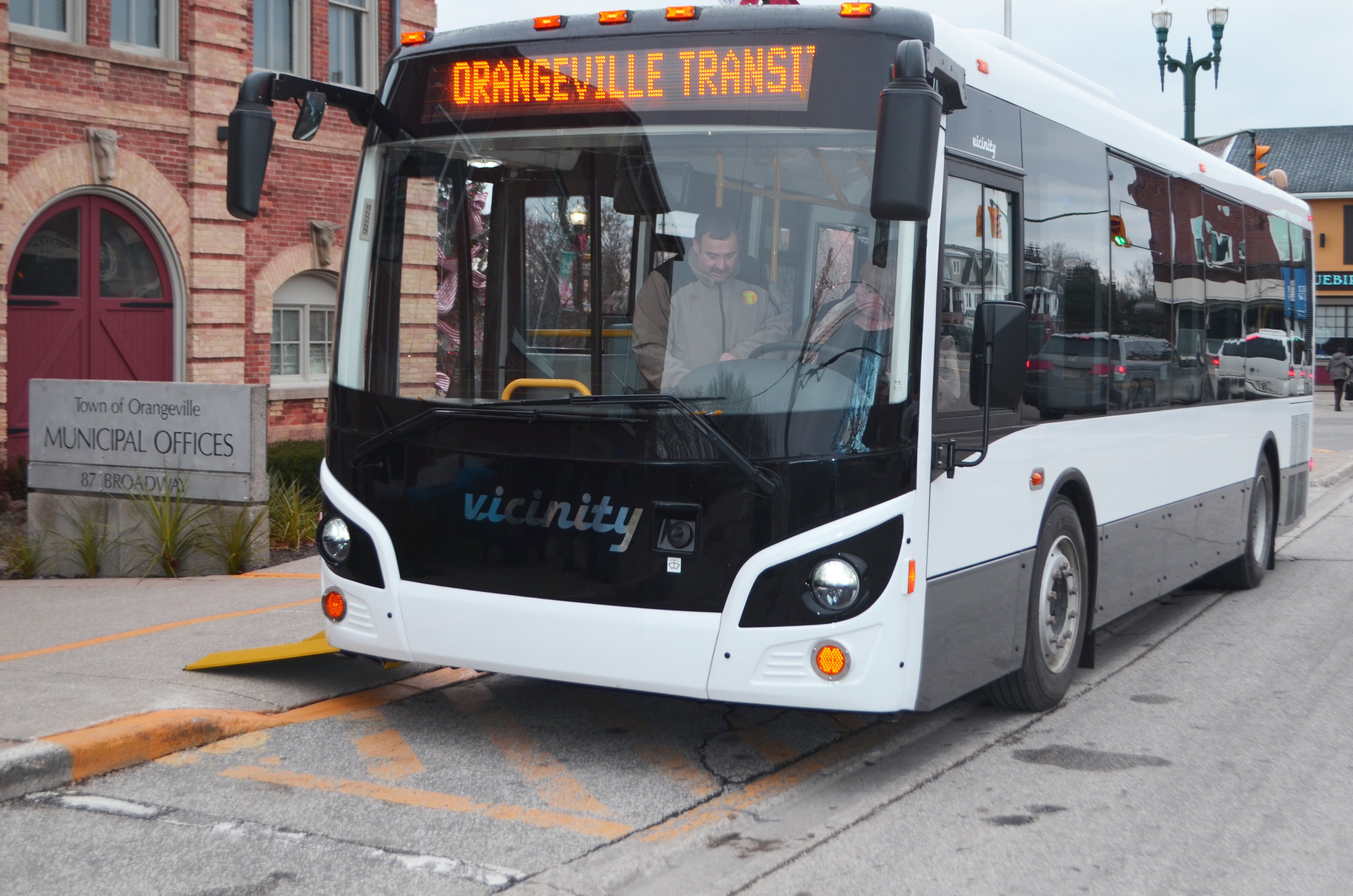 Orangeville Transit is celebrating 30 years of serving town residents and visitors! Founded on December 2, 1991, Orangeville Transit's original fleet consisted of two accessible minibuses, making the first transit system fully accessible from its inception.
Former Mayor Mary Rose remembers the launch of Orangeville Transit 30 years ago. "The Town was growing and young mothers, as well as school children and seniors, needed to get around. People were expressing a need to get to services such as medical appointments and shopping, so to make the community more accessible Orangeville Council investigated the concept of municipal transit and introduced a system with provincial funding assistance. The Town surveyed residents door-to-door to assess the need and worked closely with Ministry of Transportation officials to become, at that time, the first transit system to be fully accessible from the beginning. It was quite a momentous occasion."
The Town contracts First Student Canada to provide the transit service – the same company that has provided the service since it was introduced 30 years ago. That may be the only thing about Orangeville Transit that hasn't changed.
Since its humble beginnings, the transit service has expanded to provide three different routes with a main transfer point on Fourth Street at Broadway, making it easy for riders to transfer between buses. Other innovations include launching the Orangeville Bus Tracker app in 2020, allowing riders to find out exactly where their bus is and when it will reach their stop, with a map display which shows where the bus is along its route, in real-time. Today, the service has a modernized fleet of four 30-foot buses, with more buses scheduled to arrive in 2023.
"The Town of Orangeville is embracing technologies that allow us to better communicate services to our residents," said Mayor Sandy Brown. The bus app is a perfect example of improving the level of service and making the Orangeville Public Transit system more convenient to use. View the app at https://transit.orangeville.ca. "Thirty years in, Orangeville Transit provides a valuable service as it continues to respond to evolving demands. 2022 will be an exciting year for Orangeville Transit with the addition of the new Transit Hub, allowing for further enhancements to the service."
The Town is looking into route changes and an on-demand type service to better serve transit users, improve scheduling and reliability, and to reach out to other areas within the Town. A new terminal is being designed now with construction expected to get underway in 2022.
Orangeville Transit, with support from the province, works to keep fares affordable. Riders can purchase single-fare tickets, 10-ride passes, or monthly passes, depending on their needs. Learn more about schedules, maps and fares by visiting https://www.orangeville.ca/en/living-here/transit.aspx.