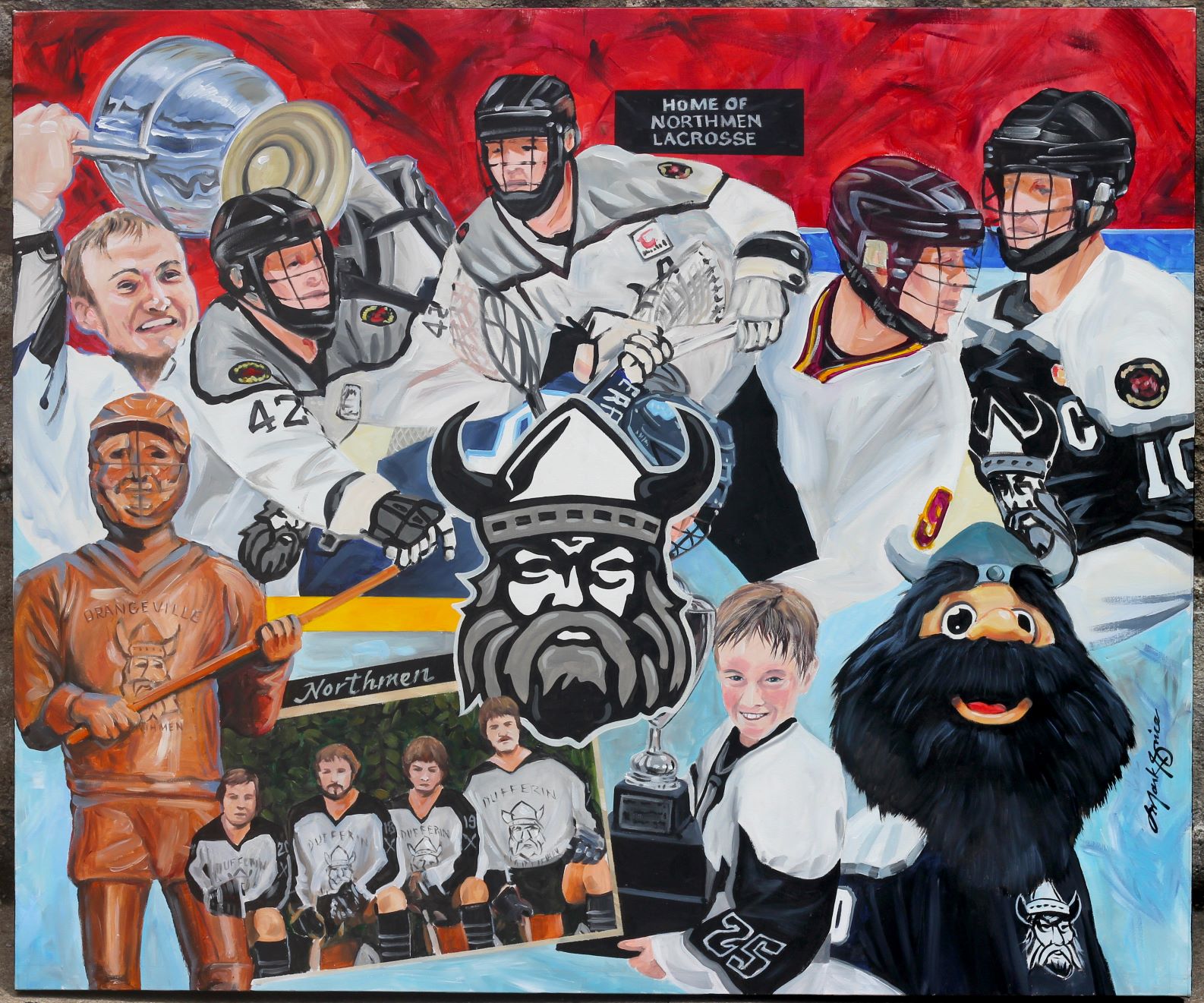 A piece of public art has been installed as a tribute to the Orangeville Northmen Lacrosse Association. On display at the corner of Alder Street and Riddell Road, the artwork honours the history of lacrosse in Orangeville and recognizes the efforts of the Orangeville Northmen in developing the sport locally.
The Orangeville Northmen sponsored the installation, fittingly located near the Alder Recreation Centre where many lacrosse games are played. Orangeville artist Mark Grice was commissioned to paint the piece and used bold colours and iconic images to honour the players, coaches, volunteers, and fans who have a played a role in the success of the Northmen lacrosse over the years. The sport has a long history in Orangeville, dating back to the 1860s.
The utility box was installed in advance of the Barry Burman Summer Shootout, an annual tournament hosted by the Orangeville Northmen. After a two-year hiatus, the association is eager to host the event this year from Friday, June 24 to Sunday, June 26. Eighty lacrosse games will be played over three days at Alder Recreation Centre and Tony Rose Memorial Sports Centre. Over 700 players, coaches, and staff representing 35 A/B ranked teams from across the province are expected to attend. The game schedule can be found at www.northmenlacrosse.ca.
"The Orangeville Northmen are a great source of pride for the community," said Councillor Lisa Post, Chair of the Cultural Plan Task Force. "Their success, work ethic, and resiliency help to define the character of Orangeville and this installation demonstrates the value of the Northmen's contributions."
The piece is part of a collection of 25 utility box art displays located throughout Orangeville. An online listing of all utility box locations can be found at www.orangeville.ca/digital-guide or by using Driftscape, a free, interactive mobile app. Both tools include details about all public art pieces in Orangeville, including tree sculptures, murals, and monuments. Residents and visitors are invited to explore the full collection at any time.