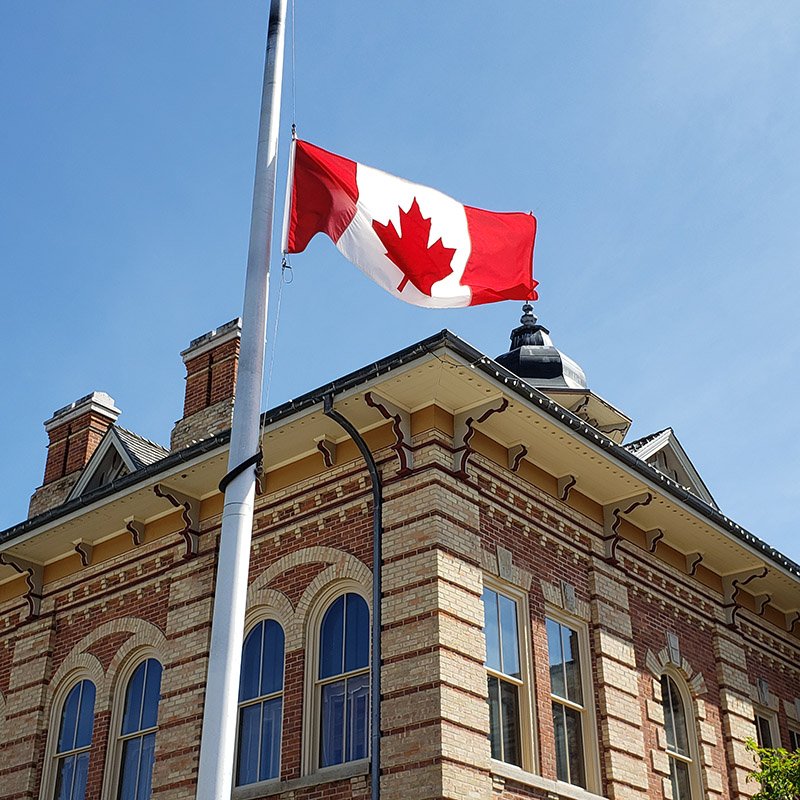 The Town of Orangeville has lowered flags at municipal facilities today to mark the one-year anniversary of COVID-19 being declared a global pandemic by the World Health Organization. The flags are lowered to mark the impact of the pandemic and to honour those affected by COVID-19.
The pandemic has been devastating. More than 7,000 people in Ontario have lost their lives to this deadly disease. The Town acknowledges this loss of loved ones and offers condolences to all those impacted by this loss of life.
"So much change and loss has occurred in that year," said Orangeville Mayor Sandy Brown. "Remote work and online meetings have become routine, people have had to distance themselves from one another, first responders have experienced unprecedented challenges, frontline workers of all sorts have had to keep on working, while others have found themselves out of work with businesses closed during lockdown periods. It's been tough and we mourn for the lives that have been lost. Whether you agree with all actions or not, our federal and provincial leaders have worked hard to get us through this year, along with municipal staff who kept basic services running. And let's not forget the roles played by Public Health and health care professionals. All of these people have all done a great job in protecting people and keeping the economy going. Vaccines are now rolling out for ever-expanding groups. We are ready to be vaccinated and we have reason to be increasingly optimistic as 2021 unfolds."
From physical distancing and social isolation comes hope for a re-opening of our everyday worlds with the vaccination program under way in communities across the country. The crisis isn't over, but people see the signs of hope. "Be kind" has become a new motto. Keep that in mind as we continue to follow public health advice. COVID-19 and the variants continue to be a very real risk. And when your turn comes to roll up your sleeve for a vaccination think about the future when current restrictions are no longer necessary.