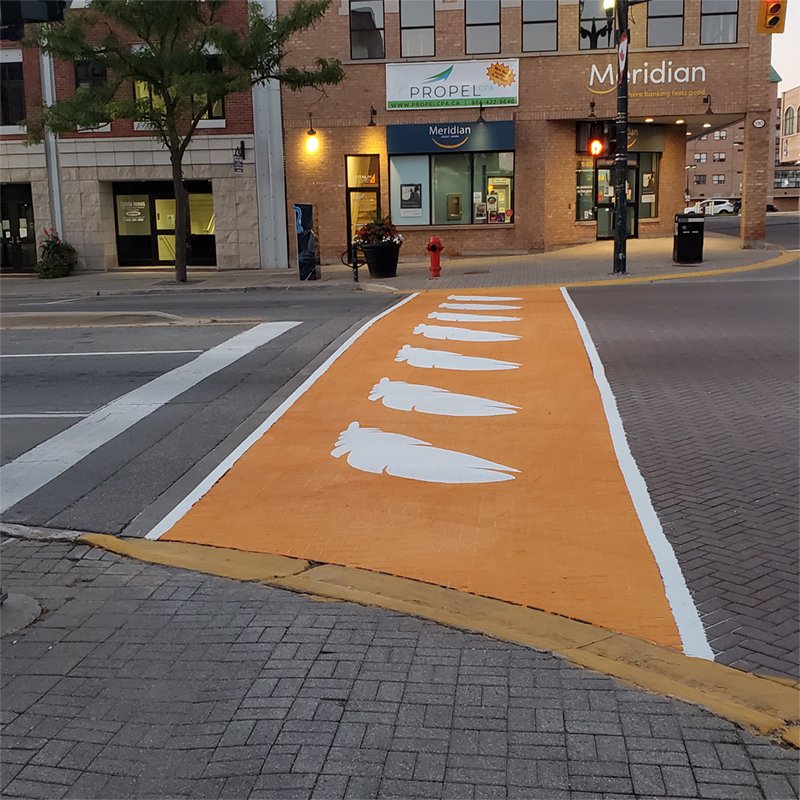 The Town of Orangeville has installed an Indigenous crosswalk at its main downtown intersection. Located on Broadway at First Street, the orange crosswalk, with seven feathers centred across its width, commemorates the Indigenous children who were taken from their families and forced to attend residential schools.
Orangeville Council decided in June to install a special crosswalk as a step towards reconciliation in our community. The goal was to install the crosswalk by September 30, 2021 – the first National Day for Truth and Reconciliation.
Understanding the relationship with Creation has always been important to Indigenous people and the belief that all forms of life are equally important. The seven feathers on the Indigenous crosswalk hold a special significance, representing the teachings of the Seven Grandfathers.
The teachings of the Seven Grandfathers is a set of teachings on human conduct towards others, focusing on a moral respect for all living things. Many Aboriginal organizations and communities have adopted the seven guiding principles centred around wisdom, love, respect, bravery, honesty, humility and truth.
The Dufferin County Cultural Resource Circle and local elders provided input on the feather design for the orange crosswalk, installed by Almon Equipment Ltd.
"The Town continues its support of the Indigenous Community – this crosswalk is a symbol of the strength and courage of the Residential School survivors and a tribute to those lives lost," said Mayor Sandy Brown. "It will be permanent reminder of this unfortunate part of Canadian history."
"True reconciliation requires ongoing action from all levels of government," said Councillor Lisa Post, who brought the crosswalk concept forward to Orangeville Council for consideration. "Of the 94 calls to action identified by the Truth and Reconciliation Commission of Canada, the installation of this crosswalk puts action behind both the educational component as well as collaboration with Indigenous organizations for commemoration. There is still lots of work to be done, but this serves as an important first step towards reconciliation in our local community."