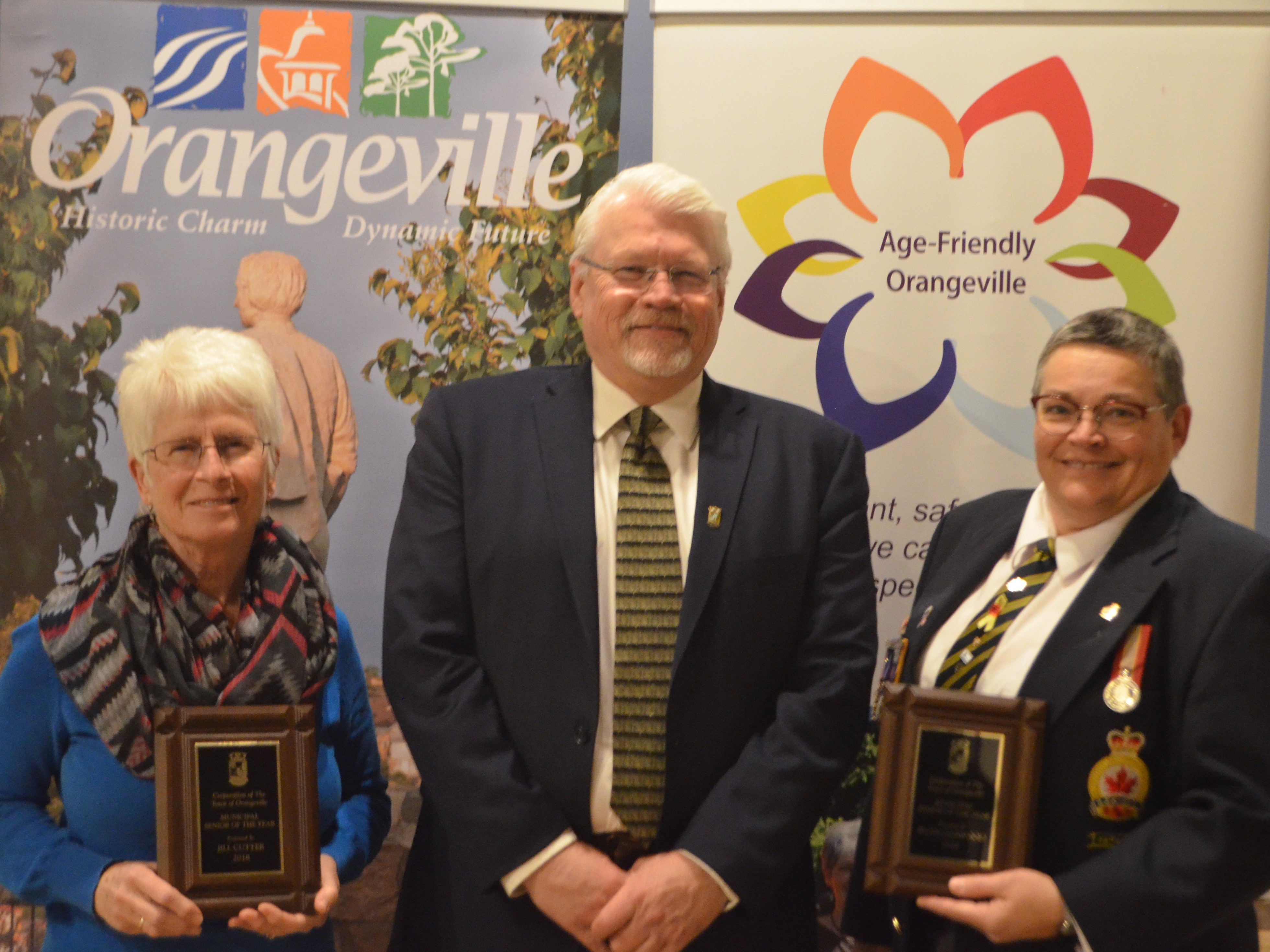 The Town of Orangeville pays tribute each year to seniors who have enriched the social, cultural, or civic life of the community. Initiated in 1996, the award program invites public nominations with the final decision made by Orangeville Council. During a municipal election year, the award is presented at the start of the subsequent year.
Jill Cutter and Ruth Garwood were selected to receive a Senior of the Year Award for 2018. The awards were presented at the January 28 meeting of Orangeville Council. The recipients receive an individual plaque and a nameplate on a plaque in Council Chambers.
An active member of the community, Jill Cutter is always a willing volunteer. Since joining the Horticultural Society in 2001, Jill has been a member of their board of directors, the co-ordinator of the Garden Angels (the group that tends 10 Town gardens), and the organizer of several workshops for the Horticultural Society. Jill also assists with the annual Hidden Gems garden tour fundraiser and is a past member of Go Go Grannies. In addition, she volunteers as a member of the Communities in Bloom Committee.
Ruth Garwood is dedicated to helping the community. A resident of Orangeville for more than 18 years, Ruth has been the Commissioner for Girl Guides in Orangeville as well as a Spark, Brownie, and Guide leader. She has served as a coach for Orangeville Minor Soccer, is a member of the Royal Canadian Legion, and a member of the Legion's Colour Party. She offers information technology support and is the Legion liaison with the 85 Royal Canadian Air Cadet Squadron in Grand Valley and the 1849 Lorne Scots Army Cadets in Orangeville. Plus, she is the Commanding Officer of the 164 Squadron, Royal Canadian Air Cadets in Shelburne.
Jill Cutter (left) and Ruth Garwood receive Senior of the Year plaques from Mayor Sandy Brown.