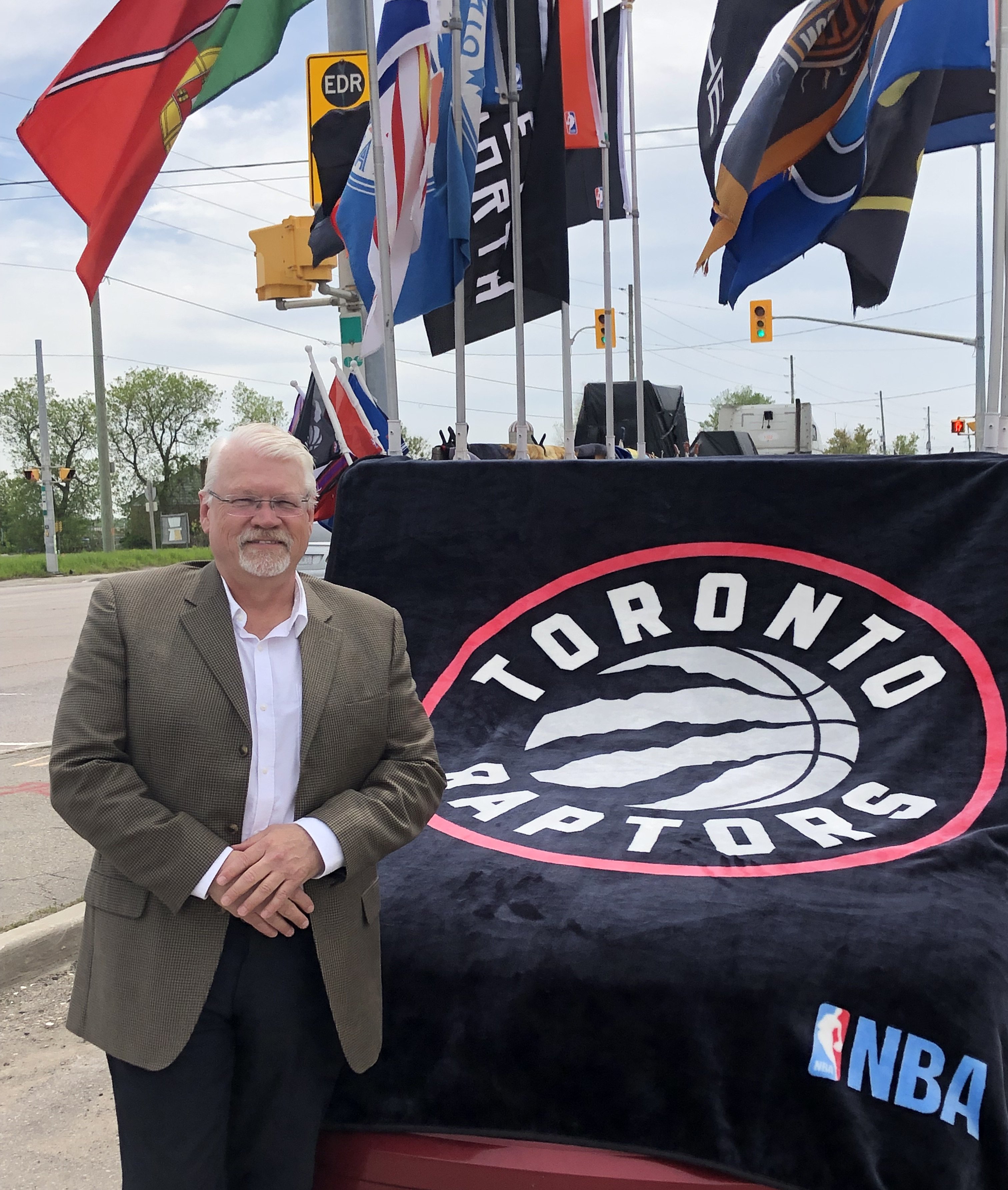 The country's only NBA team is playing for a championship for the first time, and all of Canada is rooting for them.
The Town of Orangeville received permission from Maple Leaf Sports and Entertainment (MLSE), that owns the Toronto National Basketball Association franchise, to broadcast the game on Mill Street Sunday night (June 2) on a large viewing screen. This marks the first time in franchise history that Toronto has hosted the NBA Finals.
"The Raptors making it to the NBA Finals may be a once in a lifetime opportunity – if the Leafs are any indication," Mayor Sandy Brown said. "Those who are sports enthusiasts and even those who are interested in sports during the playoffs are excited by our local NBA team's success. Events like this where the community gets together to enjoy and celebrate are positive for our Town. As far as cost is concerned – the equipment and set up are about $5,000. I have asked some of our local business leaders to donate funds to defray costs. So far, we have raised $3,000 in 24 hours and I fully expect to have the cost covered by donations. I have spoken to all Town Councillors and we are united in our support for this event. Coming at the end of the Blues and Jazz Festival – we already have Mill Street closed – so no additional costs will be incurred by Public Works. Hope we get a good crowd and the weather co-operates – it will be a memorable night!"
In a special Council meeting, members of Orangeville Council supported the initiative and approved the road closure. Mill Street, between Broadway and Armstrong Street, will be closed to vehicular traffic until midnight. Music 21 will supply audio visual equipment for the event.
Mayor Brown has subsequently advised that with a $1,500 donation from the Athlete Institute on Friday, all the costs for the viewing event have been covered by supporters. Officials at the Athlete Institute issued a statement saying they are very pleased to provide financial support for "this great celebration for the Raptors and Canadian basketball".
Councillor Grant Peters was inspired when he heard of similar Raptors events. "I saw other municipalities hosting outdoor screening events and thought why not Orangeville? It turns out there are fewer licensing hurdles than we thought, and the community has really rallied behind the idea."
The Toronto Raptors defeated the Milwaukee Bucks last weekend to advance to the NBA finals against the reigning Golden State Warriors. The Toronto Raptors will host the Golden State Warriors in game one of the seven-game series this Thursday at 9 p.m. at Scotiabank Arena in downtown Toronto. Game two is scheduled for Sunday, June 2 in Toronto.
Cheer on the Raptors! Come watch game two of the NBA Finals in downtown Orangeville in our own Jurassic Park! Tipoff is at 8 p.m. Bring a chair, if you wish, and lots of enthusiasm.
Welcome to Jurassicville? Mayor Sandy Brown shows his support for the Raptors.