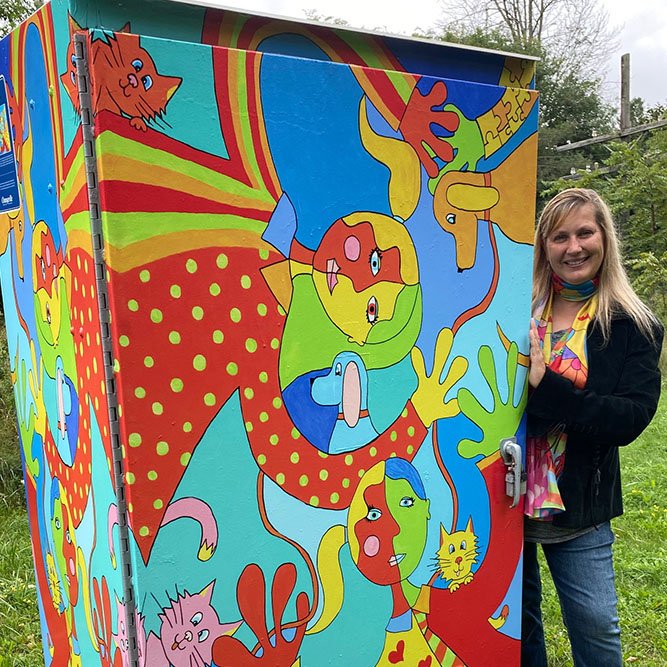 Four new installations have been added to Orangeville's Utility Box Art Display Program. Selected by the Town's Cultural Plan Task Force, pieces created by local artists have transformed functional utility boxes into colourful works of art.
The Utility Box Art Display Program recognizes local artists, celebrates the Town's culture and history, and promotes Orangeville as an arts and culture hub for the region. The program launched in 2016 with three unique art installations in downtown Orangeville. Including this year's additions, there are now 20 pieces of colourful public art adorning utility boxes throughout Town.
"Every year, we are impressed with the quality of the artwork submitted for this program and this year was no exception," says Councillor Lisa Post, Chair of the Cultural Plan Task Force. "Showcasing the work of our local artists is a unique way to beautify the Town while promoting our intensely creative community."
The successful submissions for the 2020 art installations were created by:
Michele Taras of Mono who presented a fun and colourful portrayal of pets and their owners called "For the love of dogs and cats," now installed in Kay Cee Gardens.
Wendy Reid of Melancthon who re-created a surprising interaction with a local herd of cows using a contemporary and animated approach. "Dufferin Bovines" can be viewed at Broadway and Sherbourne Street.
Christina Clare of Orangeville who painted a fun-loving bovine, out for an afternoon ride on country roads. "Joy Ride Sidecar" is now displayed at Broadway and Second Street.
Sonia Chernov, a student at Orangeville District Secondary School who depicted a field of bright sunflowers entitled "Fields of Gold." This installation at C Line and Alder Street is the first in the Town's collection to showcase a piece created by a youth artist.
Michele Taras is an award-winning artist who was first recognized as a photographer. Her fashion photography has been published in magazines including Elle and Vanity Fair. Since moving to Mono in 2012, her work has expanded to include clothing design and painting. The self-taught artist often uses abstract lines and bold colours in her work, once described as "Picasso as if he fell into a rainbow." Michele's portfolio can viewed online at micheletaras.com.
Wendy Reid is a contemporary visual artist who demonstrates her connection with her surroundings through her paintings. She often depicts a snapshot in time and brings the audience's attention to unique moments, locations and views. With this piece, Wendy celebrates the agricultural roots of Dufferin County. A well-connected contributor to the local arts community, Wendy has volunteered and taught with Dufferin Arts Council, Orangeville Art Group, and Maggiolly Art. Learn more about Wendy's work online at arthavenbywendyreid.com.
Christina Clare is a visual artist who enjoys painting the human figure in action and capturing the facial expressions and emotions of her subjects. During her diverse career, she has worked as a graphic designer and an artistic director, creating a variety of installations for theatre productions, events, and more. In 2015, she relocated to Orangeville and opened an art studio on Zina Street where she displays work featuring both people and pets, famous and local. She has completed many commissioned works, including the piece selected for this installation. Christina's work is featured on three other utility boxes, two in Kay Cee Gardens and one at Dawson Road and Town Line. Find more of Christina's work online at cjclareartworks.com.
Sonia Chernov is a local art student who works with a variety of mediums including oil, acrylic paint, pastel, charcoal, and pencil. Her work has been displayed in many local exhibits. Also a talented musician, Sonia plays piano, accordion and viola and won the Most Promising Musician of the Year award at the Orangeville and District Music Festival in 2018.
An online listing of all utility box locations as well as other pieces of public art can be found at orangevilletourism.ca. Residents and visitors are invited to explore the tree sculptures, murals and monuments that contribute to Orangeville's public art collection.
The Utility Box Art Display Program provides local artists with the opportunity to submit unique artwork for installation on selected Town utility boxes using a custom vinyl wrap process. Successful artists receive a fee of $500 for their designs. Artists residing in Dufferin County are invited to apply. Watch for a call for artists in spring 2021.
The 2020 Call for Artists also included mural installations at Alder Street Recreation Centre's walking track. Installation of these works is planned for the fall.