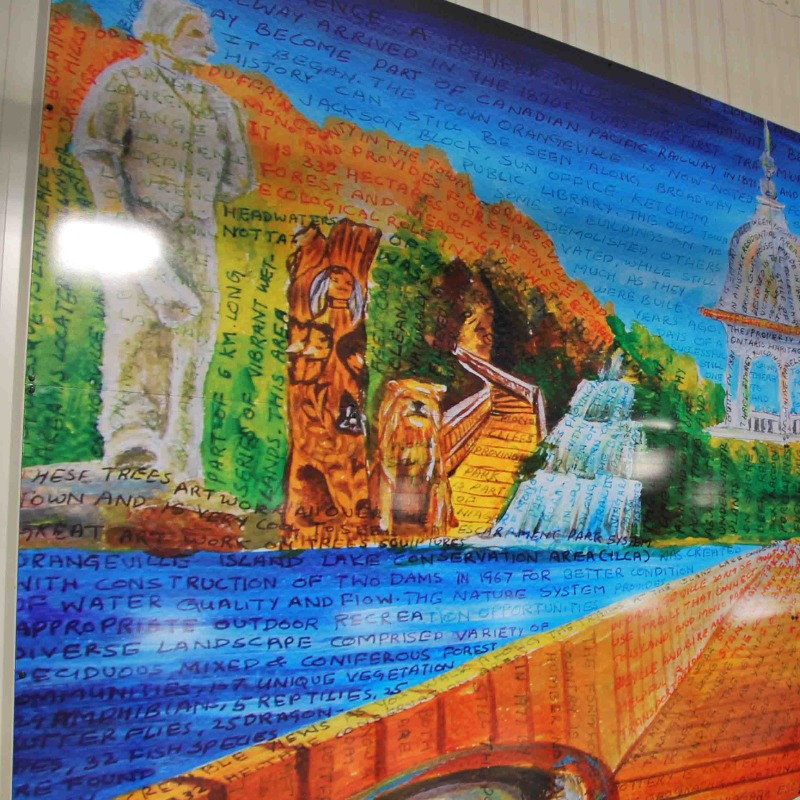 Four new installations of locally created artwork are now on display at the Alder Recreation Centre's walking track. The murals brighten four different walls along the track and contribute to the Town of Orangeville's growing public art collection.
Each piece stands eight feet tall and features artwork created by these local artists:
Anthony Fenech of Orangeville who painted Uptown Theatre, a depiction of the community landmark located in downtown Orangeville. Originally commissioned as a retirement gift, the piece intends to remind local residents of fond memories shared with family and friends at this nostalgic destination. Anthony's creative talents are diverse, including illustration, acrylics, signage, digital graphics, photography, and videography.
Wendy Reid of Melancthon who painted Becoming, a piece that features flowing lines, varied textures, and vivid colours. Inspired by her love of people, the artwork enables a close encounter with the spirit of the artist's subject. To complement her artistic pursuits, Wendy has volunteered and taught with Dufferin Arts Council, Orangeville Art Group, and Maggiolly Art. Learn more about Wendy's work online at arthavenbywendyreid.com.
Christina Clare of Orangeville who painted Boy in Green Pasture. In this work, the artist captures her son as he wanders through tall, green grass and admires the picturesque views of the rolling fields surrounding Orangeville. Christina enjoys painting the human figure in action and capturing the facial expressions and emotions of her subjects. At her Orangeville studio, she displays work featuring both people and pets, famous and local. Find more of Christina's work online at cjclareartworks.com.
Paramjit Kaur Kang of Shelburne who created The Glimpse of Orangeville. The acrylic painting invites the audience to discover the area's natural, historical and cultural offerings. To enrich the work, the artist layered in text, creating even more opportunities to learn about the region's history. Paramjit is an educated artist who currently runs a home-based art studio where students of all ages can advance their passion for art.
The installations at the walking track are intended to add vibrancy and interest to the facility while demonstrating the role that artwork can play in enriching everyday activities. "Our creative sector is a vital part of our community," said Councillor Lisa Post, Chair of the Cultural Plan Task Force. "Installing artwork in popular spaces like the walking track creates more opportunities for residents to discover and appreciate our local artists and their work."
The new murals add to the diversity of the Town's public art collection, complementing existing tree sculptures, utility box art, and monuments. To find all locations and the stories behind each piece, visit orangeville.ca/public-art/.
The murals were selected by the Town's Cultural Plan Task Force as part of the annual Call for Artists that was announced in March 2020. Local artists were invited to submit unique artwork for selected locations throughout Town. Successful artists received a fee of $500 for their designs. Artists residing in Dufferin County were invited to apply. Watch for a call for artists in spring 2021.
The walking track at Alder Recreation Centre provides an all-season option for residents looking to stay active. The track is currently open for visits at scheduled times by registration only.