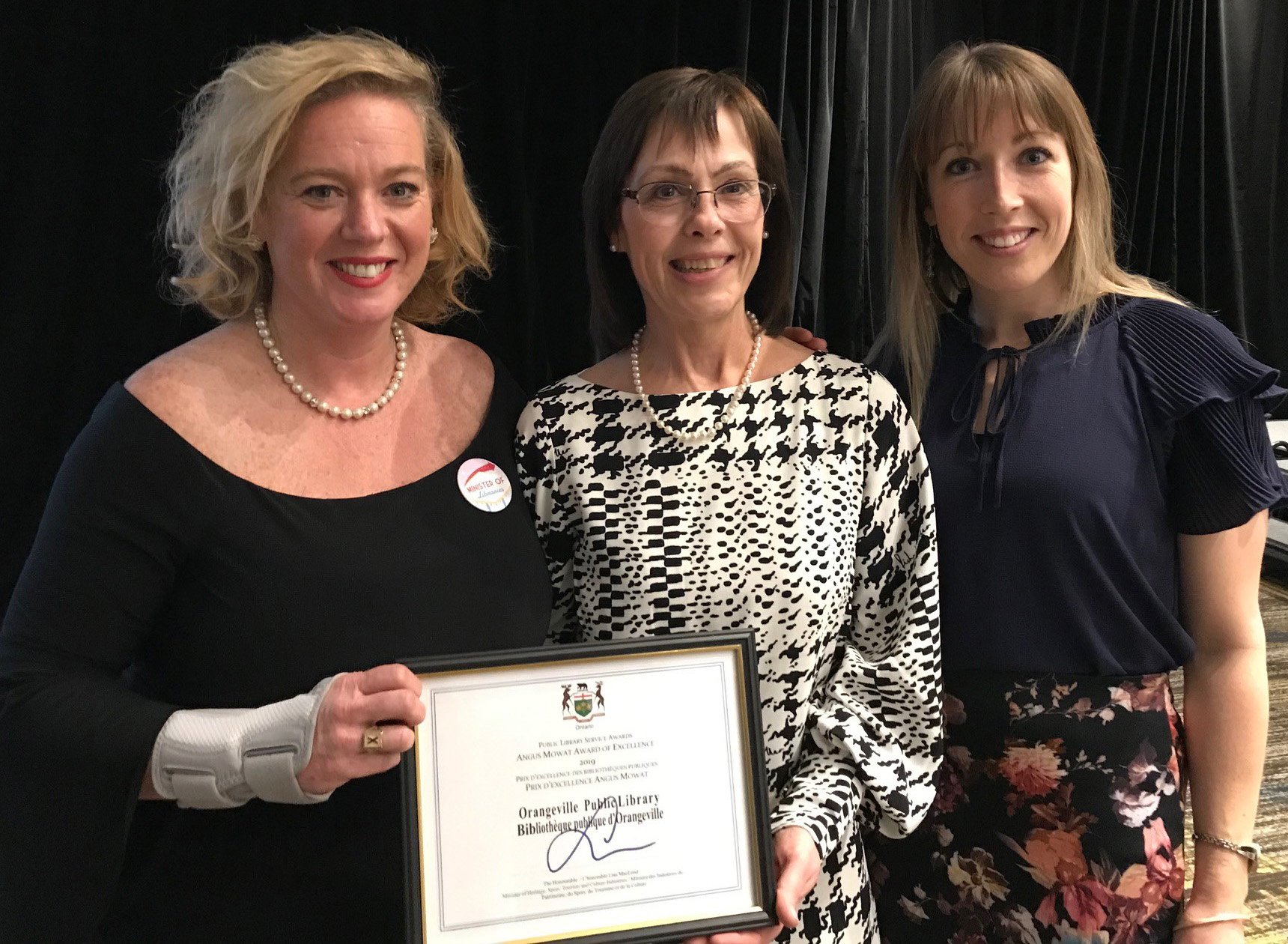 The Orangeville Public Library has been awarded the 2019 Angus Mowat Award of Excellence from the Ministry of Heritage, Sport, Tourism and Cultural Industries. The award was presented on January 30, during the Ontario Library Association's annual conference in Toronto.
The Ontario Public Library Service Awards recognize and promote creativity and a commitment to excellence in the delivery of public library services. There are two awards: The Minister's Award for Innovation and the Angus Mowat Award of Excellence.
The award was given in recognition of the library's work with community groups to create a culture of inclusion where persons of all ages and all abilities come together to participate in library programs or volunteer. The library's community partners include Community Living Dufferin, Kerry's Place, ALAS Dufferin, Branching Out Support Services and the Upper Grand District School Board.
"All staff at the library have a commitment to making the library a safe and welcoming place for everyone in the community," said Bill Rea, Chair of the Orangeville Public Library Board. "We are delighted to be recognized for the innovative programs and community connections that have brought so many groups and individuals into the library."
The Orangeville Public Library offers a wide range of programs for children, youth and adults. For more information regarding the Orangeville Public Library and upcoming events, visit www.orangevillelibrary.ca, the mobile app, Facebook, Instagram, Twitter or call 519-941-0610. A Visit Will Get You Thinking.
The Orangeville Public Library has been awarded the Angus Mowat Award for Excellence. At the Ontario Public Library Awards ceremony is Ontario Minister of Heritage, Sport, Tourism and Culture Lisa MacLeod, Orangeville Public Library CEO Darla Fraser, and Program and Research Co-ordinator Shannon McGrady.