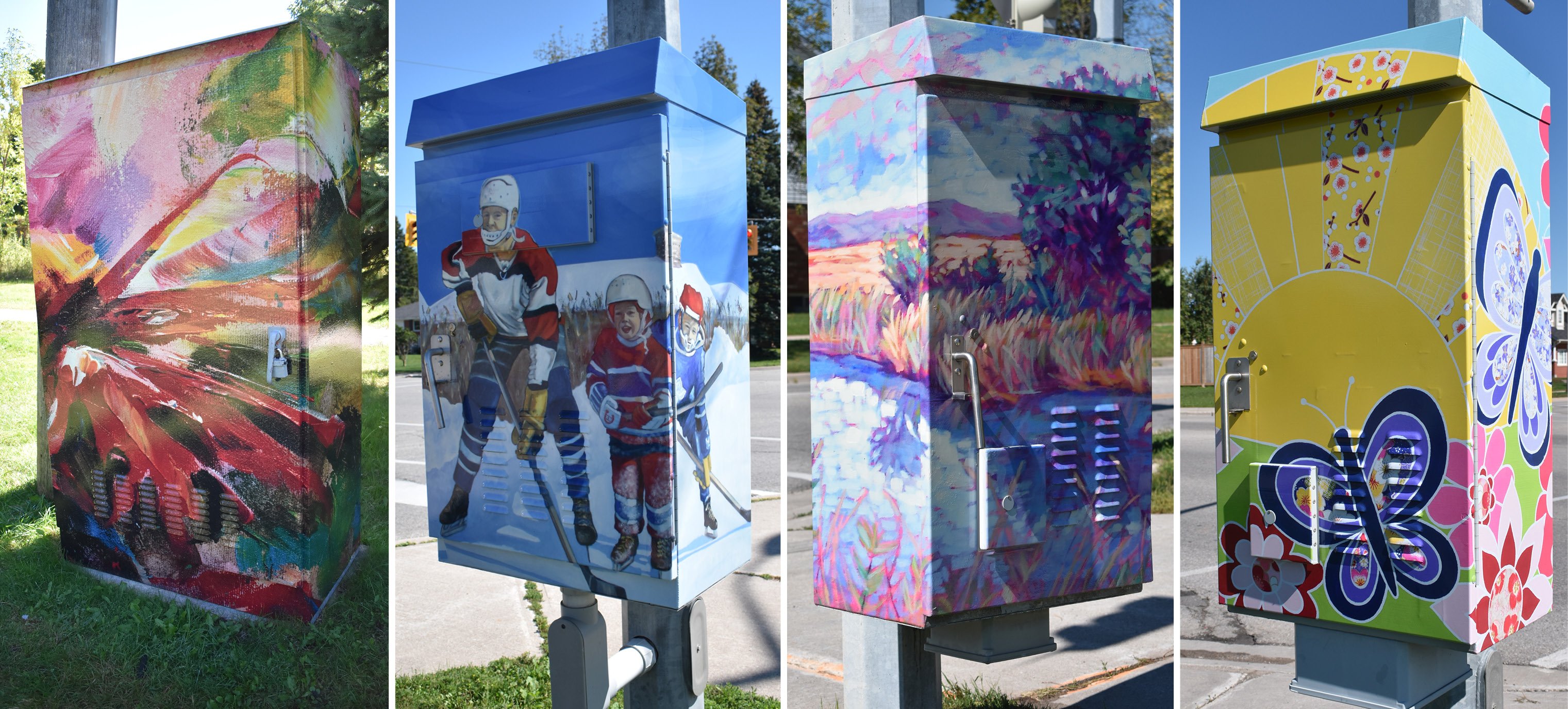 Four art submissions have been selected by Orangeville's Cultural Plan Task Force to be featured on utility boxes throughout Orangeville.
The Utility Box Art Display Program recognizes local artists, celebrates the Town's culture and history, and promotes Orangeville as an arts and culture hub for the region. The program launched in 2016 with three unique art installations in downtown Orangeville. Including this year's additions, there are now 17 pieces of colourful public art adorning utility boxes throughout Town.
"As the utility box art program continues to expand and flourish, it is clear that our arts community is vibrant and strong," says Councillor Lisa Post. "A special thank you to all of the artists who continue to contribute to the beauty of our community."
The successful submissions for the 2019 art installations were created by:
Sharon Wadsworth-Smith of Mono (recently relocated to Nova Scotia) who presented a vibrant floral image of a fuchsia Bee Balm for a location at Kay Cee Gardens
Judi Island of Orangeville who painted a view of the Vicki Barron Lakeside Trail at Island Lake Conservation Area, now displayed at College Avenue and Blind Line.
Christina Clare of Orangeville who replicated a scene of three boys playing backyard hockey, now installed at Dawson Road and Town Line.
Kelly Blackstock of Orangeville whose mixed media artwork depicts a bright summer day with butterflies and flowers, on display at Riddell Road and Alder Street, near Fendley Park.
Born in Regina, Sharon Wadsworth-Smith received an arts diploma as a graphic artist in Vancouver. After moving to Toronto, she worked as a graphic artist and photographer, and after moving to the Orangeville area, she developed her career as an art instructor. In 2014, she was the recipient of the Reed Cooper Bursary, permitting her to return to college at the Haliburton School of the Arts. Movement plays an important role in her work process and brings energy to her paintings.
Her painting, entitled "Frenzy", adds a pop of jewel tones to its location at Kay Cee Gardens. Its abstract nature and bright colours will complement the multi-coloured lights on display in December during the Optimist Club of Orangeville's annual Christmas In the Park event. Sharon's work can also be seen on utility boxes in Alexandra Park and at First Street and Hansen Boulevard.
After receiving a Honours degree in Fine Art at McMaster University and an education from the University of Toronto, Judi Island spent time teaching a variety of mediums in Toronto, New Zealand, and Australia. Her art was put on hold after an injury in 1993. Six years of therapeutic horseback riding led her to training as a member of the Canadian ParaEquestrian and Paralympic Teams until 2010. Influenced by the 3D form, her current artistic focus is on the changing qualities of light and colour with an impressionist influence.
Entitled "Island Lake," Judi's painting offers a view from the Vicki Barron Lakeside Trail at Island Lake Conservation Area. Her work combines themes of nature and local history. Judi is a descendent of the Island family, early settlers to the area in the 1800s and owners of the farmland adjacent to the conservation area that now bears their name. The view looks towards the hill that was once farmed by Judi's ancestors. She imagines that the wetlands in this piece, rich in native vegetation and wildlife, would have also been abundant back then.
Christina Clare is a visual artist who works out of her Orangeville studio. She enjoys painting the human figure in action and capturing the facial expressions and emotions of her subjects. As a teenager, she began work as a graphic designer in the print industry. She created backdrops for theatre productions, and after taking painting courses at the Art Gallery of Ontario has painted on canvas, wood panel or paper in oil, acrylic or pastel. She has completed commission works featuring Einstein, David Bowie, Amy Winehouse, Gord Downie, The Traveling Wilburys and many others. In February 2019, Christina exhibited a series of paintings of British pop stars during Theatre Orangeville's production of "Across the Pond."
A family photo taken on a crisp January day in 1970 was the inspiration for her painting, entitled "Backyard Hockey." Three brothers face off on an outdoor rink built by their father, depicting a favourite winter pastime enjoyed by many Canadian families. Christina's artwork is also displayed on two utility boxes in Kay Cee Gardens.
Kelly Blackstock grew up in Orangeville and has always been active in the arts community here. She obtained Honours degrees in Art History and English before completing teacher's college in New Zealand. She is now a secondary school teacher at Centre Dufferin District High School, teaching in the Visual Arts and Family Studies programs.
The excitement of summer is captured in her colourful mixed media piece entitled "Summer Morning in the Neighbourhood." Sunny days filled with buzzing insects, blooming flowers, green grass, and blue skies are all much-anticipated signs of the season. By capturing the essence of childhood and summertime, Kelly hopes to brighten this busy location all year long.
The Utility Box Art Display Program provides local artists with the opportunity to submit unique artwork for installation on selected Town utility boxes using a custom vinyl wrap process. Winning entries are selected by a jury, and successful artists receive a fee of $500 for their designs. Artist applicants must reside in Dufferin County and must be at least 18 years old. Watch for a call for artists in the spring for 2020 submissions.