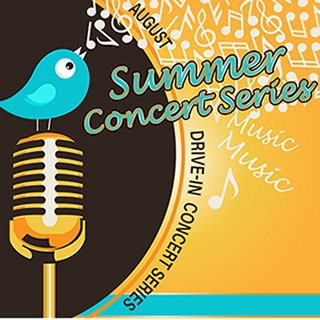 Following the approval of the Provincial Government for drive-in events, including music concerts, Orangeville Council has endorsed an exciting line-up of concerts for the end of August. The drive-in concerts will be held in the parking lot at Rotary Park, with a limited capacity. Performances are set for August 21-23 and 26-28 through advance online ticket sales. E. Hofmann Plastics is the presenting partner of the six-concert series. Wightman is the show sponsor for the August 27 and 28 concerts. MyFM 101.5 is also a show sponsor.
"After a summer of following Public Health's social distancing protocols, residents are ready for, and deserve, some great entertainment," said Mayor Sandy Brown. "Orangeville Council is excited to be able to offer this concert series with the collaborative help of our community partners, Theatre Orangeville and Community Living Dufferin. The generosity of our presenting sponsor, E. Hofmann Plastics, along with other local business sponsors demonstrates the great sense of community in this town."
The Summer Concert Series is presented by the Town of Orangeville, in collaboration with Theatre Orangeville (providing performance management) and Community Living Dufferin (providing a snack concession). The Town will provide parking marshalling and public washroom cleaning. Music 21 is providing the stage, video screen and FM transmission to cars.
The entertainment line-up:
Fri., August 21 - 8-10 p.m. Campfire Poets
Sat., August 22 - 8-10 p.m. Leisa Way is The Rhinestone Cowgirl (The Music of Dolly Parton)
Sun., August 23 - 2-4 p.m. Ty Baynton
Wed., August 26 - 8-10 p.m. Rock the Night Away with Leisa Way & The Wayward Wind Band
Thurs., August 27 - 8-10 p.m. The Itchy & Scratchy Show /Erin Bolton (opening act)
Fri., August 28 - 8-10 p.m. Campfire Poet
Advance ticket sales only. Tickets are $25 per car, and will be available online beginning Thursday, August 13 at 8 a.m. atwww.orangeville.ca/parks-and-recreation. Ticket holders may print their receipts or show the receipt on their phones at the gate to gain admission.
To reduce the spread of COVID-19, patrons must remain in their vehicle except to purchase food or beverages, to access the washroom, or for health and safety purposes. Masks will be required when patrons enter the washrooms. Each vehicle will also be required to be positioned at least two metres (six feet) apart from each other. Police/security personnel will be on site.
The public washrooms at the Rotary Park will be open for use. Frequent cleaning and disinfection for all areas, will be maintained by Parks staff.
For more information on the concert series, email recreation@orangeville.ca or call 519-940-9092.