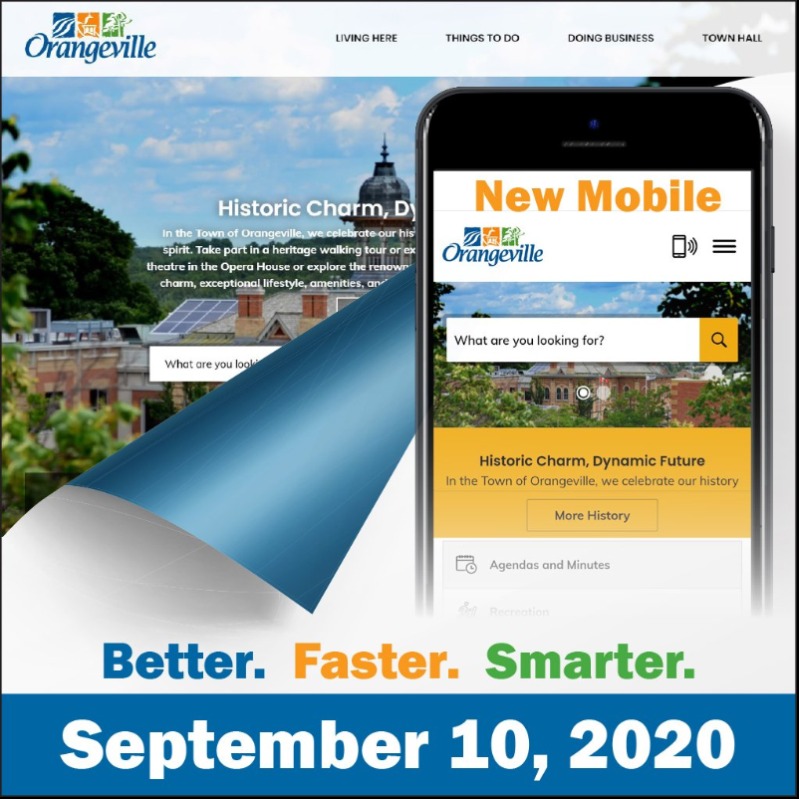 Looking for Town information? The Town of Orangeville is launching two new websites that are better, faster, and smarter than ever before. With improved navigation and a vibrant new look, the municipal site at orangeville.ca and the library site at orangevillelibrary.ca offer enhanced customer features, with easier to find content and better connections to public information.
"This is an exciting project for the municipality as we shift towards greater digital communication and service delivery," said Mayor Sandy Brown. "Especially significant is the integration of various software programs into the website, making for a seamless experience for the end user. Citizens will be more readily able to access website information through easy-to-use search functions and menus. The result is improved interaction with the public and much easier access to current information. The Town is also launching a mobile app to keep the community informed and better serve our residents."
Key features of the new websites include:
Easier navigation with user-focused drop-down menus and filters based on information sought by residents, businesses, and visitors, with fast and accurate search tools
Introduction of a mobile app, a location-based discovery tool providing real-time access to news, event calendars, road closures and more
Report a problem -- such as a pothole on an Orangeville street; the app will allow you to take a photo and have staff look after the issue, and advise when it's completed
New vibrant site design, focused on improving usability, including a focus on accessible design
Online forms to help you submit requests easier
Mobile-friendly platform
Integrates new and existing municipal software used by different divisions to increase staff efficiency and improve access to information – from searchable by-laws to GIS data. It means much of the information is shared real-time with the public – when the Clerk's office updates a by-law or adds a meeting agenda the information automatically flows from the internal system to the website. Those systems include a transit app, Data Orangeville, financial and recreation software programs, and a meeting agenda system.
An "I want to" menu will direct you to everything from registering for recreation programs to applying for jobs
Residents can submit events to a new community calendar
The new library website offers newsfeeds with links to Facebook, Instagram and Twitter; the option of seeing and printing program schedules in a calendar view; has new forms and automated processes for exam proctoring requests, meeting room bookings and purchase requests. The library catalogue is fully integrated with the website, making it easy to find what you are looking for, including placing holds on materials.
Orangeville.ca is the municipality's primary digital channel and source of information. The website is a living entity. It will continue to evolve and change – with updated content – based on residents' needs. The Town will continue to use social media platforms to share news and updates, along with the new mobile app.
For more information on the Town's new websites and to give your feedback on the new design, structure or features, click on the feedback button on the bottom of the home page.