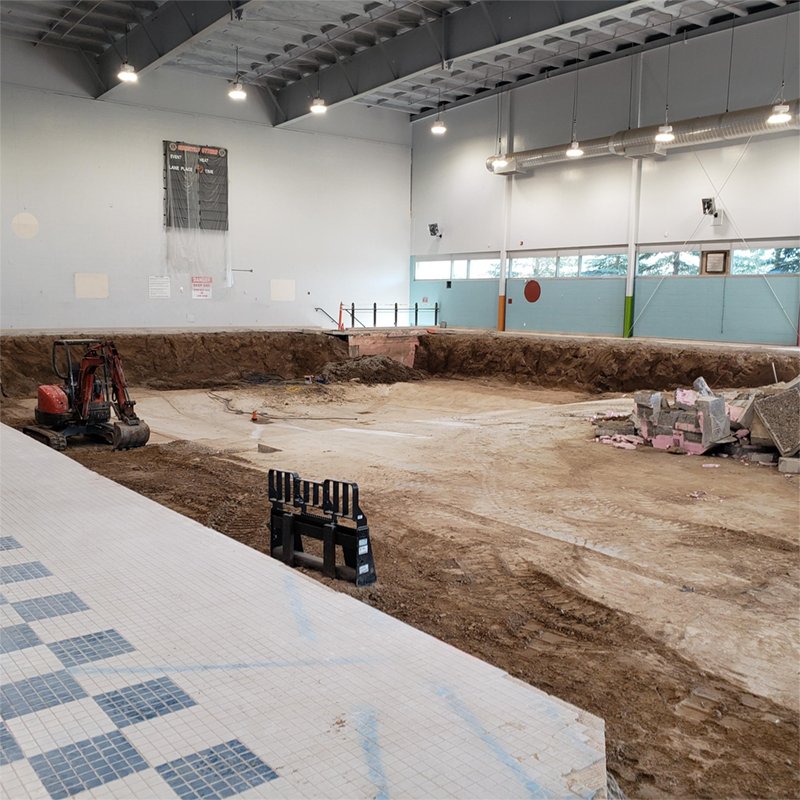 A major renovation of the aquatic area at the Alder Recreation Centre is under way. The $4.3 million project will see the lap pool transition from six to eight lanes and the leisure pool will be reconfigured, with both pools featuring stainless steel liners in future. Replacing the liners with stainless steel was one of four options presented to Orangeville Council and deemed to be the most sustainable, efficient and long-term cost-effective solution. The leisure pool will have a PVC vinyl floor to facilitate programs adapted for young children and aging adults.
Work on the leisure pool area will include the removal of the current waterslide and toy features. A new slide will be installed with a different configuration which will create more space to allow for a small accessible indoor spray feature for young children.
A new filtration system will be tied into the existing piping, enabling the pool water to not only meet the health guidelines for a Class A pool but also to be more energy efficient while decreasing the use of water compared to more traditional pool filtration systems. The target date for completion of the pool projects is December of 2021.
The project is being undertaken by contractor Austin Carroll Pool Construction Ltd. and consultants DEI Consulting Engineers.