Posted on Tuesday, August 27, 2019 12:00 AM
TAKE NOTICE that the Council of the Corporation of the Town of Orangeville passed a by-law to establish development charges for Town wide and area specific services, being By-law No. 043-2019 on the 26th day of August, 2019 under section 2 (1) of the Development Charges Act, 1997, as amended;
AND TAKE NOTICE that any person or organization may appeal to the Local Planning Appeal Tribunal under section 14 of the Act, in respect of the development charges by-law, by filing with the Clerk of the Town...
Posted on Monday, August 26, 2019 12:00 AM
The Orangeville & Area Small Business Enterprise Centre today announced that it has received a $30,000 grant from the Ontario Government to fund a Digital Service Squad to help downtown small businesses in Orangeville, Shelburne and Grand Valley improve their online capabilities.
The Orangeville & Area Small Business Enterprise Centre received the Digital Main Street grant from the provincial government to establish a Digital Service Squad to help main street small businesses enhance their...
Posted on Friday, August 16, 2019 12:00 AM
Dufferin-Caledon MPP Sylvia Jones is pleased to announce that the Town of Orangeville will receive provincial funding for a project that includes construction of a new transfer terminal including a new glass shelter, seating, a concrete pad and a layby bus lane. Also included in the funding is the purchase of a new low-floor bus and specialized transit bus.
Jones shares the news that Orangeville has been nominated to receive funding through the Public Transit stream and Rural and Northern stream...
Posted on Thursday, August 15, 2019 12:00 AM
The Town of Orangeville has entered into a multi-year agreement with Community Living Dufferin (CLD) to have the agency provide concession service delivery at the recreation centres.
This social enterprise model with the Town's Community Services Department will provide CLD clients with transferable work skills to enhance long-term employment and enable an expanded snack bar service at Alder Recreation Centre and Tony Rose Memorial Sports Centre. CLD currently delivers concession services under similar...
Posted on Monday, August 12, 2019 12:00 AM
The Mississauga Steelheads Hockey Club has announced further details on their 2019 home exhibition schedule. Over the Labour Day weekend, the team will play back-to-back games on Friday and Saturday night.
On Friday, August 30 at 7 p.m., the team will be playing host to the reigning OHL Champion, Guelph Storm at the Alder Recreation Centre in Orangeville. This event marks the first time that the hockey club has held a game in the Orangeville area. Admission to the game will be free of charge, thanks...
Posted on Friday, August 02, 2019 12:00 AM
The Town of Orangeville is about to embark on a major park project. One of the Town's busiest parks, with its original splashpad and the playground being hailed as the first fully accessible playground in Canada over two decades ago, is about to be redesigned and rebuilt.
Openspace Solutions Inc. has been awarded the contract to replace the Everykids Playstructures and Splashpad at Harvey Curry Park (90 Dawson Road). The park and its popular features are due for replacement and the new features will...
Posted on Tuesday, July 30, 2019 12:00 AM
The Town of Orangeville currently has 12 municipal water supply wells, but has identified the need to increase the available water supply to accommodate anticipated growth and to provide back-up in the water supply network. The Town has initiated a Schedule B Municipal Class Environmental Assessment (EA) to determine a preferred solution to meet its future water supply capacity requirements.
The Municipal Class EA process will further define the need for additional water supply, consider and evaluate...
Posted on Thursday, July 25, 2019 12:00 AM
October update to July news release:
The reconstruction of Faulkner Street, from Broadway to Elizabeth Street, will be deferred until the spring of 2020 due to the lateness of the season. Arrangements have been made by the Town to remove all signs, construction equipment, and materials from the street given that the project has been rescheduled.
July news release:
The Town of Orangeville has awarded a contract for road construction on Faulkner and Gifford Streets to FCM Construction of Oakville.
The...
Posted on Friday, July 12, 2019 12:00 AM
Sustainable Orangeville has announced the winners of the 2019 Bloomin' Garden Showcase. The event, that leads into the Communities in Bloom judges arriving in Town, allows residents and businesses to showcase their gardening skills and successes. Congratulations to the winners in the following categories:
Best Bloomin' Home Floral Display – Gerelyn Tabsing of Victoria Street
Best Bloomin' Home Landscape – Daniella Giovanatto and Tom Frittenburg of John Street
Best Bloomin' Government Building –...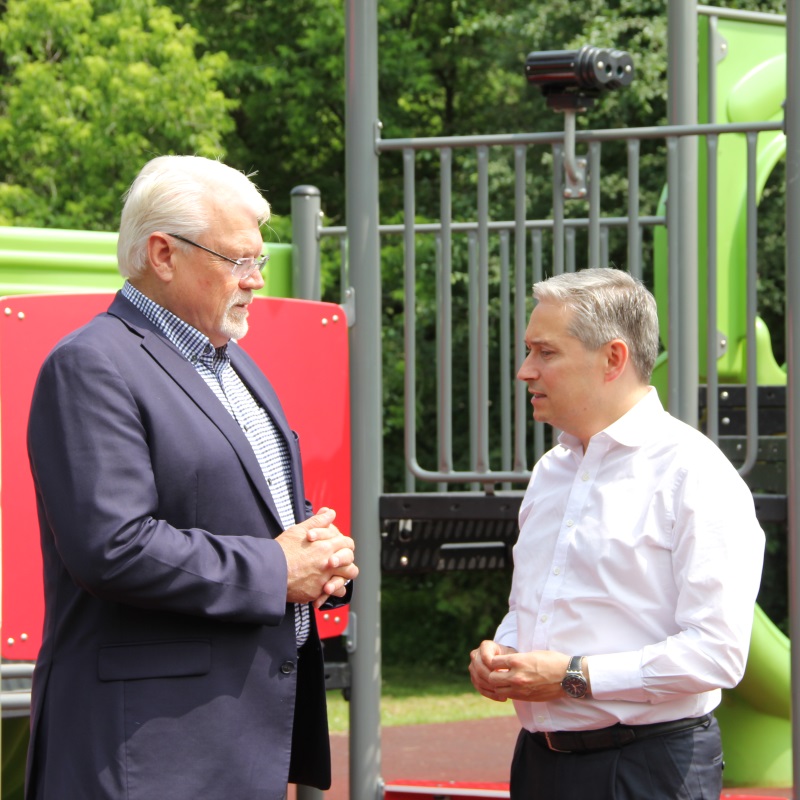 Posted on Monday, July 08, 2019 12:00 AM
The Hon. François-Philippe Champagne, Minister of Infrastructure and Communities, visited Orangeville July 8. He stopped at Maywood Park where he met with Mayor Sandy Brown, town staff and park users.
The Town received Government of Canada funding ($47,000) to assist with the new and accessible playground equipment, rubber surfacing and asphalt walkways at Maywood Park (65 Bredin Parkway).
"A small grant in a small Town makes a big difference," the Minister said. "I would like to see more investments...
Posted on Tuesday, June 25, 2019 12:00 AM
The Town of Orangeville's first Sustainable Neighbourhood Action Plan (SNAP) outlines a vision for the municipality as "a thriving, green, healthy, and connected community" and provides direction that will help guide future planning in the Town. Orangeville Council formally received the sustainability plan on June 24 and directed staff to consider implementation of the plan's recommendations in future planning.
Along with a sustainability vision for the Town of Orangeville, priority goals, strategies...
Posted on Wednesday, June 12, 2019 12:00 AM
The Cycling and Trails Master Plan (CTMP), completed with provincial and municipal funding in 2019, will be considered in future development. The plan, prepared by Dillon Consulting Limited, was presented to Orangeville Council on May 27, 2019. It is a comprehensive update to the Town's original Trails Master Plan Study from 2008 and the development of a new cycling plan.
Incorporating best practices, the Cycling and Trails Master Plan is a long-range recreation and transportation planning document...