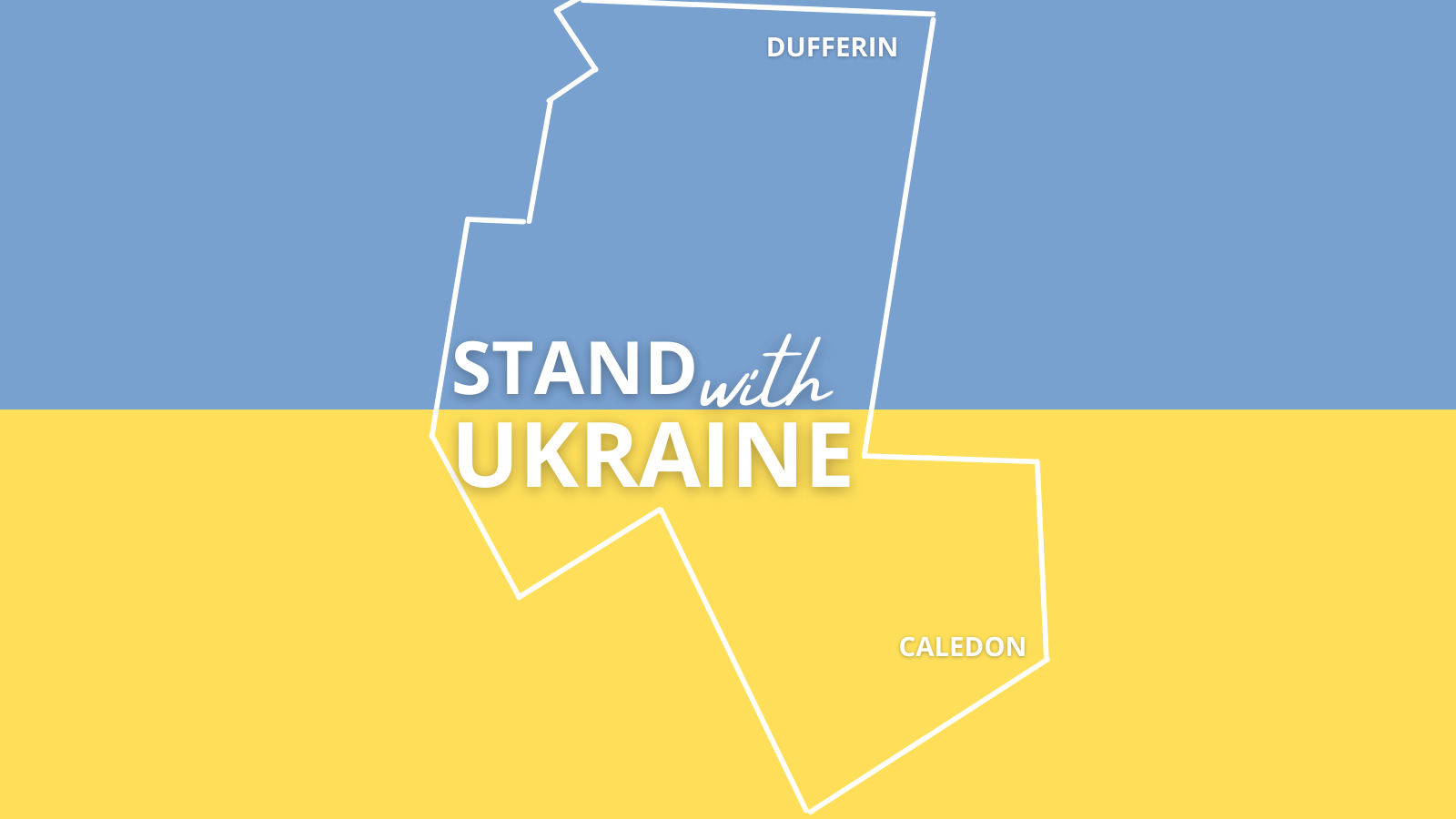 Posted on Thursday, March 03, 2022 12:34 PM
Together with the Poltawa Ukrainian Community of Terra Cotta, Orangeville & Caledon will host an event on Sunday, March 6 to show support to and solidarity with Ukraine. #StandWithUkraine
12 p.m. – Alexandra Park, 11 Second Street, Orangeville
2 p.m. – Town Hall, 6311 Old Church Rd, Caledon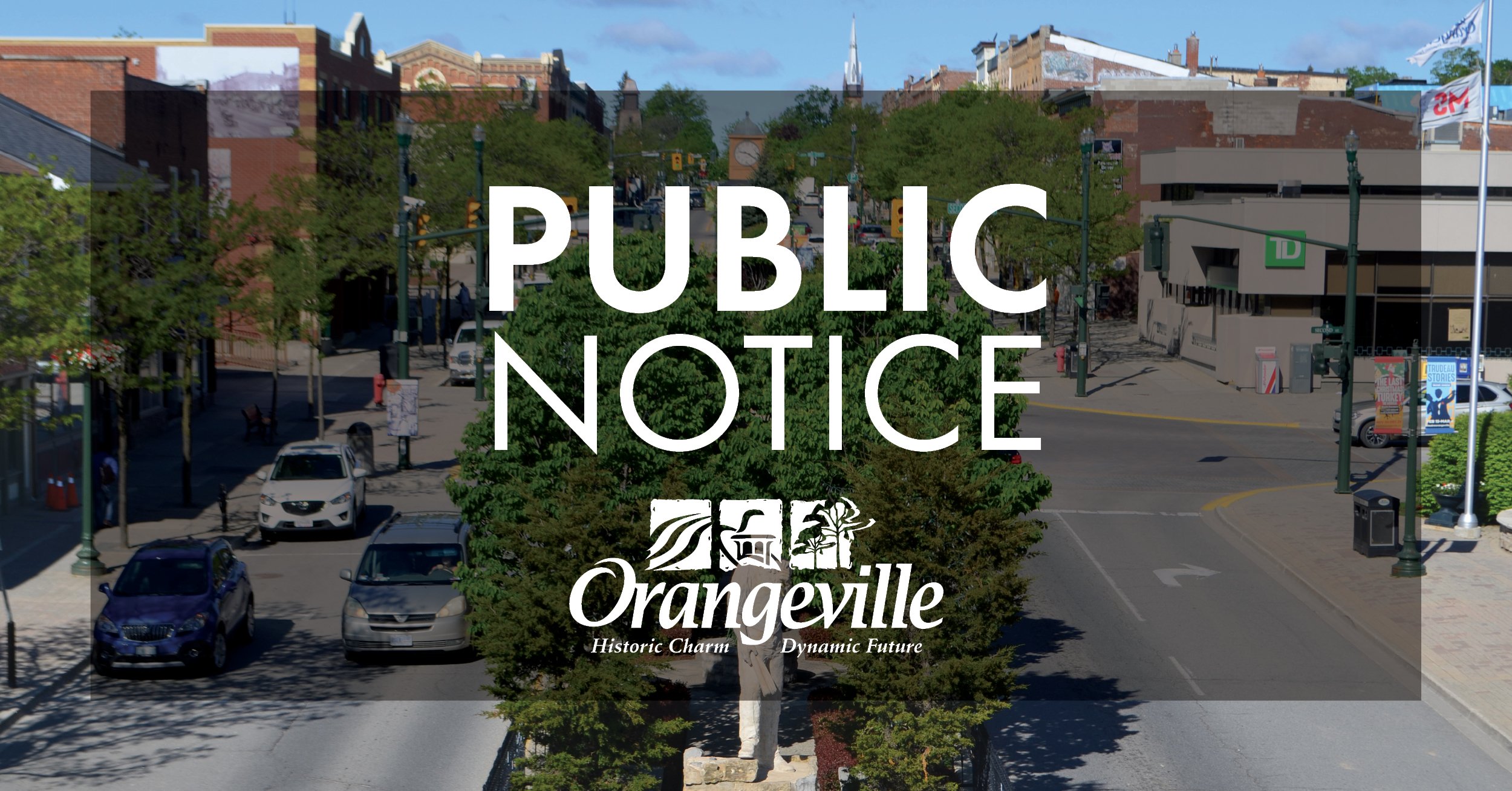 Posted on Thursday, February 24, 2022 12:03 PM
Take Notice that a Public Meeting will be held to provide the public with an opportunity to comment and provide input in relation to Vehicle For Hire By-law, on:
Monday, March 7, 2022 at 5:30 P.M. (Electronic Participation)
Public Meeting protocol during the COVID-19 Pandemic
Due to the efforts to contain the spread of COVID-19 and to protect all individuals, the Council Chambers at Town Hall will not be open to the public to attend a Public Meeting until further notice.
All persons interested...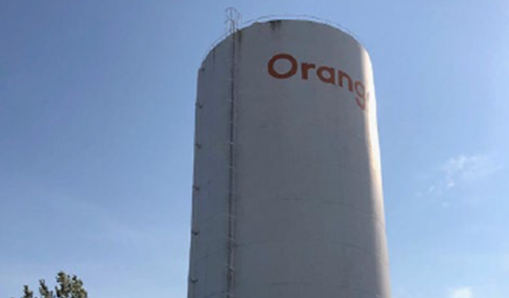 Posted on Monday, February 21, 2022 08:30 AM
The Town will conduct a test shutdown of the standpipe (water tower) this week in preparation of the upcoming capital project of rehabilitating the standpipe. The test shutdown will occur from Wednesday, February 23 at 9 a.m. to Friday, February 25 at 7 a.m.
Over these two days, the Town will have operators recording pressure readings/measurements on various hydrants. A simulation of the exercise indicated no service disruption to residents. However, there may be some areas where residents notice...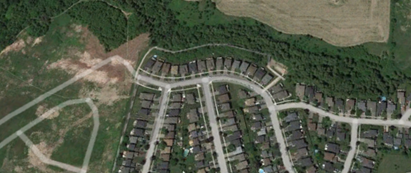 Posted on Friday, February 04, 2022 11:46 AM
As part of the Hansen Boulevard connection and creek crossing, the Town has entered into a contract with Robous Farms to clear and remove trees in the area just east of College Avenue through the future Hansen Boulevard corridor. The work involves removing the trees to facilitate the construction of the culvert and ultimately the road between College Avenue and Mason Street to the east, scheduled for later this year. Tree clearing in this area will begin February 7 and be completed by February 28.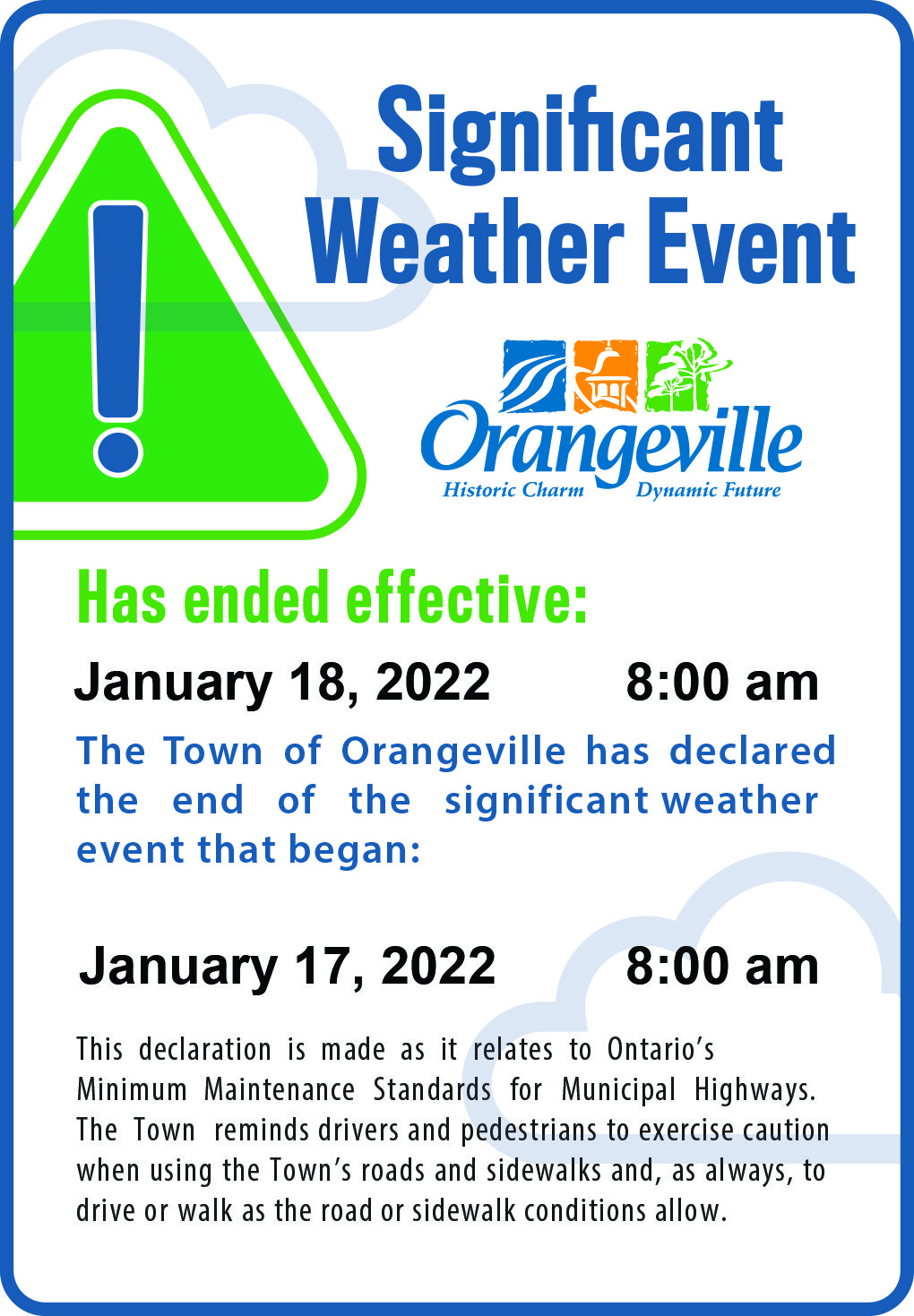 Posted on Tuesday, January 18, 2022 05:20 PM
Yesterday's significant weather event has ended in the Town of Orangeville following heavy snowfall.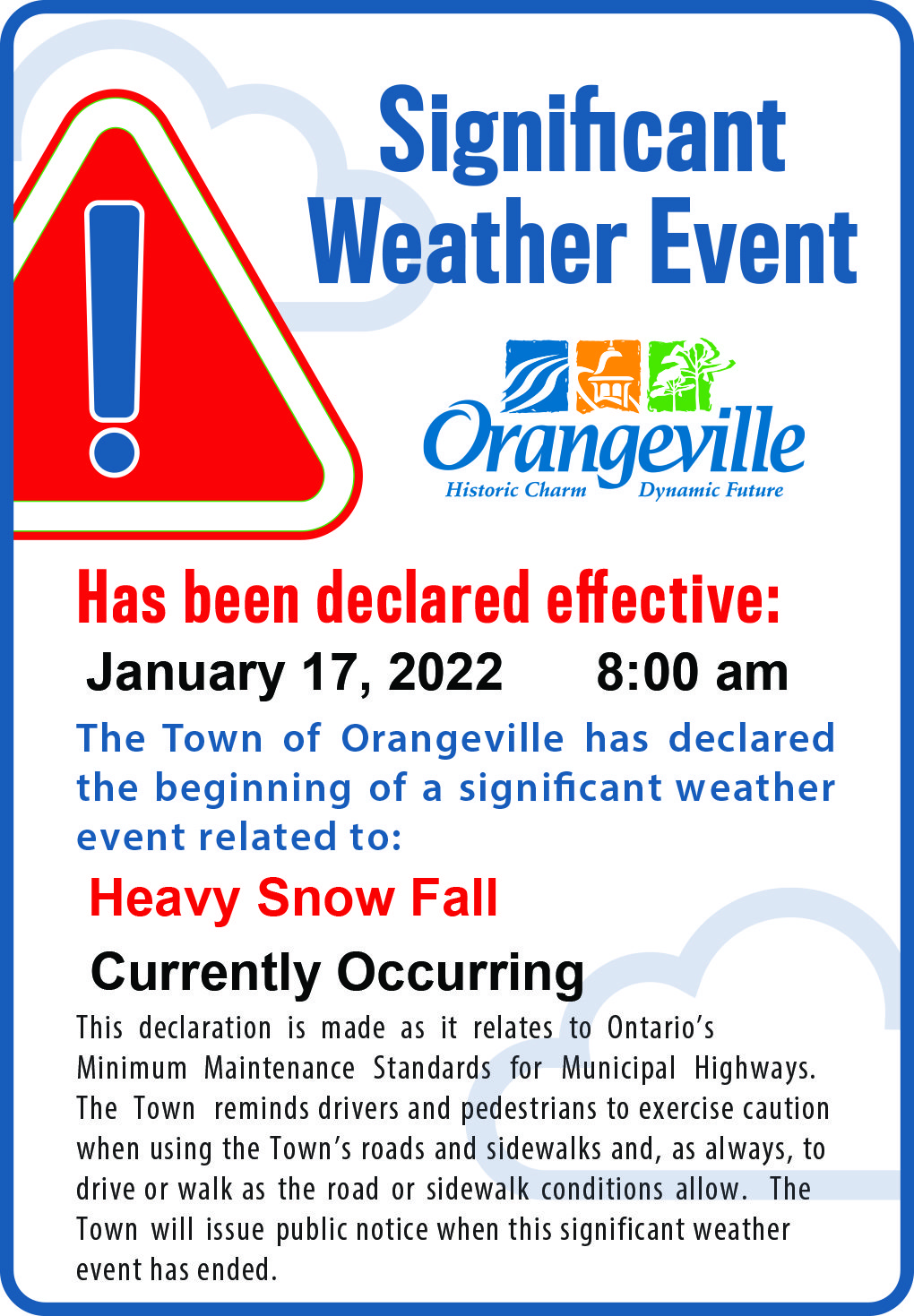 Posted on Monday, January 17, 2022 08:11 AM
A significant weather event has been declared in the Town of Orangeville due to heavy snowfall.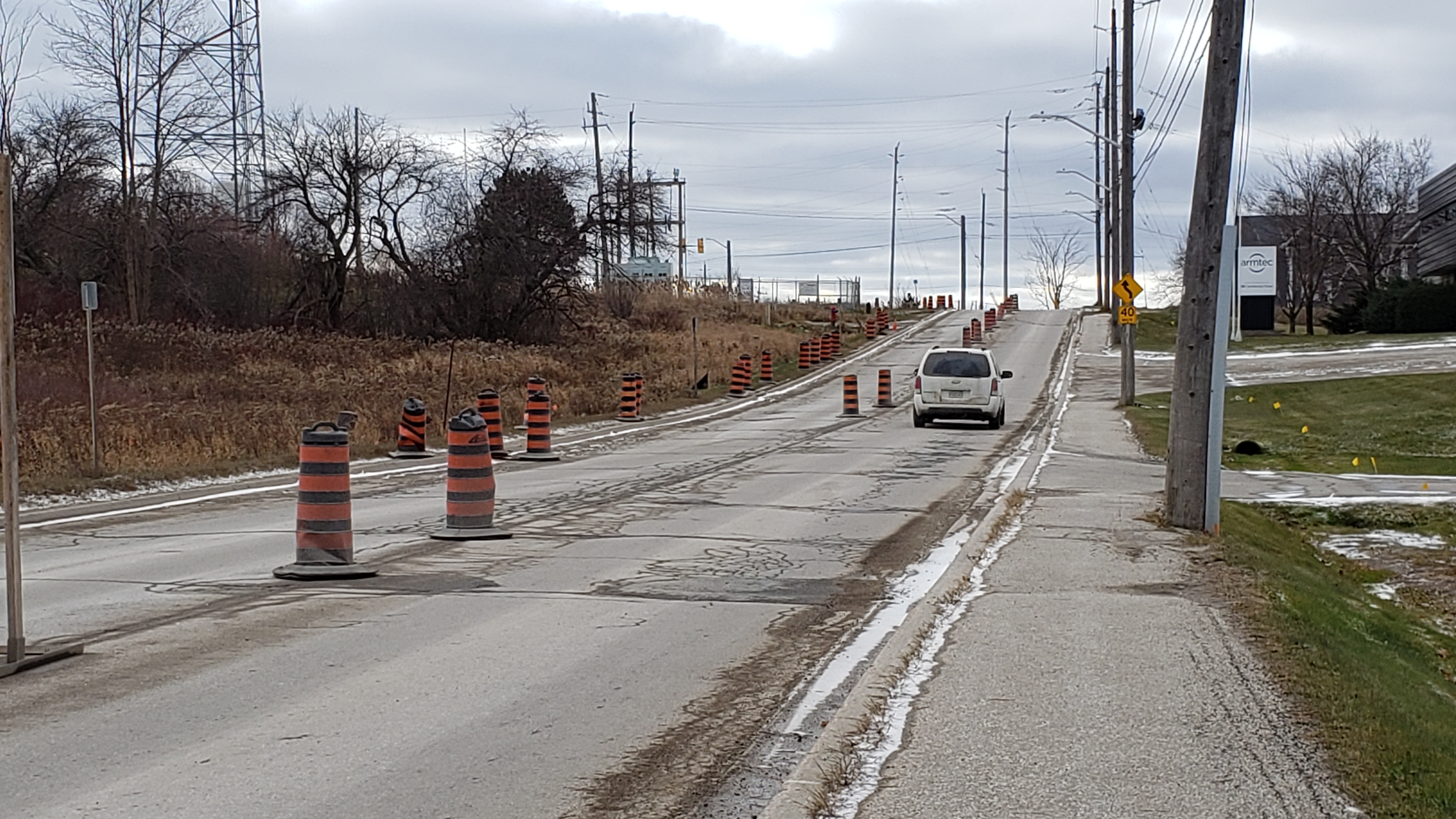 Posted on Saturday, November 27, 2021 03:17 PM
Watermain work is continuing on Centennial Road between Tideman Drive and Commerce Road. Centennial Road will be reduced to a single lane in this area, from November 29 to December 22, to help the contractor complete the work safely and efficiently.
Posted on Wednesday, November 24, 2021 10:18 AM
Public Notice: the section of the Mill Creek Trail system that runs on the south side of Broadway, east of C Line to Diane Drive, will be temporarily closed today (Nov. 24) for repair work.
Posted on Wednesday, November 03, 2021 10:00 AM
The County of Dufferin is undertaking a Transit Feasibility Study to examine possible transit solutions for County residents, workers, students, and visitors. The objective of the study is to determine whether a new transit service in Dufferin County (outside of the Town of Orangeville) is a feasible idea, and to figure out how it might be done.
We need your help to inform the future of transit in Dufferin County! By completing this survey form, you will provide the project team with important information...
Posted on Monday, November 01, 2021 09:06 AM
Service Disruption – Accessibility Alert
As of Monday, November 1, the elevator at Town Hall (87 Broadway) is currently out of service until further notice. The Town is working on repairs to have the elevator back in service as soon as possible. However, the outage could last several days, pending delivery of a replacement part for the power control board.
Posted on Friday, October 29, 2021 08:36 AM
An independent film company will be shooting scenes for an upcoming movie, "Impasse", on October 29 at Bythia and Princess Streets and at two private residences. The movie is being produced under the direction of Barett Caplan and features actor Nicholas Campbell who starred in the TV show "Davinci's Inquest" and currently stars in "The Coroner." The action thriller is expected to be released in the summer of 2022.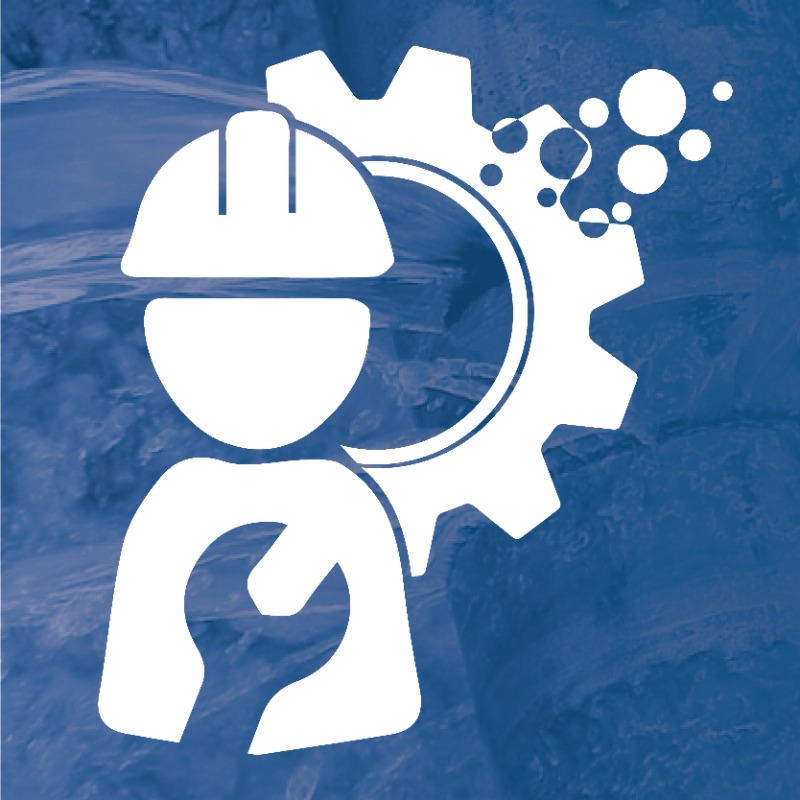 Posted on Thursday, October 28, 2021 04:46 PM
Town water staff are working on water main repairs on Dawson Road, between Broadway and Centennial Road.
A water main break was reported at 12 Dawson Road. Traffic is reduced to one lane, although a road closure to through traffic may be necessary. The watermain may need to be shut off but that won't be determined until excavation has occurred and if it is necessary affected businesses and the fire service will be notified in advance.