Posted on Tuesday, June 30, 2020 12:00 AM
Everykids Park, originally opened more than two decades ago, has a brand new look. Redesigned and re-imagined over the past year, the park's features, inside the larger Harvey Curry Park, are ready for children to enjoy once the province signals that COVID-19 restrictions are lifted.
Openspace Solutions Inc. was awarded the contract to replace the Everykids Park play structures and splash pad at Harvey Curry Park (90 Dawson Road). Work began in September, with much of the preparation work completed...
Posted on Friday, January 31, 2020 12:00 AM
This year's Family Day, Monday, February 17, offers lots of fun activities at Alder Recreation Centre, from 11 a.m. to 3 p.m. Bring the family for free skating and swimming, Family Zumba, face painting, crafts and costumed characters at the library.
Complimentary 50-minute skates will run on the half-hour on both rinks, from 11 a.m. to 1:30 p.m.
Two free one-hour swims are planned for 12:15-1:15 p.m. and 2:15-3:15 p.m. Please note that swim admission standards apply.
Face painting and crafts will be...
Posted on Tuesday, January 21, 2020 12:00 AM
The pool at the Tony Rose Memorial Sports Centre is now more accessible for those with mobility challenges, thanks to the installation of the new Aqua-Step Elite stair system.
The previous stair system was installed in 2002 and was funded by the Orangeville Lions Club. Having reached the end of its life cycle, staff noticed that pool patrons were experiencing some difficulties with the five-step configuration and recommended a six-step system with a shallower rise per step.
The project was initiated...
Posted on Wednesday, November 13, 2019 12:00 AM
The community survey for the Recreation and Parks Master Plan is now underway. Oraclepoll Research Inc. is conducting the survey on behalf of the Town. As part of a random sampling of households, residents may receive a telephone call from Oraclepoll.
Those residents who wish to participate in the survey and do not receive a telephone call may visit https://na1se.voxco.com/SE/55/MasterPlanSurvey/. Alternatively, residents may call 1-800-494-4199 to complete the survey.
Participation by those who live...
Posted on Thursday, October 24, 2019 12:00 AM
Harvey Curry Park is being transformed for next summer. Janet Elliot of Openspace Solutions Inc. presented Orangeville Council with an update this week on the redevelopment plans for Harvey Curry Park (home of Everykids Park) at 90 Dawson Road.
The goal is to create an accessible park that is appropriate for all ages and abilities that promotes inclusive play and a healthy lifestyle​. The park will have defined play areas for junior children (18 months to five years of age) and senior children (5-12...
Posted on Friday, October 11, 2019 12:00 AM
The Town of Orangeville is set to prepare a Recreation and Parks Master Plan. The purpose of the plan is to provide the Town with long-term direction for the provision of recreation and parks services for residents and visitors.
Over the next few months, Orangeville residents will be invited to participate in a variety of consultation activities including:
a random telephone survey of households, with the same survey being made available online, via the Town's website (or on paper) for those who do...
Posted on Monday, August 12, 2019 12:00 AM
The Mississauga Steelheads Hockey Club has announced further details on their 2019 home exhibition schedule. Over the Labour Day weekend, the team will play back-to-back games on Friday and Saturday night.
On Friday, August 30 at 7 p.m., the team will be playing host to the reigning OHL Champion, Guelph Storm at the Alder Recreation Centre in Orangeville. This event marks the first time that the hockey club has held a game in the Orangeville area. Admission to the game will be free of charge, thanks...
Posted on Friday, August 02, 2019 12:00 AM
The Town of Orangeville is about to embark on a major park project. One of the Town's busiest parks, with its original splashpad and the playground being hailed as the first fully accessible playground in Canada over two decades ago, is about to be redesigned and rebuilt.
Openspace Solutions Inc. has been awarded the contract to replace the Everykids Playstructures and Splashpad at Harvey Curry Park (90 Dawson Road). The park and its popular features are due for replacement and the new features will...
Posted on Wednesday, June 12, 2019 12:00 AM
The Cycling and Trails Master Plan (CTMP), completed with provincial and municipal funding in 2019, will be considered in future development. The plan, prepared by Dillon Consulting Limited, was presented to Orangeville Council on May 27, 2019. It is a comprehensive update to the Town's original Trails Master Plan Study from 2008 and the development of a new cycling plan.
Incorporating best practices, the Cycling and Trails Master Plan is a long-range recreation and transportation planning document...
Posted on Monday, June 03, 2019 12:00 AM
Bring your national pride to Orangeville as the community celebrates Canada Day on Monday, July 1. Enjoy free activities and entertainment at the Alder Recreation Centre at 275 Alder Street from 11:45 a.m. to 5 p.m. and enjoy the fireworks show over Island Lake at 10 p.m.
During the afternoon, at the Alder Recreation Centre, residents and visitors can enjoy a range of activities, including opening ceremonies and birthday cake at 11:45 a.m., the Great Canadian Lumberjack Show, three free one-hour public...
Posted on Saturday, June 01, 2019 12:00 AM
This year's Public Bike Ride begins at Kin Family Park (485 College Avenue), at 9 a.m. on Saturday, June 15. The ride follows parts of the Rotary Way bike route and the Town's trail system, and will end at the Orangeville Farmers' Market at 9:30-9:45 a.m.
Building on the success of the last three years, the annual bike ride seeks to raise awareness of the Town's bike routes and to promote bike/car safety. With the establishment of three bicycle routes and the continued development of the trails system,...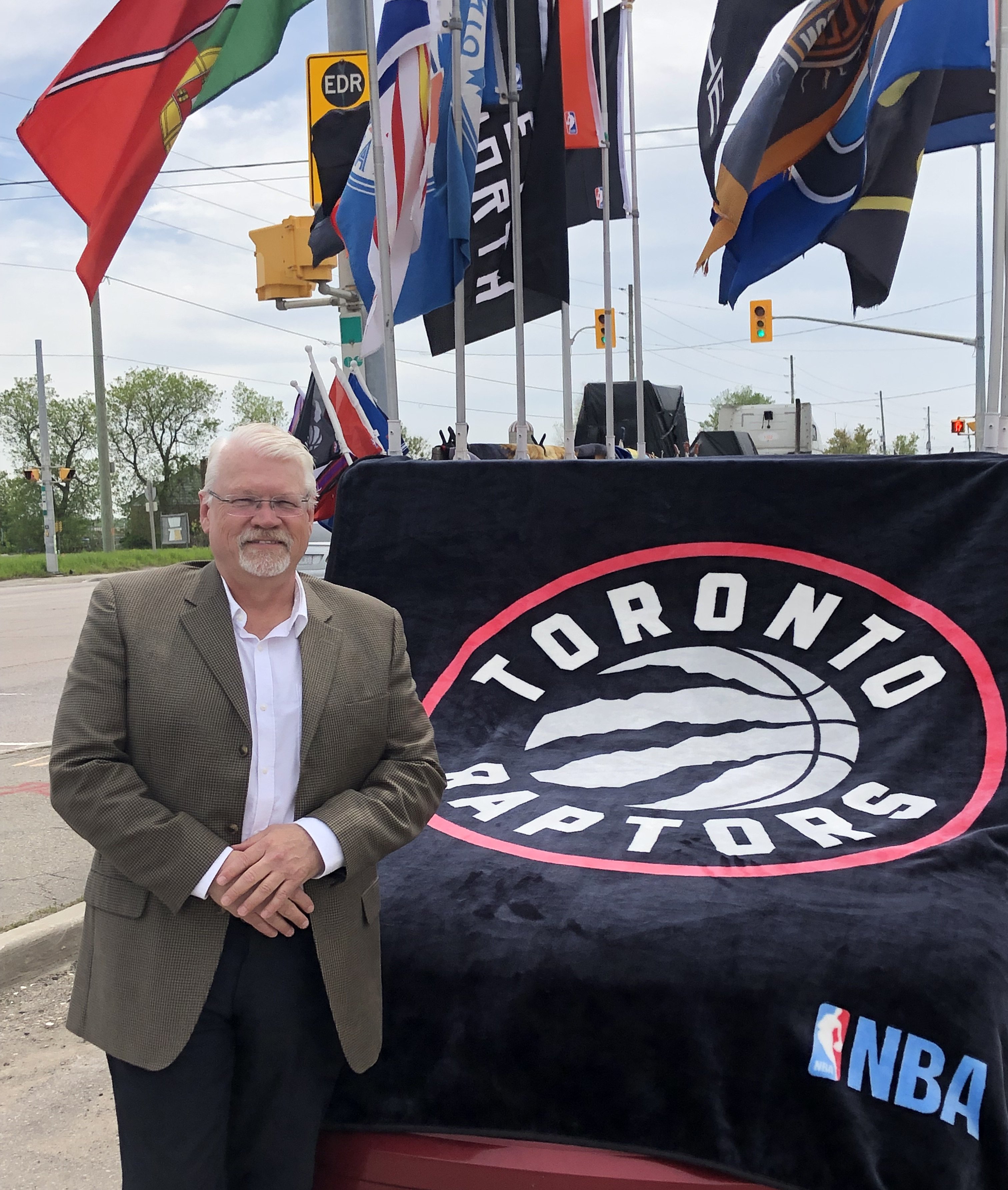 Posted on Thursday, May 30, 2019 12:00 AM
The country's only NBA team is playing for a championship for the first time, and all of Canada is rooting for them.
The Town of Orangeville received permission from Maple Leaf Sports and Entertainment (MLSE), that owns the Toronto National Basketball Association franchise, to broadcast the game on Mill Street Sunday night (June 2) on a large viewing screen. This marks the first time in franchise history that Toronto has hosted the NBA Finals.
"The Raptors making it to the NBA Finals may be a once...