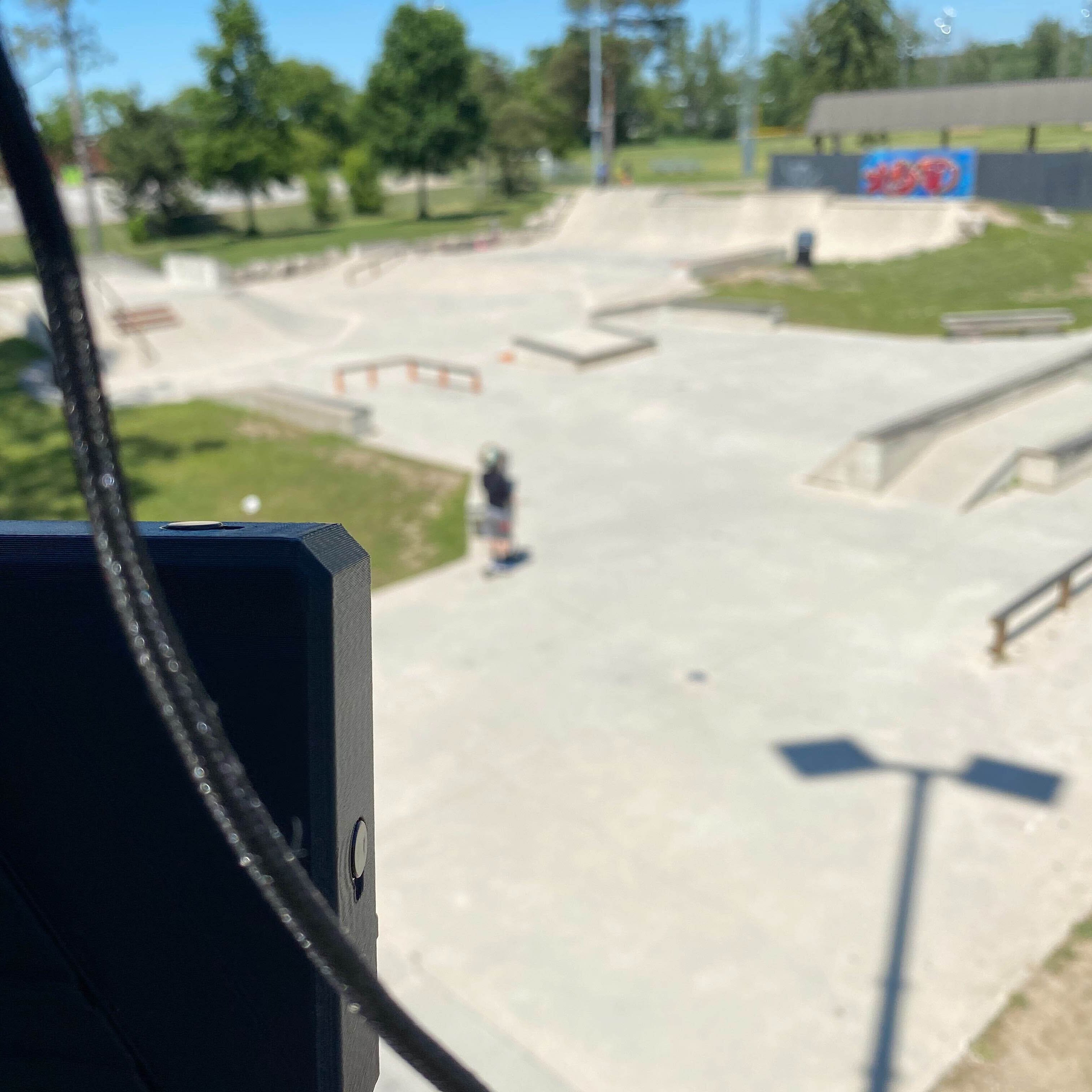 Posted on Wednesday, July 15, 2020 12:00 AM
The Town of Orangeville, in partnership with IRIS R&D, an Ontario-based technology start-up company, is launching an innovative smart open space pilot this week. The goal of the pilot is to support the reopening of public places in a way that is in line with Public Health guidelines on social distancing and to understand the flow of people in public spaces.
As part of the Town's Digital First initiative and COVID-19 recovery efforts, smart cameras have been installed at the community garden and...
Posted on Tuesday, June 23, 2020 12:00 AM
The Town continues to evaluate opening recreation programs, including swimming pools. Information is being shared with the community as it is available and things continue to evolve.
The business model for recreation centre aquatics programs is based on large participant volumes and today that traditional model of program delivery is not possible due to the pandemic and related safety protocols. Although the province recently announced that municipal pools could reopen, the number of participants...
Posted on Monday, June 22, 2020 12:00 AM
The Town of Orangeville is working to open splash pads at Fendley and Everykids parks on Friday (June 26) at noon. The splash pads will operate daily from 10 a.m. to 7 p.m.
Following the provincial announcement that splash pads could re-open, the Town has worked with Public Health to identify and satisfy their requirements for a safe re-opening. That means these popular recreation amenities will have some new rules. Some of the safety measures will include splash pad ambassadors, physical distancing,...
Posted on Friday, June 12, 2020 12:00 AM
Premier Ford announced on June 8 that the area served by Wellington-Dufferin-Guelph Public Health Unit, which includes the Town of Orangeville, is included in the Stage 2 re-openings that will be permitted starting Friday, June 12. Stage 2 allows for the re-opening of some recreation facilities including pools and splash pads.
What does this mean for Town of Orangeville recreation programs and facilities? Town staff are currently reviewing the guidelines as set out by the province and seeking...
Posted on Wednesday, May 20, 2020 12:00 AM
On May 19, the Ontario government announced the immediate reopening of a number of outdoor recreational amenities as part of the first stage of its plan to reopen the province.
The Town of Orangeville will reopen some outdoor public recreation amenities for casual, informal use, effective Thursday, May 21. Use of these amenities is subject to the recommendations below being followed. Group bookings of these amenities cannot be made at this time. The recreation amenities to reopen include the following:
Posted on Tuesday, April 21, 2020 12:00 AM
The Town of Orangeville continues to respond to COVID-19. Residents are reminded of the importance of reducing all contact with others as much as possible and staying home except for essential outings to help stop the community spread of the deadly virus.
On April 20, Orangeville Council approved a COVID-19 Emergency Measures By-law to help protect the health and safety of residents. Individuals not adhering to physical distancing regulation can be fined a minimum of $500 and maximum of up to $100,000...
Posted on Thursday, April 02, 2020 12:00 AM
The public is reminded to maintain social distance and to not congregate in groups -- to protect yourselves and others from COVID-19.
The Orangeville Police Service and Orangeville By-law Enforcement will be monitoring the community.
Whether you're in mandatory quarantine in your home or dealing with social distancing in public, the community depends on you to abide by the current rules. Group gatherings of more than five people are no longer tolerated, as keeping people apart is vital to slowing...
Posted on Wednesday, April 01, 2020 12:00 AM
Based on advice from federal and provincial public health officials, and the critical need for social distancing, Orangeville Council will hold its second virtual meeting on April 6. As they occur, virtual Council meetings can be viewed live, or at any time following the meetings, on YouTube (Orangeville Council channel). Council Chambers at Town Hall will not be open to the public to attend Council meetings until further notice.
Members of the public who have an interest in a matter listed on the...
Posted on Wednesday, April 01, 2020 12:00 AM
With advice from Wellington-Dufferin-Guelph (WDG) Public Health and for the safety of our residents, businesses and employees, Orangeville Town Hall and all other Town facilities will remain closed until further notice to help prevent the spread of COVID-19.
Many services are still available and Town staff continue to be available to assist our residents and businesses. The public can still interact via phone with Town staff during regular business hours at 519-941-0440 and press 0 or by email at...
Posted on Friday, March 27, 2020 12:00 AM
Orangeville Council waived Orangeville Transit fees for 90 days, effective March 23, 2020, to offer some relief to residents during the pandemic.
Orangeville Transit is making additional service changes, effective Monday, March 30, as part of the Town's response to COVID-19.
Service changes include:
maximum 10 people on the bus at one time
blocking off select seats so customers can practise physical distancing while riding the bus
asking customers to only ride the bus for essential travel (e.g. work...
Posted on Monday, March 23, 2020 12:00 AM
Orangeville Council has approved a relief package for residents, as well as property and business owners. After declaring an emergency in the Town of Orangeville on March 20, Council took action, in a special meeting today, to waive all fees and interest related to late payment of property taxes (on all tax classes) for a three-month period, in response to COVID-19. The next tax due date is April 27, for the second instalment of the interim tax levy. Tax payments will continue to be accepted...
Posted on Friday, March 20, 2020 12:00 AM
In order to minimize the spread of COVID-19, the Town is posting signage at all parks warning residents to keep their children off all play equipment/play structures. This equipment is not sanitized, presenting a risk to those using the equipment to contract or spread the virus.
Parks will remain open, and residents are welcome to make use of the open space while maintaining social distancing and keeping up with handwashing/sanitizing after contact with any type of park equipment, such as benches,...