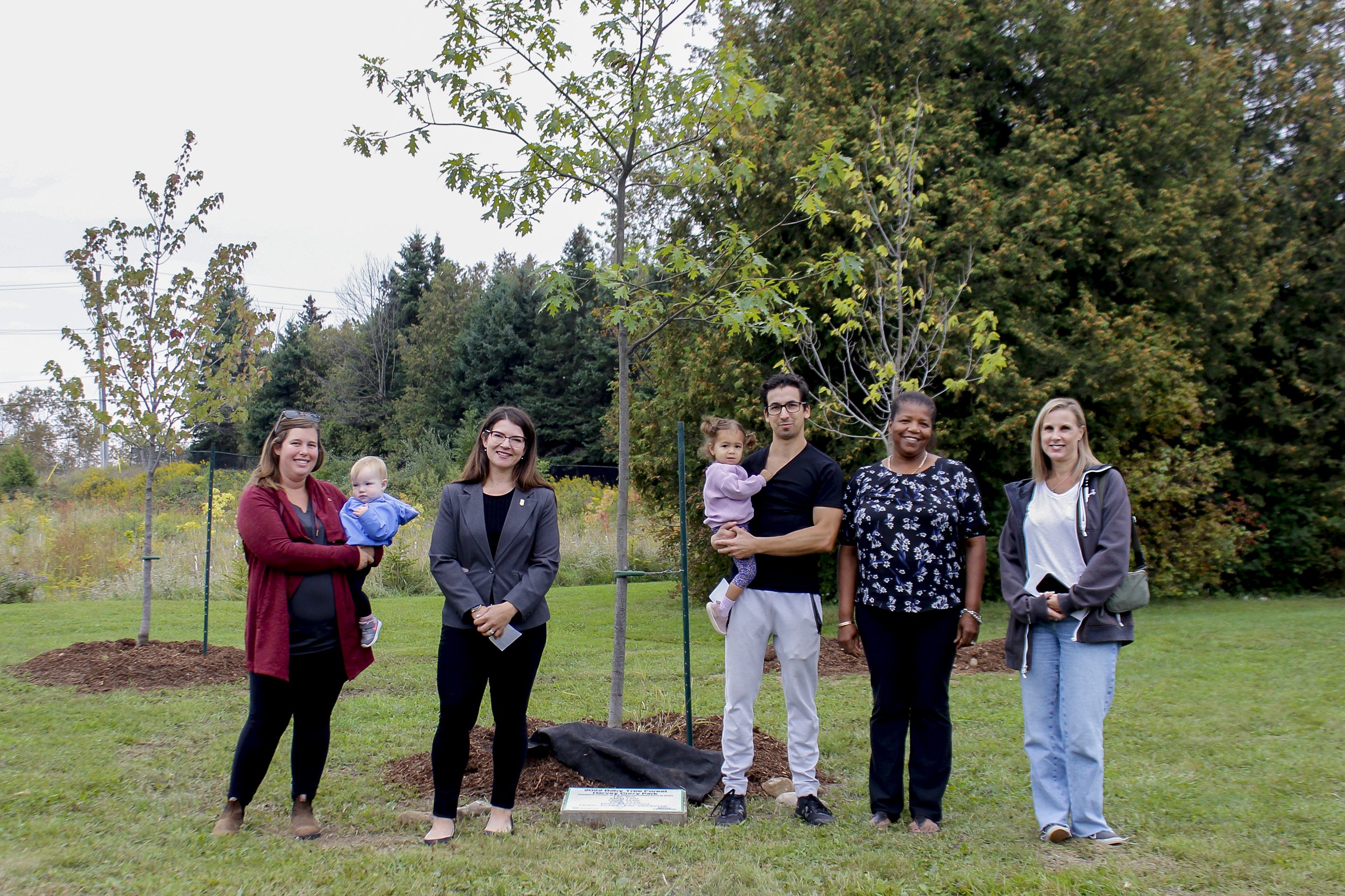 Posted on Thursday, September 21, 2023 02:13 PM
The birth of a child is an important and powerful moment filled with celebration. There are many ways to celebrate, and Sustainable Orangeville has a unique way to honour your child and help our local environment.
The Baby Tree Program allows residents to make a donation towards a Baby Tree Forest, where a tree purchased through the donation will be planted in a park or other area owned by the Town. Each Baby Tree Forest will include a plaque with a complete list of all babies recognized as part...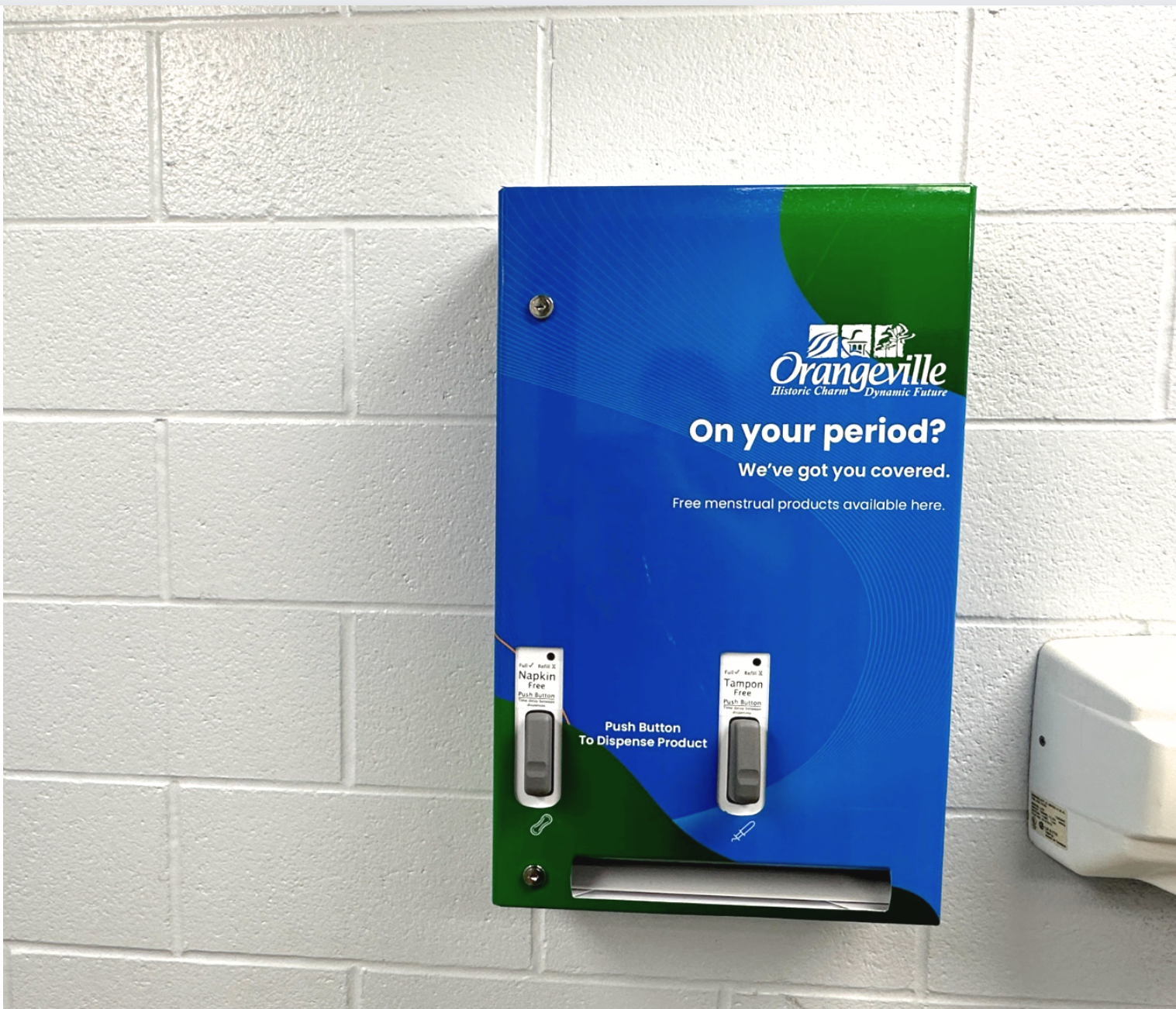 Posted on Wednesday, September 20, 2023 12:21 PM
The Town of Orangeville is taking steps to help lessen the impact of health inequity in the community by launching a free menstrual product program, with dispensers installed in public access washrooms around Town.
Several other municipalities have implemented similar programs in recent years including Brampton, Toronto, London, St. Catharines, Guelph, Kitchener, and Caledon. The Upper Grand School Board, under direction from the provincial government, began providing free menstrual products in...
Posted on Friday, September 08, 2023 02:00 PM
The Big Leplowski. Edgar Allan Snow. Yer a Blizzard, Harry. Sled Zeppelin. You may be familiar with these unique snowplow names, generated through naming contests in other municipalities over the years.
Now, it's Orangeville's turn to come up with a witty plow name.
This year, the Town of Orangeville acquired a brand-new, state of the art snowplow and invites the community to become involved in bestowing a fitting name upon it.
"Many other municipalities have held similar contests over the years,...
Posted on Tuesday, September 05, 2023 02:00 PM
Mayor Lisa Post is hosting the next Quarterly Town Hall event on September 26 at the Tony Rose Memorial Sports Centre, from 6:00 – 9:00 p.m.
The event gives residents an opportunity to hear updates on Town initiatives and ask Mayor Post, Council and Town staff questions.
"I am grateful for any opportunity to connect with residents and provide transparent information on what's happening in Town," said Mayor Lisa Post. "The first Town Hall event in May was very well attended and a tremendous...
Posted on Tuesday, August 29, 2023 11:45 AM
Due to the Labour Day holiday, there will be several closures for the Town of Orangeville on the holiday Monday.
The following will be closed on Monday, September 4, all day:
Town Offices
Town Facilities
Operations Centre
Alder Street Recreation Centre
Tony Rose Memorial Sports Centre
Orangeville Public Library - Alder Branch
Orangeville Public Library - Train Station satellite branch
Orangeville Transit
Dufferin Waste has also provided notice that there will be a service disruption for Monday, September...
Posted on Thursday, August 17, 2023 09:00 AM
Town of Orangeville Mayor Lisa Post and other members of Orangeville Council will join more than 2,000 participants at the Association of Municipalities of Ontario's 2023 AMO Conference, bringing municipal leaders together with the Ontario government following a year of important legislative changes, many intended to tackle the province's housing crisis.
The AMO Conference provides an opportunity for municipalities to present issues facing their communities and seek government support to achieve...
Posted on Monday, August 14, 2023 10:01 PM
The Town of Orangeville is pleased to announce that Patrick Kelly has accepted the position of Treasurer.
With nearly 20 years of progressive public sector experience in finance, Kelly brings a wealth of knowledge to this critical role. Kelly comes to Orangeville from the Township of Wilmot, where he has served since 2005.
Kelly holds a Bachelor of Administration and Commercial Studies and certification as a Chartered Professional Accountant (CPA, CMA). He's been an active volunteer firefighter...
Posted on Saturday, August 12, 2023 10:28 AM
Headwaters Health Care Centre is developing its next strategic plan, a collaborative strategy that will shape the hospital's future over the next five years. The strategic plan will build on current success and guide the hospital's activity to create a future-ready hospital for the residents of Dufferin County – Caledon. The approach is guided by a Strategic Advisory Committee of the Hospital's Board of Directors.

"We are excited to hear from the people we serve and who work, volunteer and...
















Posted on Tuesday, August 01, 2023 03:01 PM
In September, the Town of Orangeville will be completing road maintenance on the stretch of Broadway that runs through the downtown core. The work includes the repaving from John Street to Wellington Street as well as maintenance hole rebuilding.
During repaving activities, on September 27 and 28, Broadway will be reduced to one lane traffic, but not fully closed, to keep traffic flowing throughout construction; however, travel delays can be anticipated in downtown Orangeville.
Project Overview:
Posted on Friday, July 28, 2023 03:36 PM
Lifeguards play an integral role in safety in the Town of Orangeville, and on July 31, the Town is pleased to celebrate our lifeguards as part of International Lifeguard Appreciation Day.
Recognized by the Ontario Lifesaving Society, this day encourages residents to celebrate and acknowledge our lifeguards and the work they do to keep our families and friends safe while furthering education related to water safety.
"Swimming instructors and lifeguards are an integral part of our recreation...
Posted on Thursday, July 27, 2023 03:07 PM
The Town of Orangeville is committed to creating a community that is accessible and inclusive. As part of this commitment, Orangeville Recreation is launching a new, Adapted Public Swim program, geared towards those with special needs or disabilities.
"Everyone in our community deserves an opportunity to participate in recreational swims," said Mayor Lisa Post. "I am so pleased with this addition to Orangeville's recreational programming."
Adapted Public Swims will be available at the Tony Rose Memorial Sports...
Posted on Friday, July 14, 2023 01:28 PM
The Town of Orangeville is urging businesses and residents to keep water conservation top of mind in the face of decreased water capacity.
In late June, Orangeville residents in the Rolling Hills area notified the Town that they were experiencing discoloured water in their homes. The Town conducted rigorous water testing in the impacted area, the results of which all indicated the water was safe for consumption, but had higher levels of iron and manganese. Well 10, which services much of the...