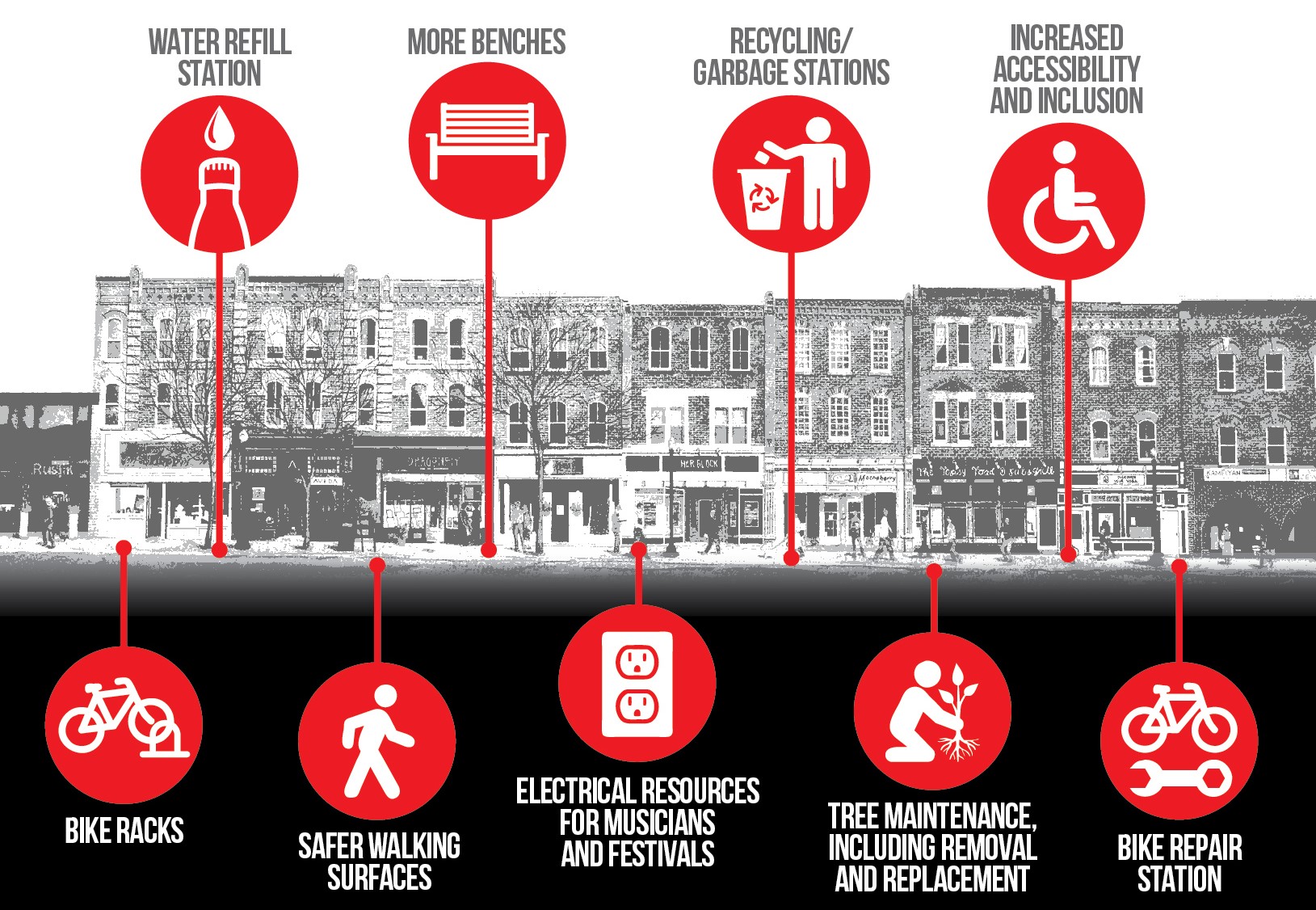 Broadway Bricks is an infrastructure and accessibility improvement project for Orangeville's vibrant downtown area. The project has been divided up into different geographical blocks.
Weekly Updates
Each week the project team will update the community and businesses on what to expect for the upcoming week. Major interruptions (more than half a day) will be posted. The schedule is a guideline and subject to change from time-to-time. We encourage you to subscribe to this page (on the right-hand navigation) to receive regular updates.
Download Broadway Bricks Schedule
Happening this week: Monday September 26 - Friday, September 30
Block 5 – Concrete base and interlock
Block 7 – Removals and Concrete Sidewalk forming and pouring
Block 8 – Excavation and construction of tree pits commencing Tuesday, September 27
Road Closures
Westbound traffic on Broadway from Second Street to First Street will be detoured to Second Street from September 13 to September 16 to allow for curb and other work to be undertaken across from Mill Street.
About the Project
Broadway Bricks is an infrastructure and accessibility improvement project for Orangeville's vibrant downtown area. To support local merchants during the summer, the work involving outdoor restaurant patios is scheduled to take place after Labour Day, 2022.
Sidewalk replacement – with new concrete and bricks – will be completed in sections of the downtown, with an approximate duration of two weeks or less for each one. Businesses will remain accessible during construction and sidewalks will remain open. Parking will also remain available. When concrete is being poured, there may be short delays in accessing storefronts or some businesses may opt to use alternate access points, if available, during those brief periods. Restaurants, with boulevard café permits, will be provided with notice two weeks in advance of construction, and will be in a subsequent phase.
The project will include the following (to be confirmed):
Improved access to downtown storefronts
Safer walking surfaces
More benches
Recycling/garbage stations
Water refill stations
Electrical resources for musicians and festivals
Tree maintenance, including removal and replacement
The contractor for the Broadway Bricks project is Aqua Tech which will make every effort to minimize disruption, working from 7 a.m. to 7 p.m. Monday to Friday. The company will base operations out of the Town-owned lot on First Avenue, north of Town Hall.