Four ways to make the most of maple season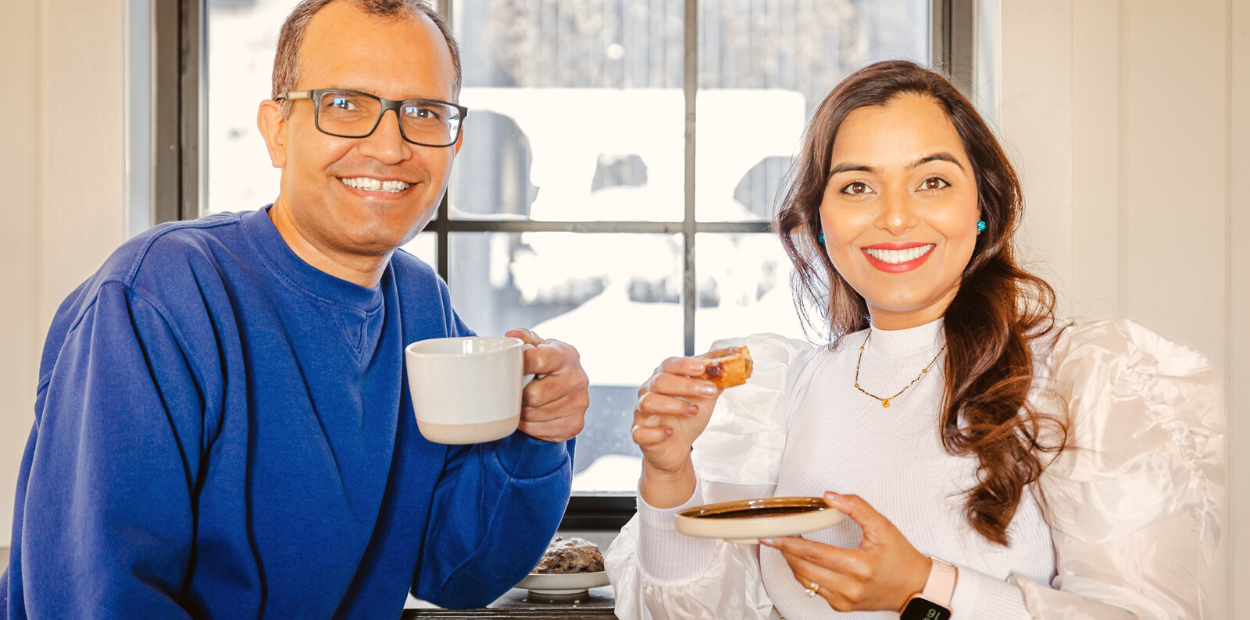 It's maple season in Orangeville! Our small town is known for its big taste all year round, but the flavours are even sweeter when you add in spring's favourite ingredient. We've prepared a list of four maple-inspired ways to make the most of the season right here in Orangeville.
A sweet start
Adding real maple syrup to the first meal of the day is a delicious way to begin your experience. Take your pick from a sweet selection of breakfast spots in Orangeville. At The Green Apple Café, pancakes, French toast, waffles, and crepes are all served with syrup and butter. The Stacked Pancake & Breakfast House offers their delectable Waffle Stack complete with eggs, bacon, sausage home fries, and maple-infused waffles. Breakfast at Wimpy's Diner includes a choice of buttermilk pancakes, thick French toast, and original Belgian waffles served with add-on's like pure maple syrup, whipped cream, or other fun toppings. The Sunset Grill entices maple-loving patrons with French toast, buttermilk pancakes, and malted waffles. At Deja Vu Diner, stick with traditional pancakes or try the gluten free or vegan versions. There are so many ways to add maple to your morning!
Stock up on syrup
Ensuring you have an ample supply of locally produced maple syrup may be the best way to taste your way through maple season. Luckily, Orangeville's rural surroundings makes it easy to access several local producers and many of our shops carry syrup all year round. At More than Just Baskets, maple syrup is available in a variety of sizes and shapes, including a maple leaf shaped bottle, perfect for gifting. At The Village Refillery, bring your own container and buy organic syrup in bulk. You can also purchase syrup straight from the source when you visit the Orangeville Winter Farmers' Market. Stop by Maple Grove Farm's booth and you'll find Mary Joan Beamish displaying a selection of maple syrup produced on her family's farm near Mount Forest. She's a familiar face at the market - the Beamish family has been selling syrup at the market for 22 years!
Search for sweet stops
Many of Orangeville's restaurants, cafes, bakeries, and food shops infuse maple flavour in a variety of treats, meals, and drinks, particularly at this time of year. Don't miss the Maple Sugar Shortbread cookies baked by Wicked Shop Local or choose from maple chocolates, candy, and fudge at The Chocolate Shop. To perk up your afternoon, find a window seat at Greystone's Café and enjoy a Blueberry and Maple Scone alongside your latte. If your sweet tooth needs a break, look for maple in savoury dishes. The Organic Greens salad at Pia's at Broadway is dressed with a maple rosemary vinaigrette. At the Barley Vine Rail Co., the Chili Maple sauce is the perfect topping for its popular Chicken and Waffles and is equally appetizing as a dip for its incomparable onion rings. This list is just the beginning. Our Sweet Stop tour will lead you to all of the maple-inspired offerings available in Orangeville this spring. Plan ahead with our digital guide or use Driftscape, a free mobile app for a more interactive adventure.
Experience the taste
For an even sweeter experience, head to Island Lake Conservation during Maple Syrup in the Park, a family-friendly event happening on select days in March. Interpretive tours, indigenous teachings, and sap-to-syrup demonstrations will help you tap into the taste of spring. A unique after-hours experience is also available during Maple Syrup by Lamplight tour. For ages 19+, this event runs on March 30, 31, and April 1 and includes samples of maple-infused food and drink.
Just beyond Orangeville's borders, you'll find other maple experiences being offered throughout the season. Visit our friends at York Durham Headwaters to discover even more sweet selections and take full advantage of this flavourful season.
No login? Please enter your details below to continue.