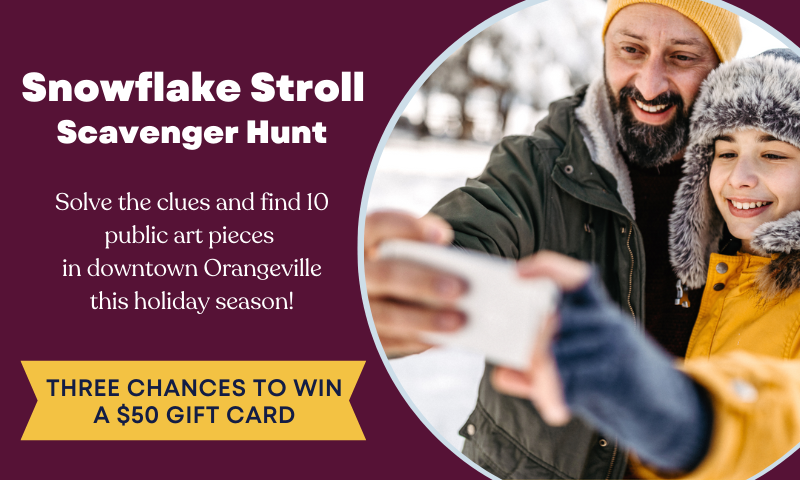 Take a stroll in the snowflakes
Click here from a mobile phone to download the free Driftscape mobile app, available on Google Play and the App Store.
Start the Snowflake Stroll at Orangeville's Town Hall at 87 Broadway. Click "Start Tour" to follow directions and answer clues. You'll be led to 10 public art pieces located throughout downtown Orangeville.
When you complete the tour, fill out the simple online entry form. You'll find a link in Driftscape, at the bottom of the description of the last location.
Share a photo on Facebook or Instagram for an extra entry. Be sure to tag @orangevilletourism and use #LoveOrangeville.
Enter as many times as you'd like until Monday, January 9. Winners will be contacted by January 13 and will select a $50 gift card to the local business of their choice. Find full contest rules here.

Explore Orangeville online
Use the digital guide below to find the locations and details about our community's diverse inventory of public art, historic landmarks, outdoor spaces, and events. Plan your own route or follow one of our tours to find the most popular locations.
You can discover these same details on your phone by downloading the free Driftscape mobile app. By using the app, you'll get real-time information based on your location so you can explore more around you. You'll also enjoy added features like augmented reality and offline exploration tools. Driftscape is easy to use and this video will help you learn more about the app.
Download the Driftscape mobile app
How to use this guide:
Scroll in and out of the map view using your mouse or the +/- buttons on the top left corner to see all of the points of interest in a certain area.
Use the search feature by clicking on the magnifying glass icon and typing in a specific item. For example, you can type "tree sculptures" or "utility boxes" to find those locations.
Toggle between map and list view using the icons on the top right corner. In map view, click on the icon of a specific location to find photos and details. Click again to expand the view. In list view, click on a location to expand.
Find tour options and event details by clicking on the top left menu icon and checking "Tours" or "Events" under "I want to discover…"
Guide legend:
| | Tree sculptures | | Murals, utility boxes and other public art | | Heritage buildings and landmarks | | Parks and outdoor spaces | | Events |
| --- | --- | --- | --- | --- | --- | --- | --- | --- | --- |