The lure of local landmarks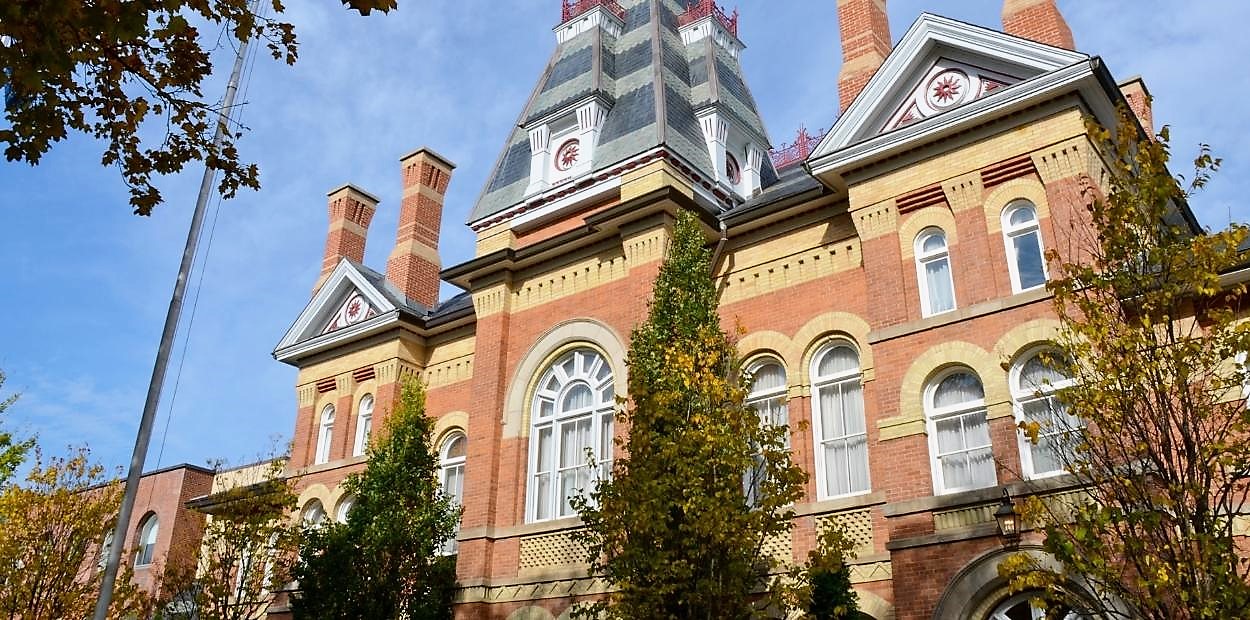 Many of Orangeville's most prominent landmarks are easily found, recognized, and admired. Town Hall acts as a showpiece in the center of Orangeville, adorned by its distinguished cupola. The medians along Broadway add both natural and historical elements to the expansive main street. The Mantis Queen sculpture invites drivers to stop in for a visit and the statue of Orange Lawrence greets downtown visitors. While these recognizable elements certainly add to Orangeville's character, there are many other features that demonstrate the vibrancy of the Town's history, spirit, and creativity. By wandering beyond the familiar routes, you will soon find more places and spaces with stories to share.
Simple design, impressive results
At 51 Zina Street, you'll discover the majestic Dufferin County Court House. Its grand appearance conceals the fact that the building is essentially a two-storey rectangular box. A number of techniques were used to elevate the presence of the structure. The architect superimposed three towers that slightly project from the façade and used buff brick and stone to add decorative touches. When completed in 1881, it was considered one of the finest municipal buildings in Ontario. The building has seen many restorations, renovations, and additions since that time, but each update invites reflection on how best to integrate the new while complementing the historic significance of the old. The building is in good company on Zina Street where you'll also find a stunning collection of heritage homes. Take a stroll on the tree-lined street to admire the details.
Creekside spaces
Today, Mill Creek meanders quietly through Orangeville as it makes it way to the Credit River. This flow of water used to run with enough velocity to power several mills in the community. Orangeville's first mill was built by James Griggs, where Wellington Street crosses the creek today, and a small settlement called Griggs' Mill started to grow here. Some locals suppose that if Orange Lawrence hadn't come to town, this might still be our town's name.

Over the years, this location has housed a foundry, a plumbing supply shop, and a printing business. Its current tenant is Cycling Elements, a local bike shop and owner Jeff Lemon is working to restore the historic building back to its former beauty. The building's transformation and history is featured on Cycling Element's website.
You can meet up with Mill Creek in two other prominent locations. At the intersection of Mill and Little York Streets, a section of rubble stone wall is all that remains of the former Jull Mill. The parkette is a lovely spot for a picnic or select a patio table across the street at the Mill Creek Pub or Taphouse Craft Beer + Kitchen. A little further west, Mill Creek runs under a quaint covered bridge in Kay Cee Gardens. Along with the rolling water, the park features a collection of public art pieces and playground equipment for all ages.
Critter-inspired creativity
In the west end of Orangeville, you'll find an extensive network of parks and trails connecting the community. Birds, rabbits, and other local wildlife are often spotted along the paths, but there is a new neighbourhood critter that may surprise hikers and bikers. Monty Montgomery the Rock Snake made his home on the Mill Creek Trail in May and has continued to grow thanks to the community's talent and spirit. Monty has become a slithering showcase of decorated rocks created by local artists of all abilities. Bright, creative, and colourful designs are added daily. He lies just off Gooseberry Street and he's hoping to stretch all the way over to C-Line. Why not paint a rock and add your mark to this creative community project?
While the list of local landmarks to be discovered in Orangeville goes on, these examples show that taking the time to explore a little further and learn a little more can really make a mark on your experience in our community.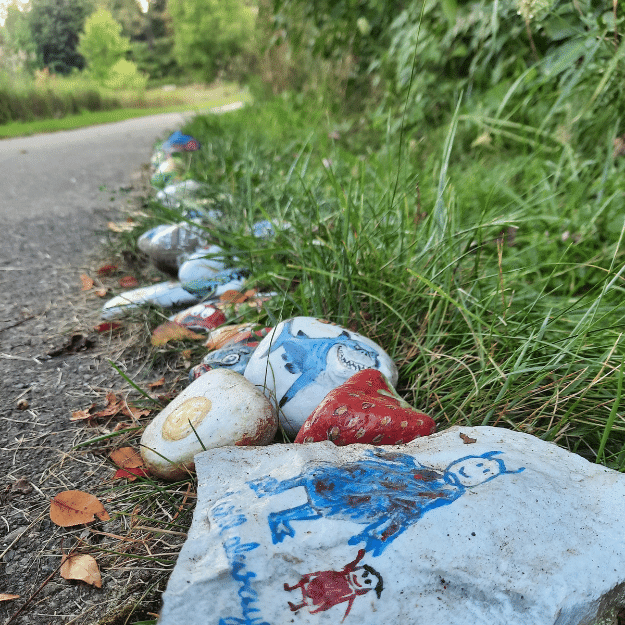 No login? Please enter your details below to continue.