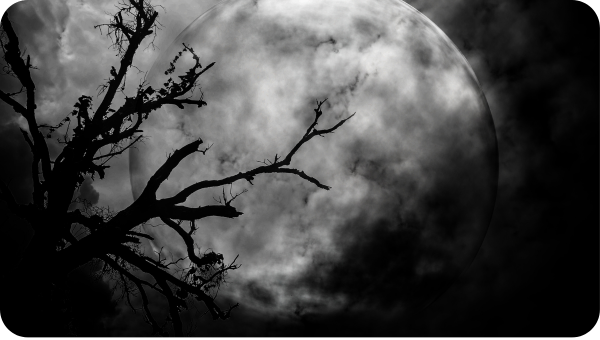 Favourite Halloween Haunts
This is the time of year when the days seem shorter, the morning air is crisper and Orangeville gets... SPOOKIER. Grab your comfiest sweater or scariest costume and summon the spirit of this festive season. Here are three scary, tasty, and tricky ways to experience Halloween in Orangeville this month.

Decorated Downtown
A cast of fun and mysterious characters adorn our downtown streets and Alexandra Park. Snap a photo with your favourite ghouls or join the Witches Walk Scavenger Hunt and find 10 wicked and whimsical witches in our downtown storefront windows. Get your scavenger hunt ballots at Moguls in Mocean or Sproule's Emporium for a chance to win one of three downtown Orangeville kids prize packs worth $75!
Do you prefer to get your chills from a distance? Take a thrilling drive through Orangeville's most decorated neighbourhoods. Orangeville Hallowe'en Haunt Patrol has prepared a list of must-see homes trimmed for Halloween.

Possessed by Pumpkin
Orangeville is the perfect place to get your pumpkin fix. Indulge in seasonal offerings at our cafes and bakeries like pumpkin spice coffee from Mochaberry, a pumpkin pie milkshake from Mill Creek Gardens or a pumpkin spice latte cheesecake from Taphouse Brewing Co.
If your sweet tooth needs a break, immerse yourself in pumpkin scents and decor. Savour the alluring aroma of pumpkin bourbon scented candles from Orangeville's own Kindmoose Candle Co., sold online or at More Than Just Baskets. Fill your home with orange-hued decor from Pear Home or incorporate some fun fashion accessories into your wardrobe with a pumpkin spice latte scrunchie from Honey Bee Apothecary and Spa.
Terrifying Tours
Discover Orangeville's spooky history with two new bone-chilling walking tours. You can choose to embark on a frightening self-guided journey or follow ghoulish tour guides in an immersive lantern-lit experience. Either way, there are plenty of unsettling stories in Orangeville's past.

After enjoying the Halloween fun, nestle in for a meal prepared from the bounty of the harvest at one of our local eateries or treat yourself to a uniquely Canadian performance presented by Theatre Orangeville at our historic Opera House.
No login? Please enter your details below to continue.