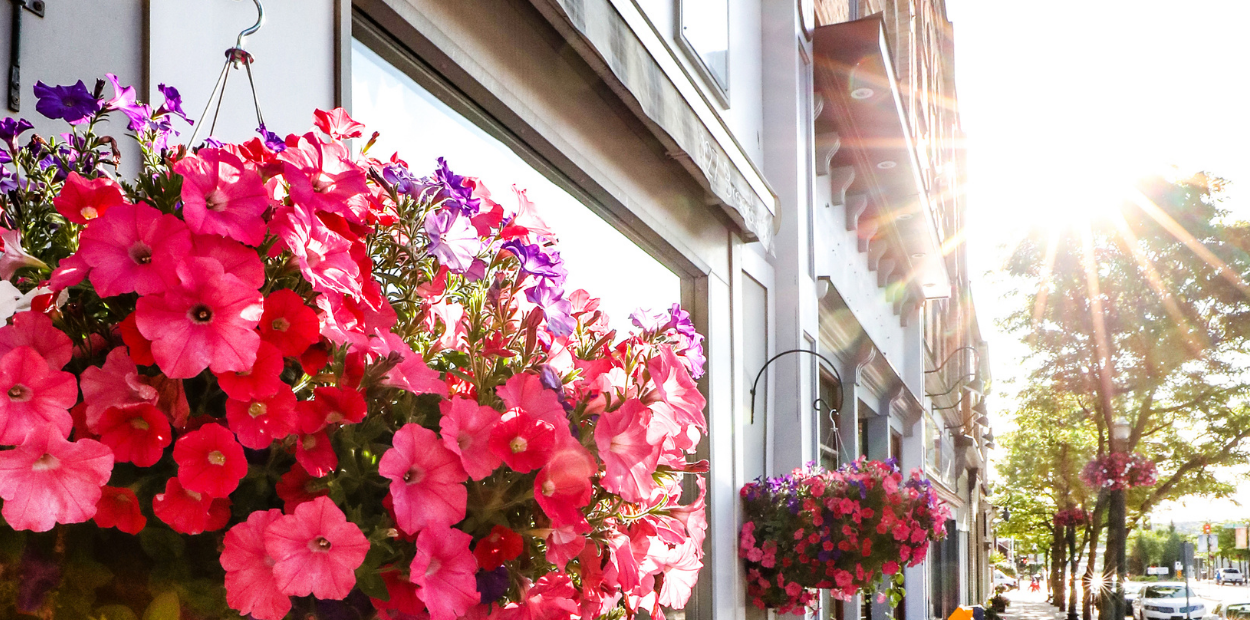 Now is the time to add a day trip to Orangeville to your summer to-do list. Our central location and scenic surroundings make for a pleasant journey and once you've arrived, get ready to explore. Our charming community shines throughout the day, with sights, sounds, and tastes always ready to impress. Start planning a memorable visit with these ideas for your day-long adventure.
A morning feast
Fill your morning with food! Orangeville's long list of culinary offerings should top your itinerary so you're best to get started early. Begin with a Saturday morning visit to the bustling Farmers' Market where you'll be greeted with friendly smiles and fresh food from over 30 local vendors. The weekly event is hosted near Town Hall, a tradition dating back to 1876 when the building was constructed. You'll find six bull's-head keystones around the building's windows, evidence of the market's historic presence. From this central location, our community's vibrant spirit stretches out on to Broadway, Orangeville's main street. Tempting selections from cafes, bakeries, and food shops are the perfect complement to your market haul. At Son of a Chef Bakery, pasteis de nata and malassadas are scrumptious nods to the owner's Portuguese roots. An 'Eggy Thing' from Mochaberry is another popular choice, especially when served on a freshly baked bagel with a cup of in-house roasted coffee. A smoothie from Euphoria is a refreshing way to start the day and vegans will love the café's specialty offerings.
If the abundance of tasty choices has sent your appetite in to overdrive, take some to go. Wicked's shortbread cookies are irresistible, the handmade treats at The Chocolate Shop are divine, and the desserts at Le Finis taste as delightful as they look.
As you make your way around downtown Orangeville, be sure to stop in at the shops and studios that line the street to discover a treasure trove of one-of-a-kind items. Chances are high that the historic buildings and intriguing medians will also catch your eye. Take your time to take it all in.
Afternoon adventures
Let us lead the way as you explore more of Orangeville. Our growing collection of public art is certainly worthy of discovery, and we've created three self-guided tours that will introduce you to some of the most popular pieces. Find the many faces of Nature's Unity, a 3000-pound tree sculpture, and take a bow in front of an interactive mural that pays tribute to past presentations by Theatre Orangeville. Search for utility box artworks that brighten our intersections and snap a selfie with our glorious 'Mantis Queen.'
Another set of three self-guided walking tours lets you delve into the past and uncover Orangeville's history. You'll learn about the structures and landmarks that built our community's foundation. Watch for a witch's hat, stroll by the stunning homes on Zina Street, and read stories about the people that made it all happen.
If you're looking for a closer encounter with the great outdoors, head to Island Lake Conservation Area. Located on the northeast side of Orangeville, there are over 300 hectares of lake, wetland, and forest to explore. Hike the trails, explore the waters by canoe, or bait your hook at this popular fishing spot.
When the night has come
For your post-dinner entertainment, check Theatre Orangeville's schedule of performances at the historic Opera House. You can also sneak into the speakeasy at Revival 1863 for handcrafted cocktails and live music in an authentic underground venue.
While these ideas can help get you started, Orangeville has even more to offer. We invite you to get in touch and let us help you plan the perfect day trip.
No login? Please enter your details below to continue.