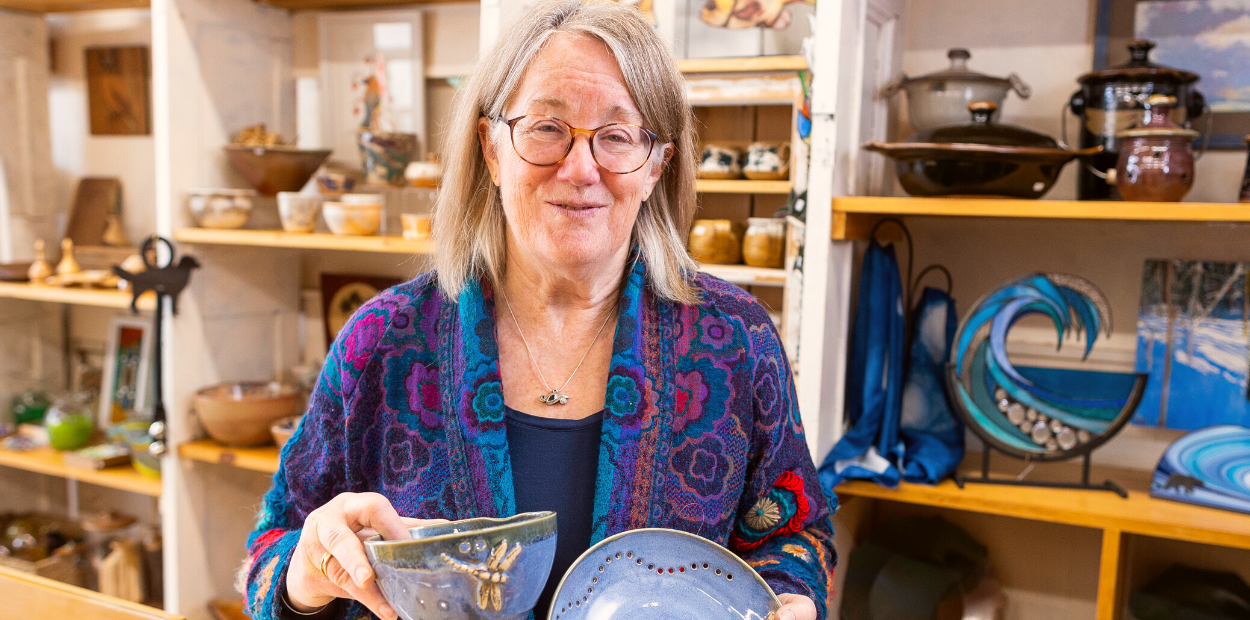 Dragonfly Arts on Broadway was established in 2002 by two local artists who had a vision of promoting Orangeville's art community. Twenty years later, the popular shop is known for its stunning selection of artwork, its friendly customer service, and its ability to create an exceptional experience for every visitor.
Dragonfly Arts on Broadway features the works of over 200 Canadian artists, many of them local. The careful curation of this collection is managed by business owner and founder, Joan Hope. Jewellery, pottery, paintings, glasswork, textiles, and more are all available to suit every style, need, and budget. Both established and emerging artists are well-represented, demonstrating Joan's ability to offer a diverse and complementary selection of pieces.
The experience begins before you even enter the shop. Large front windows display rotating exhibits of works created by selected artists, welcoming you to discover more inside. Perfectly placed pieces are displayed throughout the charming space, complemented by the character of worn hardwood floors and exposed brick walls.
Dragonfly Arts is also home to artist studios where visitors can meet the artists, watch them work, and learn about their techniques. "Creating access to artists enriches our customers' experience," says Joan. "They feel more connected to the art and enjoy a deeper appreciation of how it is made."
The shop's location in Orangeville's historic downtown is the ideal venue for this business, particularly during the holiday season when the area fills with the festive spirit. "Downtown Orangeville is a destination for our customers," says Joan. "We are part of a community of shops, restaurants and attractions that complement each other and create memorable experiences."
To learn more about Dragonfly Arts on Broadway and the artists it represents, follow the shop on Facebook, Instagram or visit dragonflyarts.ca
No login? Please enter your details below to continue.