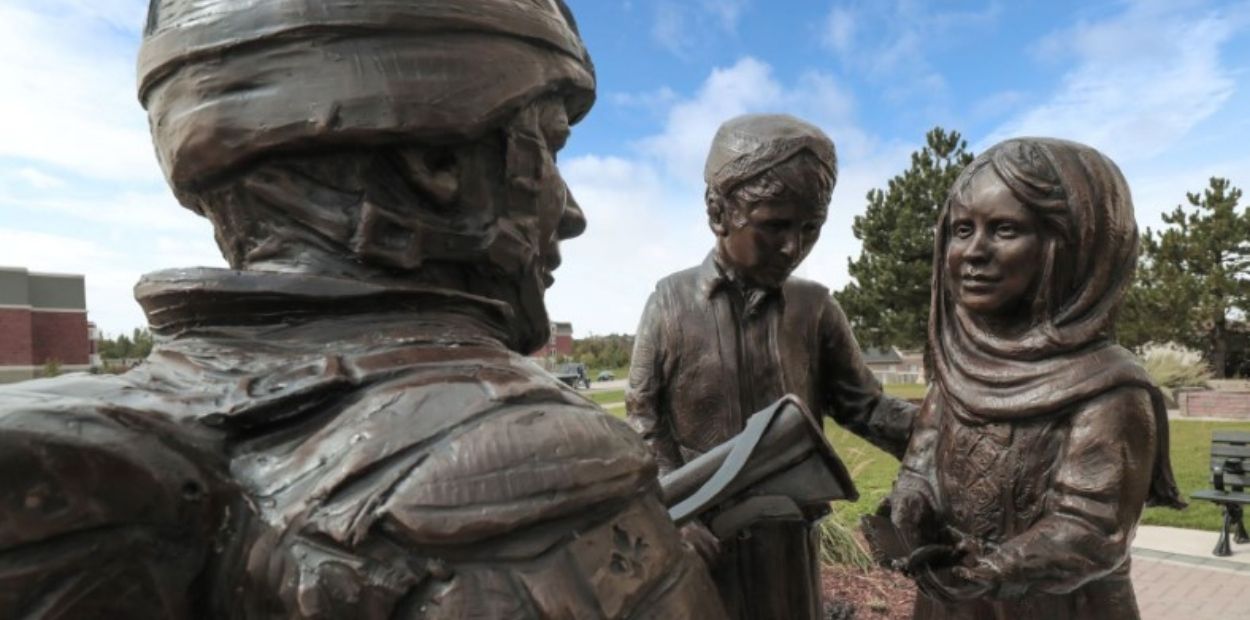 A Canada flag proudly marks the location of Orangeville's new Bravery Park. Officially opened in September, it is a meaningful place where the realities of war, bravery, freedom, and healing are embedded in the park's many features. The open space invites visitors to explore each element while offering opportunities for reflection and appreciation.
The story behind the space
The creation of Bravery Park was inspired by the life and service of Cpl. Matthew McCully, a member of Canada's elite Operational Mentoring and Liaison Team, responsible for training the Afghan National forces. On May 25, 2007, while conducting a joint Afghan-Canadian foot patrol west of Kandahar, Cpl. McCully stepped on an improvised explosive device. He died not only trying to protect his country, but training Afghan soldiers to protect their own.
Cpl. McCully's mother, Valerie McGrady and sister, Shannon McGrady, turned their grief into a vision of creating a living testament to Canadian soldiers. Over several years, their passion and determination drove an extensive fundraising campaign and fostered steadfast community support. On September 3, 2021, the park was officially opened.
An invitation to reflect
Bravery Park features several installations, each offering a unique way to honour the sacrifices, achievements, and bravery of our country's soldiers and veterans.
The park's centrepiece is a bronze statue of a Canadian soldier kneeling before two Afghan children who are presenting him with a butterfly. Created by local artists Donna Pascoe and Peter Turrell, the piece took many hours to conceptualize, and received input from different parties, including Canadian soldiers themselves. When designing the model for the statue, Ms. Pascoe says she tried to imagine the thoughts and feelings soldiers and citizens must have struggled with every day. "There had to be issues of duty, trust and fear. In the end, I chose to show a compassionate human side reflected in the heartfelt exchange between two children and the kind soldier."
The statue is mounted in the centre of a depiction of the Victoria Cross, the highest and most prestigious award of the Canadian honours system. Other elements placed in the park aim to enrich the space while creating opportunities to play, learn, and reflect. A memorial stone honours Canadian Armed Forces personnel and features an image entitled "Not Alone," a striking piece created by U. S. Armed Forces veteran Danny Hahlbohm. Another art installation – "Remember Always" by Robert Allen – uses oils on tempered glass to display a maple leaf and other symbolic elements. Nearby, the Indigenous Medicine Wheel Garden, contributed by the Dufferin County Cultural Resource Circle, provides a sacred space for peace and reflection while the playground stays true to the park's theme and captures the essence of freedom – the freedom to play.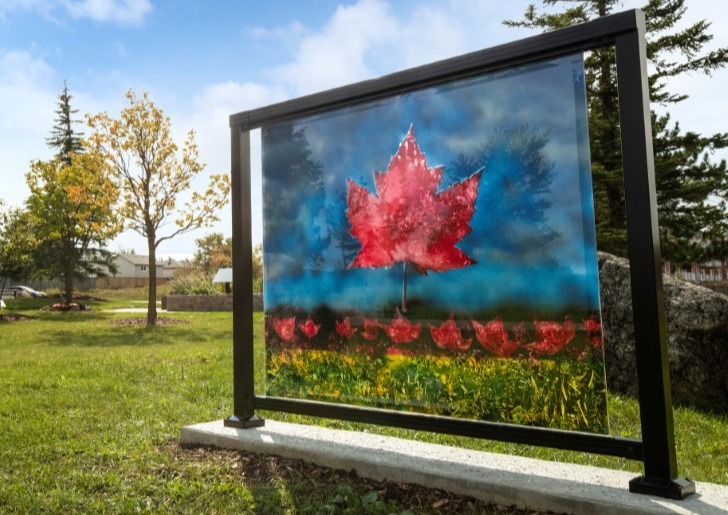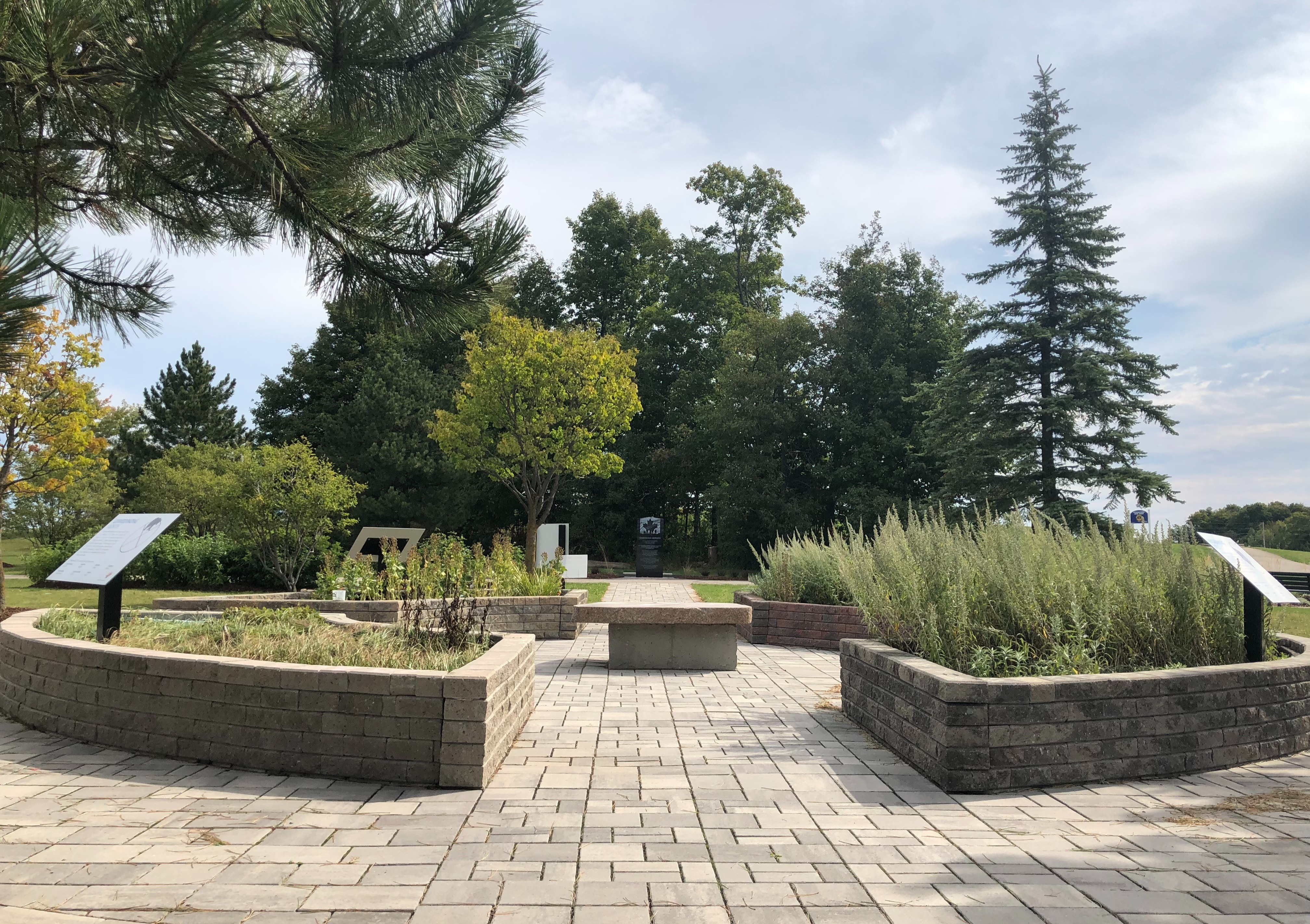 Enduring dedication
Although the park is now open to visitors to enjoy and experience, Bravery Park was always meant to be a living and interactive project. Work now continues to promote awareness and understanding of the sacrifices and struggles facing our Canadian Armed Forces. Educational resources, a park guide, and guided tours will soon be available for anyone looking to heighten their connection with the space and those who it honours. "Many Canadians remain unaware of the daily sacrifices our troops make in service to our country," says Shannon McGrady. "Bravery Park will help foster a culture of support for our soldiers, so that they can feel supported both on and off the battleground."
---
The grand opening of Bravery Park on September 3 was a meaningful celebration that featured a military parade, a Snowbird fly-by, and attendance by invited community members, dignitaries and representatives of the Canadian Armed Forces. Ontario's Lieutenant-Governor, The Honourable Elizabeth Dowdeswell, was on hand to inspect the troops and officially open the park. A video of the grand opening was created to commemorate the special event and can be viewed here.
No login? Please enter your details below to continue.