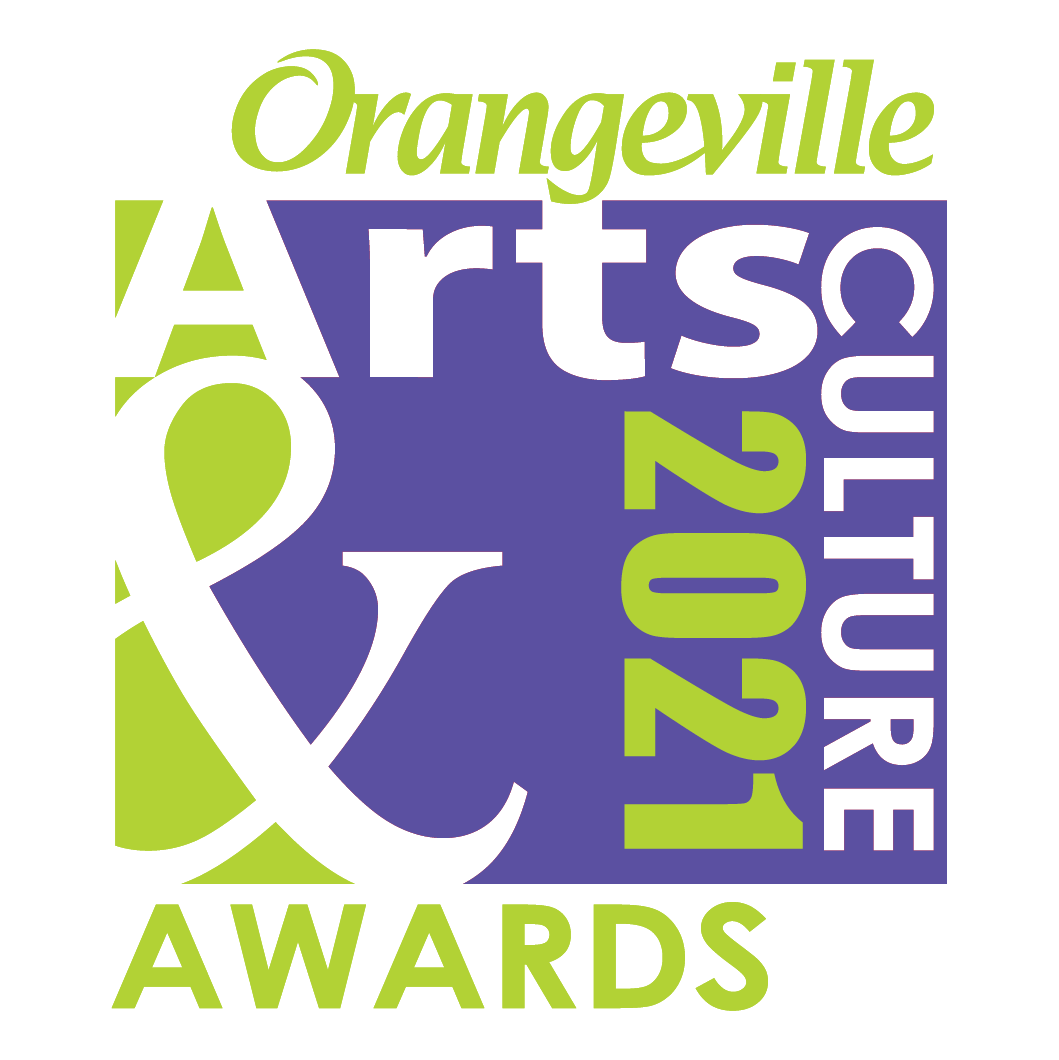 The Town of Orangeville received 32 nominations for the 2021 Arts and Culture Awards. An impressive selection of individuals, businesses and organizations have been acknowledged for their contributions to arts and culture in Dufferin County.
Award Presentation
The virtual presentation of the 2021 Arts and Culture Awards was held on Thursday, October 7 at 7 p.m. You can watch the video any time on Facebook or YouTube.
About the Nominees
Read below to learn more about the work and contributions of each of this year's nominees.
Established Artist
Emilia Perri - Winner
Emilia Perri is a prolific painter, art teacher, and business owner living in Dufferin County. A graduate of OCAD and an avid traveller, she has used both her education and experiences to shape her work throughout her career. For the last 20 years, she has been working in an abstract expressive painting style, building up layers of transparent and solid paint to create the look of weathering or time passing. Her most recent works are large, bright representations of landscapes and structures found in nature. For the last 25 years, Emilia has also owned and operated Maggiolly Art Supplies. Whether she's teaching or painting, Emilia is constantly creating art, a process that she absolutely loves.
Find Emilia's work at https://www.emiliaperri.ca/
Wendy Reid
Wendy Reid is a contemporary fine artist and owner of Art Haven Studio and Gallery. She has been painting with the muse and magic of watercolour media for more than 30 years. She uses this medium to express her love of flora, fauna, people and landscapes. She chooses colours that are abstract to the subject matter and she enjoys creating many layers in her pieces. Wendy is also an instructor and participates in the Artists in the School program run by the Dufferin Arts Council.
Find Wendy's work at https://arthavenbywendyreid.com/
Deb Menken
Deb Menken is a self-taught artist working in acrylic and mixed media, painting mostly from her imagination. Although she considers herself to be an abstract/semi-abstract artist, a recent commissioned project allowed her to extend her talent to create more contemporary landscapes. She is an active member of Headwaters Arts and has participated in a number of member and juried shows. She is always exploring and learning, loving every minute of her artistic journey.

Find Deb's work at http://www.debmenken.com/
Emerging Artist
Arlo Sun - Winner
Arlo Sun is the new musical project of accomplished singer-songwriter Erin Bolton.
Arlo Sun writes, produces and performs off-kilter folk songs full of depth and emotion. Her work features her incredible vocal range and captivating guitar lines. She has been performing regularly in and around Dufferin County and the GTA for over 10 years. During the pandemic, she performed 90 shows as part of a daily live-stream series called "Concert for Your Quarantine." This project was just one of many that helped her to connect with her audience when live performances weren't possible. She has been working towards her debut record as Arlo Sun, with plans to release it in late 2021.
Andrew McArthur
Andrew McArthur is a singer-songwriter and self-taught multi-instrumentalist from Orangeville. He lends his musical talents to various bands in the community, playing a variety of instruments including bass, guitar, piano, drums, as well as vocals. As well as being an accompanist, Andrew writes, records, and produces his own music. In July 2021, Andrew released a four track EP called "Brush"; a collection of soothing indie rock jams that Andrew performed and recorded entirely on his own.
Adam Thompson
Adam Thompson launched a business selling t-shirts featuring designs that he coloured himself. He was motivated to start his business during the pandemic because he wanted to find a way to creatively express his feelings while spreading happiness. Adam has produced three different styles of shirts with his coloured images on them, all bearing the words 'Be Kind, Be Calm, Be Safe.' Adam is proud to use his art to nurture his spirit and his business to connect with people.
Student Artist
Haley Marfleet
Haley Marfleet is entering her third year of the Visual and Creative Arts Program at Sheridan College. Throughout her education, she has been recognized many times for her artwork. She earned three visual arts awards when she graduated from Westside Secondary School. She has also contributed to many community projects with her art.
Mariko Kato
Mariko Kato has been playing piano since she was five and her creative talent has continued to flourish since that young age. She is a piano and voice student at Tritone Music Studios and began teaching her own students this year. Mariko also plays guitar, dances, and has a strong passion for theatre. She was accepted into the drama program at Mayfield Regional Arts and is excited to continue her study of the arts.
Katrina Creelman - Winner
Katrina Creelman has been involved in the Town of Orangeville's arts scene since she was eleven years old. She is a regular on the Theatre Orangeville stage, starring in 12 productions before the age of 17. Katrina is also an active volunteer and social advocate. She has worked with Creative Partners on Stage, Theatre Orangeville's Youth Advisory Committee, and youth-focused events hosted by the Orangeville Public Library. Katrina is an aspiring playwright, currently studying Cultural Studies at Trent University. Her one-act play script Happy Pills recently earned Katrina a nomination for the Robert Beardsley Award for Young Playwrights, presented by the Playwrights Guild of Canada.
Arts Educator
Tiffany McCabe - Winner
Tiffany McCabe is a Registered Social Worker and Art Therapist. Her work centers around leading others through a healing journey using art. Since 2016, Tiffany has provided monthly art therapy to palliative and bereaved clients at Hospice Dufferin. She shares her creative talent to help youth, adults, and seniors explore their experiences in a different way. She has had many clients leave a session with a new understanding of how they can use art to heal. Tiffany also has a private practice in Shelburne called The Creative Social Worker.
Learn more at https://www.thecreativesocialworker.com/
Tyler Reed
Tyler Reed is a creative force! He plays acoustic and electric guitar, bass, upright bass, drums and ukulele. He is also a songwriter and a freelance musician, but most importantly, Tyler is a teacher. He has been teaching at TriTone Music Studios for the past 10 years and has been recognized with many community awards for his work. He is a dedicated teacher who tailors his lessons to the needs of every student and actively participates in all performance opportunities. Tyler has also written and recorded solo work.
Ann Randeraad
Ann Randeraad has been a passionate clay artist, illustrator, and arts educator for more than 25 years. Her intense love of art and creativity is more than just a career, it's her lifestyle. She is a dedicated arts educator who nurtures the creative spirit in each student, gently guiding them to success. She teaches students of all ages and offers both mobile and home studio workshops and lessons. Ann also manages Empty Bowls Headwaters, an annual fundraiser that draws attention to food insecurity in the region.
Learn more at https://www.annranderaadpottery.com
Jada Milne-Doucette
Jada Milne-Doucette started her career as a graphic designer and professional artist. Over the last 12 years, she has shared her knowledge through art lessons. She started her business Art with Jada in 2011 and she has taught many young artists in the community over the years. In June 2019, Jada opened her own studio and has expanded twice, offering two studio spaces with a fun and relaxed environment to get creative.
Learn more at https://www.artwithjada.ca/
Ricky Schaede
Ricky Schaede is a local award-winning artist and art instructor. He has been teaching art at Maggiolly Arts since 2014 and leads a variety of classes, camps, and private lessons for both children and adults. When teaching, Ricky aims to share fundamental and technical knowledge of art, in a way that creates space for personal self-expression and creativity. Ricky has also participated in DareArts and Dufferin Arts Council's Artist in the Schools Program. He is the co-founder of Club Art Orangeville, a project whose mandate is to provide a safe, inspiring space for local youth to create and share art.
Learn more at https://www.rickyschaede.com/
Community Arts Volunteer
Christina Clare
Christina Clare is a busy, local artist who also finds time to contribute to her community and add her artistic flair to many local projects. She is an active member of the Optimist Club of Orangeville, volunteering her time for annual events like Christmas in the Park. This year, she also led a Call for Youth Artists. Children living in Orangeville were invited to submit artwork to be displayed on 13 park benches in Kay Cee Gardens. Christina's artwork is featured in Orangeville's public art program, appearing on four utility boxes and one mural. Each piece demonstrates her desire to promote and support art in her community.
Find Christina's work at https://www.cjclareartworks.com/
Diane Bator
Diane Bator is a familiar face to many in Orangeville and she takes on many different roles in the community. But in each one, she finds ways to foster and support the artists and organizations who contribute to the region's creative offerings. As the Box Office Manager and Group Sales Coordinator at Theatre Orangeville, she is well-connected to the theatre's contributors and audiences. Diane is also an author, storyteller, writer, and book coach. She often volunteers her time with the Orangeville Public Library, presenting her work and offering guidance to audiences.
Find Diane's work at https://dianebator.ca/
Nikki Caruana
Nikki Caruana is a local artist who is building her portfolio of paintings. Through the pandemic, she used her art to connect with her community by giving pieces to people who were celebrating special occasions or needed comfort. She also volunteered her time to organize International Art and Found Day right here in Dufferin County. Over twenty local artists placed free artwork in public spaces on March 12, 2021. Those who found the art were invited to keep it and enjoy it. The project helped local artists reach new audiences while sharing creativity with the community.
Jim Waddington - Winner
Jim Waddington is a photographer who captures the people, places, events and happenings of Orangeville through his work. He has an active social media presence where he shares his photography as well as community events and news with his 2,400 followers. Often seen as the man behind the lens, Jim's unwavering support for the arts and culture community extends beyond his photography skills. He is an active committee member for Celebrate Your Awesome and a supporter of the LGBTQ2S+ community in Dufferin County.
Community Impact by a Business
Branching Out Support Services
Branching Out Support Services (BOSS) serves people who have developmental differences, neuro-diversities, and complex mental health challenges. Because of its well-known advocacy of art, youth, and social justice in the community, the business was asked to support the installation of a mural created by the GLOW Youth Group, a LGBTQ2S+ Youth Group operating out of Dufferin Child & Family Services. The team at BOSS worked closely with many community partners to install the artwork. The colourful piece makes a bold statement in downtown Orangeville thanks to its prominent location.
Learn more about BOSS at https://www.branchingoutsupportservices.ca/
Music Together of Orangeville
Music Together is a music and movement program for children zero to five years old and their families. Pamela Scott-Demetriou has been running the program for seven years and continues to evolve the business based on the needs of her audience. During the pandemic, free classes were held online to give families a way to entertain their children and, when it was permitted, classes were held in large outdoor spaces. Music Together of Orangeville collaborates with many local businesses and uses music to support and contribute to the community in many ways.
Learn more about Music Together of Orangeville at www.mtoforangeville.com
Old Mill Hub (formerly Mill Street Mall) - Winner
The Old Mill Hub is a commercial property located in downtown Orangeville that is undertaking a re-branding process with an objective to become an arts and culture hub for the community. Many of the property's tenants are arts-based businesses, offering art lessons, pottery classes, karate lessons, tattoo services, and hair styling. To complement these businesses, the property's hallway space has been transformed into the Elspeth Art Gallery. Local artists can display their work at no cost while leveraging an opportunity to share their work with a new audience. Property manager Marshal Bobechko hopes the transformation will allow the space to contribute to the community's arts and culture scene.
Learn more about the Old Mill Hub at https://mill-street-mall.business.site/
True Nature Media
True Nature Media specializes in creative photography and videography for artists, musicians, and entrepreneurs. This year, owner Sara May took on a variety of new creative projects. She produced virtual art classes for children at Maggiolly Arts and online events like Celebrate Your Awesome. She also directed the videography and editing for Theatre Orangeville Presents Online, a series of virtual performances that allowed the local theatre to continue to offer art to its audiences through the pandemic. Sara is also a musician and devotes time to supporting fellow musicians with her talent and services.
Learn more about True Nature Media at https://www.truenaturemedia.ca/
TriTone Music Studios
TriTone Music Studios is a strong supporter of arts in our community. This past year, owner Heather Holmes and her team worked tirelessly to reduce the impact of the pandemic on their students. The studio seamlessly transitioned to virtual lessons and even took on new students to give more people access to music during the difficult time. The popular annual recitals also shifted to a virtual format, providing families with a way to appreciate and celebrate the music created by their children. In a world full of uncertainty and darkness, TriTone Music Studios used the power of music to bring light to its community.
Learn more about TriTone Music Studios at https://tritonemusicstudios.com/
Art of 8 Martial Arts Academy
Art Of 8 Martial Arts Academy offers a family-friendly, community-centered approach to martial arts. Art of 8 teaches Muay Thai, a form of martial arts with a rich culture. The classes are a visual representation of strength in diversity, where people from all cultural and social backgrounds are able to learn and grow together. The academy constantly makes improvements to ensure that a culture of openness, equality, respect, and growth are always at the forefront.
Learn more about Art of 8 Martial Arts Academy at https://artof8.com/
Community Impact by an Organization
Rotary Club of Orangeville Highlands
The Rotary Club of Orangeville Highlands helps to raise money and awareness for local and international causes. Taste of Autumn is one of their main annual fundraising events. Unable to hold the event in 2020, the club searched for innovative ways to raise funds and decided to offer a series of videos featuring local chefs preparing some of their favourite dishes. The club raised over $10,000 with the six-episode Virtual Chef Series. This year's events will follow the same format. The club is honoured to contribute to the arts and culture of Orangeville while helping to meet urgent community needs.
Learn more about Rotary Club of Orangeville Highlands at https://rcoh.ca/
Westminster United Church
Westminster United Church is an historic property in the heart of Orangeville. The sanctuary enjoys a well-deserved reputation for quality music programming and has hosted a variety of festivals, choruses, concerts, and presentations. Recent renovations include an updated auditorium, fully equipped with audio-visual technology and a new, fully-inspected commercial kitchen. Although the completion of renovations coincided with the beginning of the pandemic, the church is poised and ready to invite people to use these facilities as soon as restrictions are lifted. The facilities at Westminster United Church offer endless opportunities to explore, engage, and enjoy arts and culture events in Orangeville.
Learn more about Westminster United Church at https://westminsterorangeville.ca/
Orangeville Business Improvement Area - Winner
Throughout the pandemic, the Orangeville Business Improvement Area (OBIA) worked to support local businesses by providing safe, social distanced activities for the public to enjoy. Promotional videos, seasonal displays, family-friendly activities, and a new interactive mural encouraged the community to visit the downtown area. Large-scale events such as the Winter Market, Farmers' Market and Tree Lighting Ceremony were also adapted to adhere to pandemic protocols while contributing to the cultural fabric of the town.
Learn more about the Orangeville Business Improvement Area at https://downtownorangeville.ca/
GLOW Youth Group
GLOW Youth Group is a social and support group that has been available for LGBTQ2S+ youth aged 11-18 in Dufferin County for 23 years. This year, the group led the Crystal Queer Mural Project. The project was created during the pandemic, when many of the youth were facing increased isolation and mental health challenges. The mural was installed in June 2021 and demonstrates how collaboration, hope, and connection can all be communicated through art.
Valley Alive
The 'Valley Alive' project was made possible by the County of Dufferin Economic Development Fund grant and aims to strengthen existing community networks by supporting the collaboration of groups, organizations and residents within Grand Valley and surrounding neighbourhoods. The project focuses on branding the area and encouraging people to stay and explore.
Creative Cultural Event
Music In the Hills
The Music in the Hills festival was held on June 25 with a goal to support suicide awareness and prevention initiatives in Dufferin County. The inaugural one-day event was held at the Mansfield Ski Club in Mono and was offered as a drive-in style concert. The festival sold out in five days and featured Juno-award-winning musician Jim Cuddy and his band The Jim Cuddy Trio as well as musician Woody Woodburn and local singer-songwriter Sohayla Smith. The event helped raise more than $14,000, with 100 percent of the proceeds going towards local programs. The 2022 event is scheduled for June 24.
Learn more about Music In the Hills at http://www.musicinthehills.ca/
Celebrate Your Awesome - Winner
Since 2018, Celebrate Your Awesome has offered the community a fun, family-friendly event that celebrates everyone's differences. After two successful live events in 2018 and 2019, the pandemic forced Celebrate Your Awesome to adapt its plans and offer virtual versions of the popular festival. In August, the online event was hosted in partnership with Theatre Orangeville. The pre-recorded show featured local musicians, drag queens, and performers. New this year, the Awesome Virtual Human Library was also presented in partnership with the Orangeville Public Library. Plans are in place for a live Celebrate Your Awesome event in 2022.
Downtown Orangeville Holiday Events
The Orangeville Business Improvement Area (OBIA) has been hosting large-scale holiday events for decades. This year, popular traditions like Moonlight Magic, the Tree Lighting, and the Tractor Parade of Lights weren't possible because of the pandemic. So the OBIA found new ways to deliver holiday magic to the community. The Tree Lighting ceremony was transformed into a video event. New initiatives included the Holiday Lights Extravaganza and a Starlight Shopping promotion. Both events gave residents many reasons to safely visit and shop downtown. The holiday season was brighter thanks to the efforts of the OBIA.
Learn more about the OBIA at https://downtownorangeville.ca/