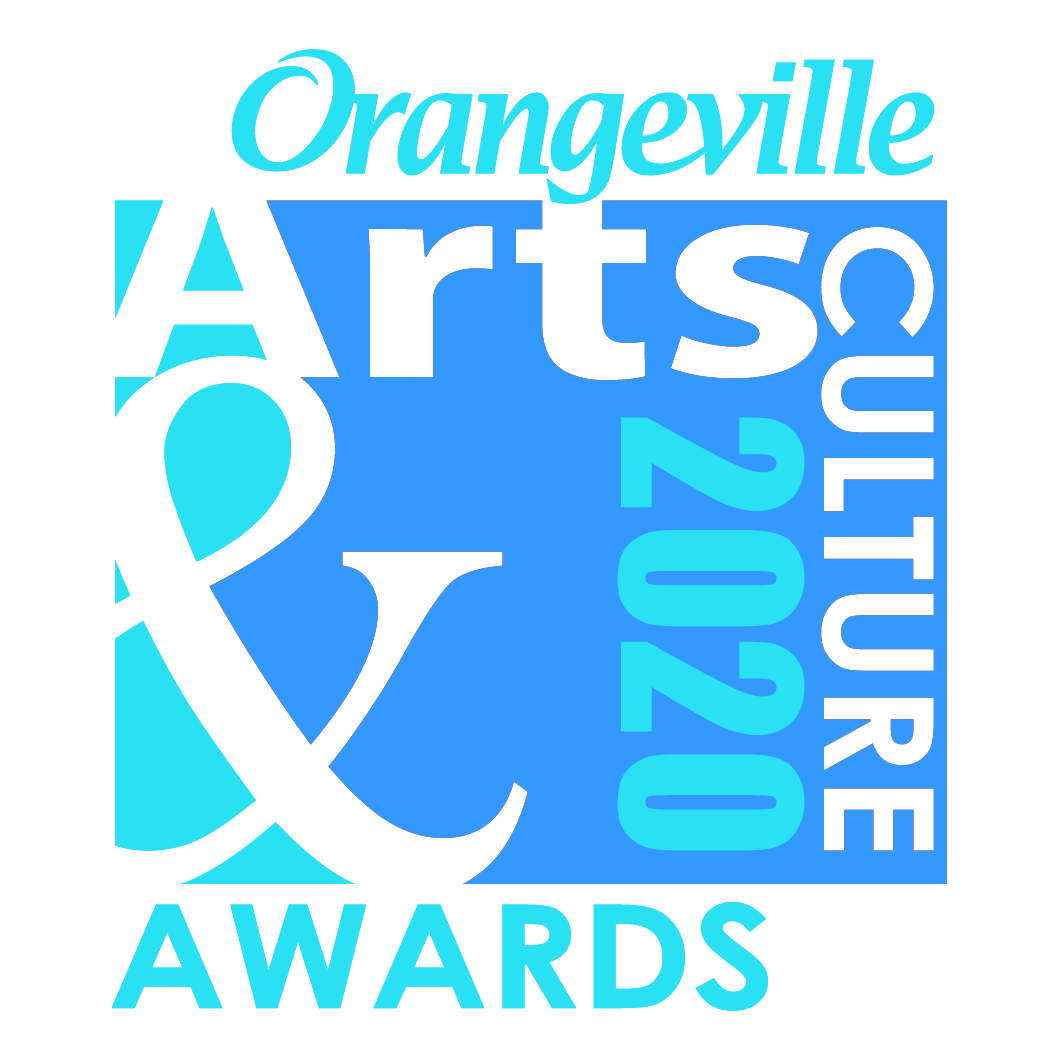 The Town of Orangeville received 31 nominations for the 2020 Arts and Culture Awards. An impressive selection of individuals, businesses and organizations have been acknowledged for their contributions to arts and culture in Dufferin County.
Award Presentation
The awards will be presented virtually this year. The community is invited to celebrate with the nominees and winners online at 7 p.m. on Thursday, October 22. The event can be viewed on the Town of Orangeville's YouTube channel.
About the Nominees
Read below to learn more about the work and contributions of each of this year's nominees.
Established Artist
Darlene Hassall
Darlene is known for her whimsical portraits of buildings and people. She shows her work in the Dufferin area and the GTA and one of her pieces was featured in Style At Home magazine. Darlene is also a busy volunteer and teacher. She has a studio at Dragonfly Arts on Broadway and a home studio in Shelburne. Learn more about Darlene and her work at darlenehassall.com.
Ryan Hancock
Ryan manages and plays with The Campfire Poets, a popular local show band. Ryan has a 20-year history of providing great music and is now turning his attention to the musical needs of the local communities. Ryan played a free weekly solo concert in the spring and put together four collaborations of over 50 musicians from all over Ontario, including over 30 musicians from the local area. For over 15 years, Ryan has also taught guitar, bass and saxophone at two local music stores.
Elizabeth Bryan
Elizabeth has been weaving for over 30 years using natural fibres, and recently made the leap to full-time artist. Her business, Weaverbee Textiles, creates staple fashion accessories such as scarves and handbags, using traditional technology but reinterpreted for the modern woman through unique patterns, bright colours and sumptuous materials. Her goal is to inspire others with colour. "I love to imagine and then see my vision come to life in fibre." See Elizabeth's work at weaverbee.ca.
Sohayla Smith
Sohayla has been performing and entertaining for many years. She leads The Sohayla Smith Band, performing folk/pop/country music. In 2020, she released an album "I'll Be the Meteor." Produced in Shelburne, the album includes the contributions of many local studio musicians. Sohayla is also a talented music therapist and instructor. She is the owner of arts and culture company Troupe-Adore. Learn more about her work at sohayla.com.
Ricky Schaede
Ricky Schaede has been working as a professional artist since 2013. Over the years, he has honed his skills and created hundreds of works of art and participated in countless exhibitions. Some highlights include exhibits in Montreal, Toronto, Bali, Austria, and Manhattan. Recognized as Emerging Artist of the Year by the Town of Orangeville in 2016, Ricky continues to contribute to his community through his artwork as well as through his participation in numerous local initiatives and events. See Ricky's portfolio at
rickyschaede.com
.
Ann Randeraad
Ann is an accomplished and diversified artist who primarily works in clay. For more than two decades, Ann has created a variety of beautiful works while continuing to teach and share her love of the arts. She is self-taught and is dedicated to continually learning more about her medium, often travelling to take courses to learn new techniques. These days, Ann works from her home studio where she also teaches lessons and workshops. Ann is currently working on a body of large sculptures with muted messages incorporated into the clay and glaze surfaces to engage the viewer in a narrative about today's current global, environmental and social issues. See more of Ann's work at www.annranderaadpottery.com.
Emerging Artist
Janice Quirt
Janice Quirt moved to Dufferin County five years ago and since then has been able to devote more time to the written word, using creative non-fiction to explore themes about living differently from the majority, positive parenting, mental health advocacy, fighting eating disorders, questioning the status quo, and what it means to live sustainably. She is a columnist and features writer for In the Hills magazine and is a regular writer for CBC Parents and SavvyMom.
Adam DeWitte
Adam paints everyday, capturing landscapes and local trees, rocks, and natural elements. Despite developing schizophrenia at an early age, he went on to complete a degree in Graphic Design at Georgian College where he won an Award of Merit. He has been an active part of Brushfire Artists for many years and has displayed his paintings at Dragonfly Arts on Broadway. His work has been featured in In the Hills and Country Living magazines.
Cara Faye Ware
With a background in graphic design and photography, Cara offered her design skills on a voluntary basis to Headwaters Health Care Centre. From April to July, she helped to educate the public about COVID-19 by designing social media posts, infographics, reports, and other required content. Everything was designed to be informative, without being alarming or scary. She was also the creator of #WeAreOrangeville, a social media campaign that was used by local businesses at the height of the lockdown to lift spirits and bring the community together.
Student Artist
Nadia Woodside
Nadia is a student in second year of the Bachelor of Fine Arts, Studio Arts Program at McMaster University. She is a self-taught sculptor who creates customized and original polymer clay figurines. Each character is unique to the individual and represents their memories and passions. When the pandemic began, Nadia used her artwork to fundraise for local dancers impacted by COVID-19. She has also won the Graham Todd Memorial Scholarship through McMaster University's Faculty of Humanities. View Nadia's artwork on her Facebook page.
Maggie Brash
Maggie is a young artist who works as a private art student with Ricky Schaede at Maggiolly Art. Maggie has worked for several years now to hone her skills in drawing and painting and has produced spectacular results. A Grade 12 student at Centre Dufferin District High School, Maggie plans to apply to various art schools and programs next year.
Willow Nowell-Andrews
Willow is in Grade 10 at Orangeville District Secondary School. She has attended a variety of art programs at Maggiolly Art and Art with Jada in Orangeville. She has worked with local artist Ricky Schaede and studied watercolour painting with artist Laurie Smith. Over the years, she has developed great skills as an artist and has created an impressive array of paintings and drawings on her own. She is finding her own voice and style, and learning the technical skills she needs as an artist.
Ela Unger
Ela is a Grade 12 student at Orangeville District Secondary School and is a motivated young artist. She dedicates hours of time to Royal Conservatory of Music (RCM) piano, contemporary voice and musical theatre. She has been working as a teacher at TriTone Music Studios for two years and has been an active participant in many local and surrounding theatre companies. Prior to COVID-19, Ela was cast as the lead in Orangeville Music Theatre's production of Legally Blonde Jr. Despite the COVID-19 closures, Ela is excited for other opportunities that will arise in her future and has decided to audition for the Randolph Academy of Performing Arts to pursue more opportunities in her post education life.
Hannah Park
Hannah began singing lessons at the age of six and 11 years later, she now sings, teaches, and plays piano, guitar and ukulele. She teaches piano and voice at TriTone Music Studios and also sings and performs as a party princess for The Land of the Glass Slipper. She is involved with Orangeville Music Theatre and has been in eight musicals over the past few years. She manages all of this while continuing her studies as a Grade 12 student at Westside Secondary School.
Arts Educator
Harry Posner
In 2017, Harry Posner was named as Dufferin County's inaugural Poet Laureate and "immediately set out to educate local residents about the power of the written word." Through his work, Harry shares and encourages a love for poetry and the written word within our community. In 2018, he introduced Day of the Poets, Orangeville's first poetry festival.  Now an annual event (although sadly cancelled in 2020 due to COVID-19), Day of the Poets invites the community to celebrate poetry by experiencing presentations and workshops. Through community events and other initiatives, Harry aims to ensure the literary arts thrive locally and beyond.
Lisa Lahue
Lisa is an accomplished artist whose projects have been seen throughout North America and beyond. As Theatre Orangeville's Technical Director, she helps to develop the skills of many volunteers and students. Lisa shares her skills and passion while providing a safe place for learning.
Ricky Schaede
Ricky is a local award-winning artist and art instructor. He teaches art at Maggiolly Art and leads classes, camps, and private lessons for children and adults. Ricky has also participated in DareArts and Dufferin Arts Council's Artist in the Schools Program. He is the co-founder of Club Art Orangeville, a project whose mandate is to provide a safe, inspiring space for local youth to create and share art.
Community Arts Volunteer Advocate
Heather Holmes
Heather is a local musician who plays and writes her own original music. She is also the owner of TriTone Music Studios where she teaches over 200 students per week with 10 instructors. Heather is a very active volunteer with Orangeville Music Theatre. Heather truly enjoys watching others thrive in the arts and is a constant inspiration to youth in our community.
Dick Byford
Dick volunteered ten years of organizational time and energy to the role of the Luncheon and Speaker Co-ordinator for the Dufferin Arts Council. Thanks to his commitment, he has brought together many local artists within our community. Dick has also been telling stories to seniors once a month at Dufferin Oaks Senior Centre Day Program in Shelburne, Ontario for twenty years. The intention is to have participants tell their stories to the group. Hilarious and traumatic anecdotes have been revealed to the delight and surprise of the others.
Wayne Townsend
Wayne Townsend's career included over 20 years as an author and the first curator of Dufferin County Museum and Archives (now the Museum of Dufferin). His passion for arts and culture has continued into retirement. In 2017 and 2018, Wayne spearheaded Celebrate the Arts, a community event hosted by the Dufferin Arts Council. This event is just one example of the many initiatives that Wayne has contributed to in his community.
Community Impact by a Business
Finishing Touches by Samantha Edmunds
Finishing Touches by Samantha Edmunds has been providing family and friends with a unique way to celebrate milestones with their loved ones. The business creates custom signs, decorations, and lawn signs. During the pandemic, Samantha started offering sign rentals to offer customers a fun way to celebrate events. She has created many new signs, bringing smiles to people's faces during difficult times. See examples of her work on her Facebook page.
Artsploration
Artsploration aims to inspire and encourage participants to enjoy the process of art, exploring and experimenting with materials. By offering pop-up studios and mobile studio bus parties, owner Alison Malcolm invites children to experience the freedom of creating art in their own unique way. During the pandemic, Artsploration was not able to continue offering its studios and parties. However, Alison quickly found a new way to contribute to the community and give its residents a reason to smile. She started doing drive-bys for birthdays and other special occasions. Seeing her bright and colourful bus show up on the front door was certainly a highlight for many during such a challenging time. Take a look at Facebook or Instagram to see examples of drive-bys as well as other events and activities.
The Art of Storytelling
The Art of Storytelling is a media production company focusing on photography and videography for commercial use. Through their work, their "focus is on finding and unlocking the narratives – the stories – that lie behind every brand; well-crafted, engaging stories designed to hold the attention of audiences and transform relationships." Owned by James and Miranda O'Connor, the company was established in Trinidad and Tobago, but is now building its local presence in and around Orangeville. In 2019/2020, The Art of Storytelling produced many videos showcasing organizations and events in Orangeville and Dufferin County including Headwaters Health Care Centre, Downtown Orangeville, and the Dufferin Farm Tour.
JT Home Tours
Judel Tabsing started a video production company, JT Home Tours in 2019. His expert videography has made him the go-to professional for realtors and business owners, but he has also lent his considerable skills to community causes including pro bono videos for the Dufferin Board of Trade and student startup Riveting Adventurez.
Community Impact by an Organization
Orangeville Art Group
For over 60 years, the Orangeville Art Group (OAG) has been supporting artists and the arts in Orangeville and the Headwaters region. The not-for-profit organization is membership-based and is focused on education and artistic development. In addition to providing opportunities for its members to display and sell their works, OAG offers workshops and events to encourage skill development while building connections and support in the community. The OAG's vibrant membership of 100 artists represents all levels of skill and experience as well as a diversity of styles and media such as two-dimensional visual art in oil, acrylics, watercolour, photography, and mixed media and three-dimensional art in jewelry, pottery and ceramics, sculpture, and fabric art.
Optimist Club of Orangeville
The Optimist Club of Orangeville has a mission is "to bring out the best in kids" and endeavours to do this by hosting a variety of events throughout the year and supporting a number of local organizations. One of the Optimist Club's most popular events is Christmas in the Park. The event has become a local tradition, attracting residents and visitors to Kay Cee Gardens every evening in December. Thousands of sparkling lights adorn the park's trees. Displays promote local sponsors and add to the lively ambience. An entertainment schedule features local choirs, musicians and groups. Hot chocolate is served by the local Scouts group. Every element of this elaborate annual event is managed by Optimist Club members who work with the community to make it all come together. A walk in the park has become an annual symbol of the Christmas season in Orangeville and certainly adds to the Town's culture.

And Christmas in the Park is just one of the Optimist Club's events. Another annual event, the Bike Roadeo teaches school-aged children the rules of the road and went virtual this year because of COVID. Despite the challenges of developing a new type of event, the Optimists persevered and made it happen in 2020.
Creative Cultural Event
Beautiful Wild Art Exhibit presented by Ricky Schaede
In August 2020, amidst the challenging and chaotic times of COVID-19, local artist Ricky Schaede demonstrated his unwavering initiative and perseverance by hosting a solo exhibit of his most recent creations. "Beautiful Wild" was a presentation of Ricky's original works of art created during 2019 and 2020. Hosted at Maggiolly Art from August 25 to August 30, Ricky carefully displayed his works in a way that allowed his audience to safely view and enjoy each piece. For those who didn't feel comfortable visiting the exhibit in person, "Beautiful Wild" was also available for viewing virtually at MaggiollyArt.com/BeautifulWild.
Celebrate Your Awesome
In June 2018 and 2019, Celebrate Your Awesome brought together local businesses, artists, vendors, and performers to create a fun, family-friendly event that celebrated everyone's differences - whether it be sexual orientation, race, cultural beliefs, or anything else. Plans to grow and enhance the event in 2020 were derailed by COVID-19, but the event committee didn't want that to slow down the message of positivity and inclusion. The event moved online and included pre-submitted videos with messages from community members as well as musical submissions from many of the entertainers that had been scheduled to play at the in-person festival. The day concluded with a dance party hosted live on Facebook.
Dufferin Farm Tour
Agriculture is at the cultural roots of Dufferin County and every year since 2000, the Dufferin Farm Tour has given residents and visitors the opportunity to experience how farming really happens. Each year a different section of the county is chosen and the self-guided tour takes visitors to several different farms, making each tour a totally unique experience.
Despite COVID-19, the Dufferin Farm Tour carried on in 2020 with a virtual format. Videos created by a local production company - The Art of Storytelling - captured the experience on each farm. The videos were released starting in August, with a watch party and community food drive planned on October 3, the originally planned date for the tour.
Shelburne Multicultural Day
Now in it's third year, Shelburne Multicultural Day is an event designed to bring together the variety of cultural diversity in the community. The event offers participants an opportunity to enjoy arts, crafts and foods from the residents and businesses in our community. A virtual event was hosted in 2020 due to COVID-19, with a positive response from the community.
Theatre Orangeville's "The Show Must Go On...Line" E-Newsletters
Since having to close the theatre to live performances in March 2020, Theatre Orangeville has entertained its membership and the general public with weekly emails entitled "The Show Must Go On...LINE". The emails are full of enjoyable and informative articles, recipes, games and puzzles, and any relevant news pertaining to the Theatre. The newsletter is focused on providing inspiration and joy through the arts and is a welcome addition to Friday's inbox.