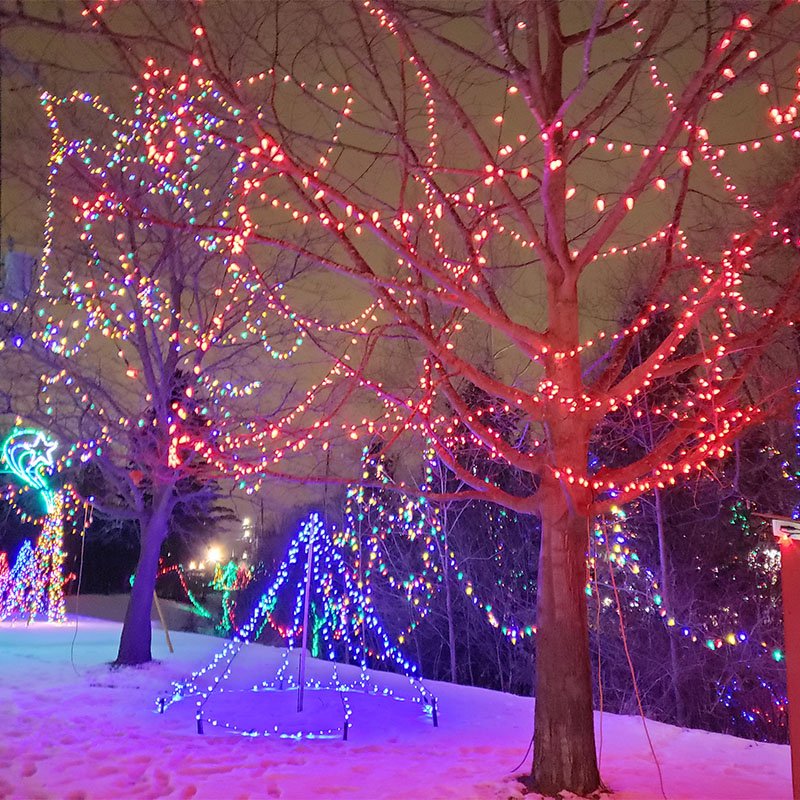 The Town of Orangeville is planning a Holiday Lights Extravaganza to celebrate the festive season this year in various locations. The Holiday Lights Extravaganza will replace the traditional Santa Claus Parade due to Public Health restrictions around gatherings of people during the COVID-19 pandemic. As a result, the Kin Club will not host an annual parade, and the Town will light up various streetscapes.
In conjunction with the Orangeville Business Association and the Optimist Club of Orangeville, holiday lighting displays will be created in various parts of the Town and a digital (GIS) map of all locations will be available to residents and visitors to view the displays from the comfort of their own vehicle. The downtown core will see a variety of light displays at Town Hall, Alexandra Park, the Orangeville Public Library and the Broadway medians. Additional locations will include the Alder Recreation Centre, Tony Rose Memorial Sports Centre and the Visitor Information Centre.
Orangeville Council approved $20,000 for the event this week and the BIA Board of Directors has also approved $20,000 to bring creative and enhanced holiday lights to the Town.
The BIA is planning to source a large Christmas tree once again for the front of Town Hall. There will not be a Christmas tree lighting or Moonlight Magic event this year. Downtown businesses will be invited to participate in lighting and decorating their storefronts.
In addition, the Optimist Club will contribute lights, displays and volunteers to assist in lighting up the Town. For many years, the Optimist Club has organized Christmas in the Park, an extremely popular holiday event, at KayCee Gardens. The Optimist Club is committed to lighting the trees at Kaycee Gardens this December but there will no public access to the park. The park will be included on the tour map. Orangeville Hydro will assist with light installations at various locations, as needed, including the downtown core.
Santa will also visit the Town. Staff from Orangeville Fire and the Recreation & Events Division will co-ordinate scheduled appearances by Santa who will tour various neighbourhoods on a fire truck. The route will not be disclosed in advance but will be similar to an ice cream truck visiting a neighbourhood. When residents hear the sirens and music, they can come out and catch a glimpse of Santa as he drives by on a fire truck. Social media hashtags such as #findsanta will promote the Santa tour.
Community residents and businesses will be encouraged to get involved and light up their homes and business locations. Add your light display to the map.
The target date is Sunday, November 22 for the light displays and Christmas tree at Town Hall to be lit up. The light displays will run through to January 8, 2021. For more information, please contact the Community Services Department, Recreation & Events Division at 519-940-9092 ext. 4129, Alison Doering, Recreation & Events Co-ordinator.